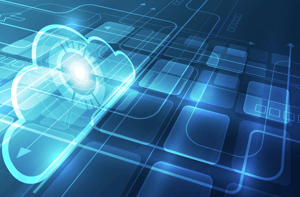 The digital transformation of today's technology landscape moves at breakneck speed. One of the only things that moves faster, is consumer demand and expectation. Consider this: Before 2007, not a single person in the world had a smartphone – but 13 years later, mobile devices are on track to outnumber the global population four to one. That kind of growth means business leaders need ask themselves, "What if the expectations of our customers exceed what we can do?"
Digital transformation should be at the forefront of your company's business strategy, with enterprise infrastructure leading the way. After all, without a strong enough infrastructure to build upon, the rest is at risk of falling down.
Hit hard with software defined infrastructure
Software defined infrastructure is a tool that supports evolving network topologies by giving software more control of multi-piece hardware systems and an ever-growing multitude of devices. The result is the increased agility and flexibility that comes from decoupling your enterprise from legacy hardware structures, and the ability to launch new digital revenue streams at the speed of business.
The digital transformation to software defined infrastructure is a shift not only in technology, but to a culture that incorporates constant technological innovation. It can be tricky, but the IDC has put together a step by step roadmap to help get you there.
Assess your current application portfolio and the framework that supports it. Decide what needs to stay as-is, what shifts to the new infrastructure, and what gets retired.
Determine the best strategy for the underlying infrastructure of each enterprise application. While it's likely not everything can be migrated, there should be a plan in place for anything that can.
Assemble teams to study your applications' needs and create a strategy to optimize the new infrastructure stack from both a software and hardware perspective. The goal is to create an automated environment in which applications can be readily scaled up or out quckly.
Utilize public cloud and/or internal private cloud with PaaS or IaaS environments to enable innovation for developers and DX initiatives for frictionless application

mobility across different cloud environments.

Determine the budgetary requirements of your software defined infrastructure initiatives and custom-built applications. Determine the impact of shifting from capital expense to operational, and contrast additional expenditures of application development to the benefits of the new operational approach.
Modernize your software methodologies and view applications as logically-grouped microservices rather than one large code structure. This shift in view allows each application to be updated, refreshed, replaced, or rolled back individually without impacting other services.
Make sure your IT staff has the skills necessary to handle both the current and future needs of a software defined infrastructure. Personnel that know how to adapt to new technologies and stimulate innovation will be essential.
Why Nutanix enterprise cloud is perfect for your digital transformation
When it's time to build your cloud strategy, flexible consumption and continuous improvement make an all-public strategy look attractive. However, on closer inspection, the difficult migrations, vendor lock-ins, compliance and regulatory concerns, usage overruns, and egress charges can dull the shine. The ideal strategy is a blend of public and private cloud services together. This allows your business to leverage the elastic nature of public cloud services, along with the ease of management and usability, but with the security, control, and performance of the private cloud.
Nutanix' hyperconverged infrastructure (HCI) technology allows you to build and manage a private cloud solution with speed and scalability of deployment, update, and recovery with one-click operation, and without sacrificing reliability and security. Nutanix also offers your business the freedom to choose the right technologies for your private cloud without any fear of vendor lock-in, and accommodates your choice of hypervisor:
You can also choose hardware from your preferred vendor and utilize Nutanix's infrastructure software. All of this reduces complexity and empowers your IT team to own and execute its private cloud infrastructure strategy while keeping tighter control of costs.
NEXT STEPS: Explore the value and benefits of software defined infrastructure and why it is critical to your digital transformation success in our white paper, Why Software Defined Infrastructure is Critical to your Organization.