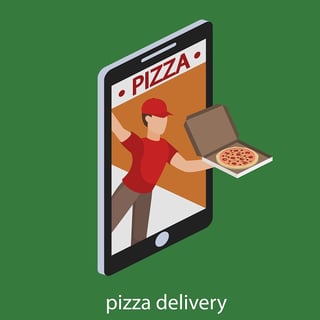 The trend of dining out continues to captivate Americans. In 2022, restaurant expenditures surpassed grocery shopping by 20%. However, this does not imply a surge in dine-in experiences, with 44% of consumers reportedly ordering takeout up to three times a week. This figure stretches to 57% on a global scale. But what's steering people away from traditional home-cooked meals? You could take on the task of gathering ingredients, employing the right tools, following a recipe, and overseeing the cooking/baking process. Alternatively, you could order a pizza from a local eatery and have it delivered to your doorstep, usually without making a phone call.
So, what does pizza delivery have to do with Information Technology? In the example above, the pizza was consumed as Pizza-as-a-Service. Other examples include automotive transportation by way of Uber or Lyft, which are each hosted and delivered by the cloud. End users only need to consume the software when needed without any prep or post work. Specifically, companies appreciate that because there are currently 30,000 SaaS companies in the world who service over 14 billion SaaS customers.
IT-as-a-Service
This article isn't about rehashing old news on SaaS, IaaS, and PaaS cloud models, or delving into the advantages of transitioning from CapEx to OpEx. Instead, the current trend is gravitating toward a new paradigm — the XaaS model, where 'X' is essentially a placeholder for your chosen service. In this fresh framework, 'X' encapsulates whatever service you wish to utilize, eliminating the need for substantial upfront infrastructure investments, and the accompanying costs of deployment, maintenance, and support. Unfortunately, Pizza-as-a-Service is not one of them, but it'd make for a great t-shirt.
Click to read Eliminate Costly Data Silos For Data-First Modernization
According to a Deloitte report in 2021, companies that move beyond the usual as-a-Service suspects and leverage XaaS for advanced or emerging technologies remain a step ahead of the game. HPE saw the writing on the wall years ago and in 2019, pledged to have the capability of offering their entire portfolio of services through a range of subscription, pay-per-use, and consumption-driven offerings within three years. The result was HPE GreenLake that now offers consumption-based IT services delivered in a reliable, agile, and secure environment. The difference is that this environment does not have to be "in the cloud" because they can bring the cloud to you.
The Cloud Is Wherever You Want it
Companies are increasingly turning to cloud technology, and rightly so. However, it's crucial to understand that 'the cloud' is not a physical location or endpoint. It is essentially a data center located elsewhere, which delivers IT services with user-friendly self-service portals and usage-oriented pricing. Be it a public cloud provider or a private cloud set up within your own premises, the advantages and outcomes remain consistent.
Let us take something as basic as your Aruba Networks switch infrastructure. You may have dozens, hundreds, even thousands of switches dispersed across your data center, branch sites and edge computing locations. Despite the best of planning efforts, you undoubtedly have some open ports in those switches you will never use. Those switches need to be managed and updated, creating zero return for the paid labor hours of your network specialists.
Now, imagine a whole new scenario in which HPE GreenLake deploys their own switches within your on-prem environment. Because they are deployed, managed, and maintained by product experts, they operate according to best practices. Their dedicated support teams are assisted by AI observability so potential problems are identified and remediated before they can be a problem. In addition, they provide full visibility, via a service portal where you can track usage costs and support tickets. Just like pizza, there are no items to purchase, no preparation and no cleanup. You simply consume the networking.
More Than Just IT Engineering
Adapting to a complete XaaS model affects more than just how your IT services. According to a report by HPE, IT decision makers are realizing how their roles are changing for the better as 82% see themselves transitioning to the role of business strategies and seven in ten feel that their role will be more important with as-a-Service adaptation. This isn't just about IT engineering. It is about business and financial engineering as well. It is a whole new way of approaching IT and business and WEI can provide you with the guidance and expertise to leverage this new approach to further your business.
Next Steps: Learn why HPE GreenLake is the next logical step in progressing from owning and maintaining physical assets and moving to a highly flexible and service-oriented approach for all network components. That includes computer, networking, storage, data protection, and so much more.
Click to read HPE GreenLake Provides The Full Spectrum of HPE Solutions