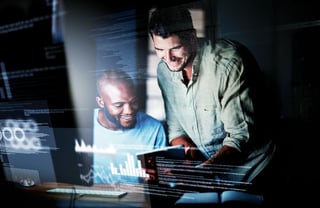 Today's virtual machine (VM) administrators are tasked with an immense challenge. They must have a wide range of experience to manage their complex VM system and support both traditional and modern applications. Additionally, they must work continuously to reduce VM sprawl. These tasks become exponentially more complicated when you factor in financial concerns. Fortunately, HPE has a solution: dHCI and GreenLake.
If you're looking for a dHCI storage solution that helps boost the performance of your system, HPE's Nimble Storage and GreenLake services are worth considering. Nimble Storage provides disaggregated hyperconverged infrastructure that leverages flash and object storage to improve performance and scalability. GreenLake is also a set of services that helps you manage your Nimble Storage environment in an efficient and cost-effective way.
What Is dHCI?
HCI brings dispersed aspects of your data center together, meaning that servers, hypervisors, storage, and data management are controlled from a central platform. In other words, HCI simplifies administration duties while creating a more agile data center.
The idea of something being both disaggregated and hyperconverged might sound antithetical, but in this case, disaggregated refers to the ability to independently scale compute, network, and storage. In other words, dHCI provides a centralized administrator with increased adaptability.
With dHCI, your business can enjoy the benefits of an integrated, easily managed system without the potential complications that come from aspects of your business growing at different rates.
The Benefits Of dHCI
HPE Nimble Storage dHCI is designed for maximum efficiency and resilience. If your enterprise opts into dHCI, you can expect:
Native, full-stack intelligence for virtualized environments. This, along with policy-based automation, makes management much easier for enterprises.
Flexibility in your enterprise's growth. With dHCI, enterprises scale compute and storage independently without disruption. This leads to a significant boost in efficiency and guarantees that your business's growth matches your needs.
Centralized data from edge to cloud. dHCI allows you to keep data in your environment for privacy and control while still benefiting from the utility of the cloud.
In addition to these benefits, HPE also employs HPE Infosight, artificial intelligence that helps balance out potential problems that arise from always-on and always-performing applications. With HPE Infosight, your data center identifies and diagnoses performance problems and automatically resolve 85% of the issues without human intervention.
That will free your IT team to focus on aspects of your enterprise that generate and maintain business.
How GreenLake And dHCI Work Together
While dHCI offers enterprises the flexibility to implement upgrades that scale to their business, deciding which areas to prioritize is complicated. HPE's GreenLake can help.
Here are a few of the ways GreenLake can improve what your business gets from dHCI:
Quickly Evaluate Performance. With GreenLake, administrators can immediately evaluate the performance of new application deployments. This also helps businesses easily identify areas that need support. With this performance evaluation, GreenLake helps your organization build your VM as-a-service model.
Unify Management. Use VMware vCenter to deploy applications and manage the resources of your enterprise.
Get The Most From Your Data. Use flash-optimized storage to maximize responsiveness and reduce latency, providing ultra-fast I/O operations.
Gain Reliable Access To Data. GreenLake provides up-to-date information with 9999 percent measured data availability.
With GreenLake and HPE's Nimble Storage dHCI working in tandem, enterprise admins can rest assured knowing that they will be able to grow their data center in a way that matches the needs of their business.
Final Thoughts
If you are looking for a more flexible solution to match your growing enterprise's data center needs, Nimble Storage dHCI and HPE GreenLake offer the greatest flexibility for new and established businesses. Contact the experts at WEI to start the process on lowering costs and gain better control over the data in your environment.
Contact us today to discover which tools are the right fit for you!
Next Steps: Download WEI's executive brief, Four Smart Storage Strategies To Compete In Today's Digital World. The asset expands on the tangible ways that real companies have come to use scalable intelligent storage to achieve a very real impact on their operations and bottom line.
Determining whether this type of solution fits the most pressing needs of your environment may be another story, however. That's why there are several intelligent storage solutions worth exploring in this landscape.