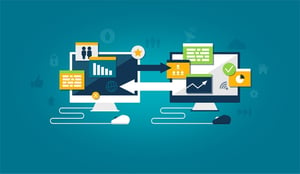 Veeam's new Availability for the Modern Data Center doesn't just offer the opportunity for your company to adopt an "always on" business model; it offers many solutions and services traditional legacy systems like Symantec NetBackup do not. In this blog post we will cover the top 10 reasons to consider making the switch when comparing cloud services for backup solutions.
10 Reasons to switch to Veeam Availability Suite v8 from Symantec NetBackup
1. Eliminate Downtime
The average company experiences 13 instances of unplanned downtime per year. If you're comparing cloud services to legacy backup systems, it may become costly to continually invest in new fixes. Switching to an Availability solution like Veeam can remove this wait time and lower costs; the system is built for virtualization from the beginning and provides completely agentless recovery, native VM replication, multi-hypervisor support and more.

2. Access to Global Support
The Veeam Availability Suite v8 gives customers access to a global support team unparalleled in technical knowledge and communication. Clients recently rated the US-based North American support team with a 98.9 percent customer satisfaction rating and the EMEA team a 97.3 percent rating.

3. High-Speed Recovery Options
Veeam uses an agentless approach to backup and granular recovery, ensuring you can run any recovery scenario virtually without the overhead of additional agents. File recovery access is unrestricted and when compared to cloud services, is not offered in traditional legacy systems.
4. Avoid Data Loss
Legacy backup systems like Symantec NetBackup were designed at a time when problems required solutions over days, not minutes. Veeam's modern data center offers the quickest response time and can have you up and running in less than 15 minutes.
5. Test and Troubleshoot
Do you want to try new ideas, but are afraid of interrupting regular business activities? Veeam's On-Demand Sandbox is the perfect place to troubleshoot and test while keeping current systems intact.
6. Real-Time Monitoring and Reporting
Plan, produce, backup and protect against new issues before they arise with Veeam. Legacy backup systems do not offer this.
7. Guaranteed Restore
Test and try out fixes so you can be sure they will work; all of Veeam's backups are guaranteed.
8. Constant Availability
Unlike Symantec Backup Exec, Veeam's Availability Suite v8 will be around for the long haul; Symantec is selling off its products while Veeam will be around for good.
9. Save Money
Avoid excessive renewal costs by switching to Veeam; the easy-to-understand licensing can help you avoid hidden fees and add-ons.
10. Access Peer Guidance
Veeam has a customer satisfaction rating three times higher than competitors and peers are always available for support, questions and concerns.
When comparing cloud services, it's important to know if your backups are verified. While Symantec NetBackup can't verify the recoverability of your backups, Veeam Availability Suite v8 does, each and every time.
Veeam's new Availability Suite allows you to meet today and tomorrow's business availability demands with RTOs and RPOs of less than 15 minutes for all applications and data. Data availability doesn't have to be difficult to deploy, cumbersome to manage, or expensive to purchase.
Data Availability doesn't have to be cumbersome to manage or expensive to purchase. If you'd like assistance with comparing cloud services and keeping your business activities up and running 24/7, we would love to help! Visit www.WEI.com for more details and check out additional tips and tricks on our blog.