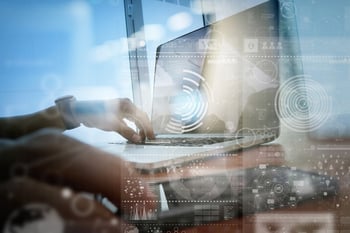 Douglas McArthur once said, "There is no security in this world, only opportunity." That statement is more profound for the business climate of today than perhaps any time in history. There is no longer any security for a company regardless of its size, history or market share. There is also limitless opportunity for new ideas and innovation that can bring recognized value to customers. Ideas are the new substantive matter that has the potential to create or destroy entire industries. A new idea can yield unbridled success to its originator, and irrelevancy to its competitors. Welcome to the Idea Economy, a new age that Meg Whitman, CEO of HPE, says is defined by the ability to turn ideas into value faster than the competition.
A New Type of Economy Demands a New Approach to IT
Ideas are fluid, constantly evolving in order to improve and stimulate further innovation in a continual unending process. The prevalence of this new order is what has sparked the race to digital transformation that is being undertaken by businesses the world over, and it is IT that is leading that transformation. IT is no longer an underappreciated, but necessary, function within the organization. IT today is the pivotal player within a company that must provide the means to deliver these ideas and stay ahead of the competition.
A classic example is the digital transformation of the banking industry. Banking was once dominated by those that could provide the most number of branches to physically service local communities. Today, banks are pouring their resources, not into their traditional branches, but into digital apps that provide unparalleled convenience to their customers. Banks can no longer dictate what "banking hours" are, instead customers are dictating how they want to do business with banks. Today, customers can totally avoid the stress of getting to the bank before it closes or waiting in long lines at the teller to deposit their paycheck. Instead, they can simply direct deposit it using a simple app on their phone. The result of this evolution in banking means that the role of servicing customers is being passed from the branch manager to the network manager. Just as the branch manager faced the staffing challenge of ensuring enough tellers to meet the increased customer traffic on paydays, the network manager must be able to ensure enough resource capacity to meet the increased demands of app traffic. This passing of the torch brings with it heralded opportunity to today's IT leaders, but great challenges as well.
This challenge is not distinctive to the banking industry, but is characteristic of many industries today because customer expectations across the board are dictating new ways to deliver value. The question for your organization is if your data center infrastructure can meet that challenge.
The New Realities
IT today must deal with a set of new realities.
Unpredictable Network Loads – Just as the banking app is allowing customers to choose when they do their banking, company networks must be ready to service highly fluctuating service level demands. This means not only the ability to rapidly deploy additional resources in real time, but also the ability to decommission them as well in order to save costs when possible.
Changing Customer and User Expectations – With the dissemination of the consumerization of IT, the expectations of customers are constantly evolving in order to bring more value into their lives
Rapid Deployment – The time to value for new ideas, services and processes has been greatly reduced in today's compressed product cycles. With DevOps, for instance, the time between the start of software development and its production implementation can be literally days.
Quick reconfiguration of systems – Configurations need to change in time with software development lifecycles that seem almost manic in comparison to agile methodologies.
The Reality of Duality for Today's IT Leadership
As if the task of meeting the challenges of today's shifting business practices of adaptive response and flexibility were not enough, IT leaders must also must also continue to support the traditional technologies that make up the legacy aspects of the data center. This is referred to as Bimodal IT, a challenge Gartner describes as the practice of separate but coherent styles of work—one focused on predictability, the other on exploration. Today's CIO must balance two spheres within data center infrastructure, one for traditional, sequential, steady-state IT that supports core operations, the other for faster-moving, agile IT projects.
HPE and WEI Can Help You Meet the Challenge
The culmination of these new realities for IT equate to the need for a new type of data center infrastructure. In order to achieve the required levels of agility and flexibility today, business must have a means to configure IT the way they want it, when they want it, through a platform that automates operations. That solution is called Composable Infrastructure.
By bridging the performance and control of dedicated infrastructure with the flexibility and benefits of the cloud, Composable Infrastructure represents a key competitive advantage for any company. The technology breaks down operational and resource siloes, delivers stability and reliability for traditional applications, and offers speed and agility for new web and cloud-native applications—all within a single infrastructure. It is precisely what IT needs to operate effectively in the Idea Economy.
IMAGE SOURCE: How the Right Infrastructure Can Prepare Your Data Center for Business Disruptors, Frost & Sullivan, 2015.
When you accelerate IT, everything speeds up. Operations teams can now automate and accelerate internal processes. Your DevOps team can take advantage of the open API to access infrastructure resources and speed the application-development process, which improves time to value. This means customer feedback and new ideas coming out of the LOBs can be realized faster so the business can deliver timely, relevant experiences for customers while staying ahead of the competition—or even better, it unveils opportunities to create new revenue streams.
With Composable Infrastructure, IT can break free from the ordinary and accelerate the extraordinary to
become a value creation partner for the entire enterprise. As an HPE Partner of the Year in 2016, WEI is well positioned to guide the design, test and implementation of composable infrastrucutre today. Let HPE and WEI show you how to transform your data center infrastructure in order to master the new opportunities the Idea Economy presents.
HPE Synergy is here. It's the industry's first truly composable infrastructreu soltution. WEI is one of the VERY few solutions providers in the United States with an HPE Synergy demo unit here on-site at WEI HQ.