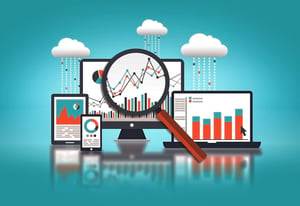 Software Defined Networking is a new paradigm. One that is emerging in data centers around the world. It is not simply because it is the next natural progression of networking, but rather the market is demanding a modernized infrastructure to keep up with the pace of technological change. Let's explore 3 (although there are several) market drivers begging for the salvation that SDN provides.
1. BYOD – Bring Your Own Device
In today's networking environments, users are bringing their own devices to work, and IT departments are expected to keep up with all of the maintenance and security. The problem is, users are defining and driving the process with different types of devices that vary from day-to-day and user-to-user. Add to that the variety of applications users are running on these devices, and you can visualize the IT nightmare.
Software Defined Networking (SDN) turns the nightmare into a pleasant day dream, by providing the agility, flexibility, and monitoring capabilities that legacy networks severely lack. Further, SDN takes the burden off of IT, resulting in a significant cost reduction. In fact, it is estimated that 80% of IT budgets is consumed by maintenance. That number alone tells us it's time to move away from legacy networks.
2. Consumerization and the Cloud
While SaaS (Software as a Service) was always located in the cloud, the cloud has morphed to include just about everything in the consumer world. Adobe announced in 2013 that they were migrating from their one-time fee packaged software set to a cloud solution, whereby you access the software from your device by interacting with the cloud, on a subscription basis. This is just one example of how the cloud is dominating the end-user and consumer experience.
This trend simply cannot be supported by traditional legacy networks that have specific ways of deciding when, where, and how traffic gets routed. Routers and switches simply cannot carry the load anymore. SDN takes care of that. By virtualizing the hardware, it enables user-defined actions to traverse the network seamlessly and optimally.
3. Big Data
Big Data describes the massive amount of data that is traversing our networks today, in order to support our applications, streaming media, video, voice, encryption, encapsulation, gaming and database interactions. Big Data comes from existing technologies as well as the explosion of new technologies that are sweeping onto the scene at alarming rates; and our good 'ole networks simply cannot keep up with this pace.
In comparison with virtualization and the cloud, which have come to the rescue to support Big Data and our insatiable appetite for more, better, and faster technology, networks have remained static. It is time now for networks to virtualize, automate, and acquiesce to user demand. SDN provides the structure, framework, and technology to advance our networks to their optimal level, one that keeps pace with the explosion of data that is our reality today.
Companies that have already adopted SDN include PayPal, Google, Yahoo, Facebook, and EBay. What these early adopters tell us is that SDN cannot wait. For these enterprise players to satisfy their customer's demands, adopting SDN was a welcomed necessity.
But don't let the giants fool you – you don't have to have a large conglomerate network to benefit from SDN. In fact, small networks and small companies benefit from SDN equally as well. Small or mid-sized companies often do not have the budgets to staff IT departments to manage their legacy networks, and the staff that they do have is often over-burdened with IT tickets, playing a constant game of catch-up and fire drills. Implementing SDN will streamline IT resources, reduce operating costs, and reduce capital expenditure – and reduce IT-strained headaches.
Learn more about SDN in our whitepaper entitled, Software Defined Networking: The Next IT Paradigm of Promise, which provides a deeper dive into the market drivers and benefits to your own organization.