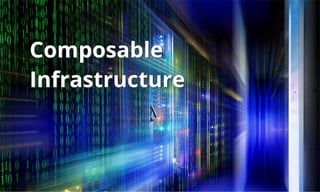 Today's IT Manager has to walk a tightrope. Management is saddled with the inherited role of supporting the traditional data center that remains built around an inflexible hardware-based infrastructure. At the same time, management and market pressures are compelling them to try to and transform this rigid environment into a modern data center—designed around flexibility, operational velocity and borderless adaptation. It is a quandary of duality that IT teams frustratingly have to deal with.
Besides the fact that businesses have a large amount of capital expenditure already invested in their legacy data centers, there are still valid reasons why IT departments will have to continue to support them. Some applications require tremendous levels of resources that are ideally met by a dedicated physical server. Other applications continue to insist on licensing models that are unsuited for the virtual environment.
Businesses are undergoing the process of digitally transforming themselves. Part of that process, is creating a new breed of applications and services that target a new breed of customers that expect services on demand that will change according to their needs. This is accomplished by leveraging mobility, big data and cloud technologies together, creating an environment in which Infrastructure deployment can become a demand activity implemented by those who use it.
The good news is that there is a new infrastructure architype that can greatly simplify the struggle of managing these two competing and opposing worlds. That new model is called Composable Infrastructure. So what is so special about this new standard?
It allows you and your team to service your users—any workload, anytime, anywhere—at the designated service level they require. All of this, while reducing both capital and operational expenditures.
The Natural Transition to Composable Infrastructure
When we look back at the map of how we arrived here, we find that composable infrastructure is the glue that melds together all of the architypes we have been implementing over the past fifteen years that always had some type of shortcoming.
Traditional infrastructure packed the punch we needed to deliver resources to our applications, but was plagued with underutilized hardware and the inherit challenge of interoperating proprietary hardware.
Converged Infrastructure was designed to eliminate the challenge of interoperability by procuring the whole compute, storage, and network environment into one package. This made interoperability and functionality predictable. At the end of the day however, it was still hardware dependent, resulting in an inflexible array of isolated silos throughout the data center.
Hyperconverged Infrastructure has allowed IT teams to liberate their data centers of the SAN, that monolithic data storage system that consumed a great deal of investment dollars and operational support. In a hyperconverged infrastructure, each cluster manages its own local storage, a system also known as Software Defined Storage (SDS). This creates a single package of computer and storage virtualization together. Although HI has contributed greatly to the process of software defining the data center, IT must still manage two separate environments as physical servers physical servers are not able to access the storage resources.
We have always known there had to be a better way, or at least we hoped there was, and now there is. Composable infrastructure is a new approach to data center management, one in which hardware and software are architected as one. In a composable infrastructure environment, there is no duality of IT. There is simply a single place to manage every element within your infrastructure and every workload in your environment. This is realized by coupling the infrastructure and the software together.
A Single API
IT personnel no longer have to use a multitude of tools and interfaces to manage the data center using a single API. Admins can now configure and modify any element within their on premise or hybrid environments. Through this single API approach, composable infrastructure allows you to provision, update, inventory and troubleshoot your entire IT environment through a single interface. Provisioning is performed using a single line of code. Tasks are now template driven and fully automated. All of these benefits culminate in bringing down operational costs and frees up valuable labor time that can be directed at valued generating projects, rather than the mundane drudgery of mindless firmware updates and migrations.
In summary, composable infrastructure is about unifying your environment into a single unit that is optimized for efficiency, productivity and flexibility. It is the glue that ties everything together and will serve as the liberator that IT has been eagerly waiting for in order to lead their organizations to greater opportunities in a digitized world.
NEXT STEPS: Get to know this next generation data center solution by reading our white paper, Orchestrating Composable Infrastructure - 6 Ways to Ensure Operational and Financial Harmony.