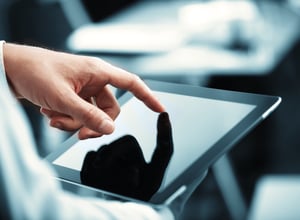 The digital revolution is changing the way businesses operate and how people work. Employees desire flexibility and the option to work anytime from anywhere from the devices that they prefer. With freedom of choice, employees have more control over their work experience, resulting in higher job satisfaction and increased productivity. Enterprises report that the majority of their staff members prefer Apple devices. Apple helps companies empower their employees through personalized, optimized work environments. With the Apple Business Manager solution, setup and support of Apple devices is simple and seamless. It has become easier and more cost-effective than ever to give your employees the freedom to choose.
Improving Productivity
Employees often perform better in a personalized work environment. Productivity increases when employees can use the devices and applications that they prefer. Apple supports core business apps and services, like Microsoft Office and Google GSuite. Many industry and workflow-specific legacy apps have also been modernized for compatibility with Apple devices. However, employees are not limited only to essential business apps using Apple devices. Self-service tools allow users to install personal productivity apps and other tools that can help them maximize their performance. With Apple's advanced security architecture, devices can be used for both personal and business needs.
Reducing Demands on IT
Downtime is also reduced when employees use devices that they are familiar with. Many employees already own personal Apple devices and know-how to troubleshoot issues. When staff members can provide their own tech support, it increases productivity throughout the enterprise. Minor issues do not result in hours of downtime, and IT is free to focus on business goals. The addition of AppleCare further encourages self-support and self-sufficiency. An AppleCare integrated help desk shifts the goal of tech support. Instead of IT professionals fixing every tech issue, employees are taught to investigate, and problem solve. AppleCare also provides support for IT staff to ensure that Apple devices are efficiently integrated and supported.
Attracting Top Talent
Studies show that employees are more productive, efficient, and satisfied when empowered to use the devices that they prefer. The vast majority prefer Apple products. Freedom of choice gives your company an edge in recruiting and keeping top talent. With Apple, your employees will have the tools they need to maximize productivity and innovation.
Apple Business Manager
In the past, devices were purchased in bulk from a single manufacturer to ensure compatibility and easy management. It was impractical for IT to support numerous devices with different requirements. However, technology has advanced, and it is now much easier to manage a variety of devices. Apple Business Manager is designed to work with your mobile device management (MDM) solution. Apple Business Manager simplifies every aspect of Apple device deployment and management.
Automated Deployment - Devices can be automatically enrolled in your MDM solution during setup, eliminating the need for manual configuration.
Content Management - IT can purchase and distribute apps, individually or in bulk, and manage licenses for all users.
Configuration - Accounts, security, apps, and data can be configured over-the-air for each device.
Managed Updates - IT can delay or push updates to devices to ensure constant, effective security.
Security and Control - IT can remotely supervise devices and impose extra restrictions or security solutions.
Apple devices maximize security and privacy for both work-related and personal data. All Apple products have a secure management framework built-in, and every app is verified before launch. Granular management tools give IT valuable insight without sacrificing employee privacy. IT can access the settings and information necessary to keep corporate data secure, but personal data is restricted. This separation helps protect company data and ensures employee privacy.
Employees prefer a modern work experience built on flexibility and personalization. The ability to choose the devices that they prefer is a key element of this new work environment. Freedom of choice generates increased productivity, innovation, and job satisfaction. Surveys show that Apple products are the top choice for the majority of employees. Apple Business Manager enables enterprises to seamlessly deploy and manage Apple devices. With Apple Business Manager, IT can remotely support and configure devices, apps, and accounts. Apple's strong security framework ensures that both corporate and personal data remain secure. Apple Business Manager is a streamlined, comprehensive solution to help you provide your employees with freedom of choice.
NEXT STEPS: Discover tips for success in order to deploy Apple devices the right way by downloading our white paper titles "Success Tips for Integrating Apple in the Enterprise" below.