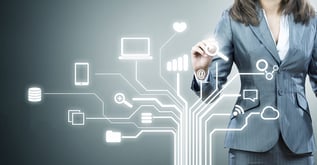 The Digital Transformations that the world has undergone has led to an insatiable appetite for applications and built a robust reliance on them. This reliance on apps and infrastructure has been greatly magnified this past year by the absence of physical face to face contact stemming from remote work strategies. Because your business is dependent on applications, the performance of your business is tied to the performance levels of your applications. Now compound this with the great cloud migration, and it becomes challenging to discern what is truly happening out there with your apps and the cloud(s) in which they reside. These are but some of the reasons why your enterprise needs a Cloud and Application Monitoring solution that is built with the future in mind. Below are some of the benefits you can derive from a premier APM solution, such as Dynatrace.
1. Continuously learn your environment
Proper inventory management is imperative for any retail or manufacturing company. If you don't know what's in your warehouses, then you don't know the actual financial status of your business. The key is to put all of your inventory to work. Think of your enterprise network in the same way. Beneath your critical applications is a complete underground of underlying components and dependencies that make up the application stack. Undoubtedly, there is a fair percentage of this undergrowth that your IT team isn't aware of. Chances are, there are a number of weak links in the application chain in these gray areas. Weak links create weak performance.
A premier cloud and application monitoring solution adds clarity to the full application stack. It can map dependencies between components such as processes, services, and hosts both horizontally and vertically. This allows you and AI-driven intelligence to truly understand the call relationships between these dependencies. This knowledge then allows for an intelligence based APM solution to pinpoint potential problems that can impact performance.
2. A greater reliance on applications
People have been using applications since the dawn of the PC. The reliance that employees and customers have with their involved applications today is unprecedented, however. When there is a disruption in a Zoom, Teams, or Slack session, the meeting stops and frustration builds. When a disruption occurs within your ecommerce application, money transactions stop. When your CRM doesn't function correctly, the help desk lights up with call. Disruption is a dirty word today when it comes to enterprise applications. That is why observability is so important. A solution such as Dynatrace, provides a digital experience that can prevent problems before users see them, thus keeping your revenue generating sessions running as expected.
3. Stop playing detective
So, here's how the traditional application monitoring process played out. The monitoring system consistently fed your admin support team with droves of log files. That backlog required the laborious task of sifting through all of the noise in order to piece the puzzle together. Let's face it. Your IT team doesn't have the time for that anymore, nor does your business have the money to finance it.
While some APM solutions dress up these logs with snazzy charts and dashboards, they still don't provide answers. That is changing, however. Modern observability solutions created for today's digital transformation trends, such as the Dynatrace Software Intelligence platform, are designed to deliver answers, not endless logs that no one wants to read. Dynatrace AI uncovers the root of the problem in order to automatically discover and prioritize answers to issues instantly. Your company doesn't have time for disruption, nor does it have time to solve them. In some cases, problems are remediated by the time your admins are notified. That's a major improvement from traditional monitoring processes.
4. Automate cloud operations
Why have so many enterprises migrated resources to the cloud in the past decade? One of the chief reasons is scalability. Enterprises today have the ability to match resources with workload demand in real time thanks to the ease at which servers, services and software defined components can be spun up and retired. Shouldn't your APM solution be able to scale in equal fashion? Cloud monitoring offers you the same levels of scalability and flexibility as any other cloud-based solution within your environments. It can also provide you valuable insight into which clouds are being used for specific applications and data queries.
With Dynatrace Cloud Automation you can simplify cloud operations through AI and automation to build and run cloud native apps faster.
5. Compliance and SLA & SLO confirmation
While there are a great many benefits to cloud computing, there is always a presence of nagging uncertainty. How certain are you that your SLA performance agreements are being delivered? How do you know if your company is meeting its security compliance requirements? APM can help clear up these uncertainties, giving you the insights and information to show you what is truly going on within your on-premises facilities, as well as that murky location we all know as the cloud.
6. Eliminate inefficiencies across your IT environment
A big part of managing a business is maximizing the efficiencies of the involved departments. Maximizing the efficiency of your shipping or manufacturing departments leads to greater profitability. Now think about efficiency in term of your IT environment. Maximizing the efficiencies of your application stacks can significantly enhance the digital user experience. An effective APM goes further by focusing on environment optimization—locating looping code, excess DB calls or those extra network hops that have plagued you for years. It can also eliminate duplicative work efforts for your staff by automating monitoring functions that were once manually driven. By providing granular directives to your support staff, issues can be dealt with in record time, saving you labor hours.
One more thing…
We would be remiss not to talk about the power of self-healing. No, this blog is not about to take a turn toward meditation and breathing exercises. What we are talking about here is automating remediation and building reliable solutions. AI is a great tool for identifying and remediating issues, but you need a solution that enables you to use that insight to build resilient systems. Leveraging modern monitoring tools enables you to execute specific remediation actions in a much smarter and efficient way. If you give DevOps the ability to embed Dynatrace into their delivery pipeline they can get feedback right away, which enables early optimization.
Andreas Grabner from Dynatrace goes into greater detail about Site Reliability Engineering and the self-healing capabilities of Dynatrace in his blog article here: Shift-Left SRE: Building Self-Healing into your Cloud Delivery Pipeline.
Next Steps: In the time you have read this article, an APM could have already averted a disrupting event within your enterprise. There are a lot more than six benefits that can be derived from an intelligence based APM solution such as Dynatrace. We invite you to reach out to our subject matter experts here at WEI to find out all of the ways that a software intelligence solution driven by automation and AI can benefit your company today.
Continue learning more about automation and continuous delivery in our tech brief below, "How to Accelerate Your Business Transformation with DevOps and Automation."