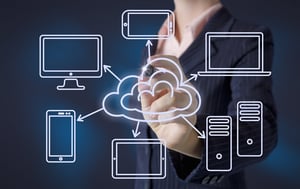 As technology changes, so do priorities. For today's enterprises, the most important pieces of the IT equation are speed, flexibility and agility. However, IT is often overwhelmed with lifecycle management and infrastructure delivery. To keep up with business demands and improve efficiency, IT teams need to make use of automation to accelerate operations.
With the right solution, enterprises will be able to automate every step of the application delivery process, including networking and security. VMware solutions, including VMware Cloud Foundation and the vRealize Suite, work in tandem to offer enterprises the key pieces they need to automate infrastructure and multi-cloud operations.
VMware Cloud Foundation, built on a software-defined HCI architecture, offers a consistent operational model applicable to any enterprise need.
VMware Reduces Human Error
Over time, enterprises have grown increasingly complex, often combining multiple generations of technology to provide quick solutions to short-term problems. However, in the long-term, these solutions often create environments that require significant time and energy to manage manually.
Unfortunately, manual processes are often rife with opportunities for human error. Monotonous configuration and provisioning tasks are especially prone to errors, leading to costly reworks and wasted time. By implementing VMware Cloud Foundation, enterprises can deploy lifecycle automation across their hybrid cloud environments. For even more benefit, enterprises can also leverage NSX, which offers automation of deployment and configuration tasks.
When it comes to applications, VMware automation allows enterprises to take a policy-based approach that only requires minor intervention from IT.
By automating configuration and provisioning tasks, VMware frees IT from the shackles of these slow, repetitive tasks, which reduces the possibility for human error at the same time.
Automate Standard Processes
In addition to configuration and provisioning tasks, other common, repeatable processes are a perfect opportunity for automation. vRealize Automation provides enterprises with a way to automate and standardize repeatable processes, which has the added benefit of increasing the reliability of the IT environment. By automating these processes, IT can speed up application delivery and reduce the need for rework or downtime events.
Automation can also be applied to the provisioning and maintenance of various business processes, such as training provisioning or internal certifications. This allows employees from various areas of your enterprise to refocus on more high-level projects instead of manual, repetitive tasks.
Reduce Project Turnaround
IT is on the frontline of every business initiative, and if IT gets bogged down with the challenges that come from traditional data center infrastructures, the rest of a business will suffer. By implementing software-defined infrastructure with integrated cloud management, enterprises can automate important infrastructure and app services with self-service capabilities, reducing the burden on IT and empowering employees. Additionally, VMware Cloud Foundation supports performance optimization, proactive capacity management and more, which offers enterprises improved efficiency and will accelerated service delivery.
VMware Makes Designing New Processes Easy
If your enterprise has needs that are not included in VMware's out-of-the-box capabilities, the vRealize Suite has you covered. It's Anything as a Service (XaaS) tool, which offers a wizard-driven approach, gives IT a way to design end-to-end processes. Application and infrastructure offerings can be found in the vRealize Automation catalog.
Are You Ready For VMware for Automation?
VMware offers enterprises solutions that will help them manage and run consistent infrastructure, across on-premises data centers and public clouds, improving user experience and overall business operations. Their innovative approach to cloud offers architecture that is easy to deploy and manage, increasing enterprise agility and flexibility.
NEXT STEPS: Learn more about VMware vRealize with a full 360-degree view of VMware's hybrid cloud solution in our white paper below.