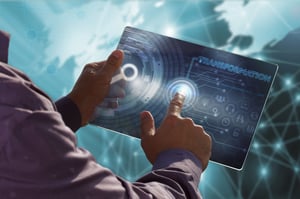 In 2019, the top two IT spending priorities for organizations centered on digital transformation and upgrading, or refreshing, existing IT. For the majority of firms polled, complete success in digital transformation could not be easily achieved with the traditional, stand-alone infrastructure currently in place. The time and expertise needed to automate resource provisioning for them is untenable.
Composable infrastructure, however, takes a fundamentally cloud-centric approach to provisioning and standardization that builds on the transformational success of hyperconverged infrastructure. The rapid rise of public cloud services has accelerated the need for private clouds, and their underlying infrastructure, to be highly configurable, agile, and easily managed.
Considerations for data center modernization
Most IT leaders aren't interested in adopting technology for technology's sake, nor are they interesting in eliminating proved architectures before their time. The ideal solution is a plan that allows them to refresh their existing infrastructure with more flexible, functional versions.
Frost and Sullivan interviewed IT decision-makers about their plans and, when combined with independent research sponsored by HPE, found five key considerations that are important to businesses as they revamp their data center infrastructure. Let's take a closer look, and see how the HPE Synergy platform meets their needs.
The Enterprise Data Center Is And Will Continue To Be, An Important Part Of Your Digital Transformation Strategy
Even with the popularity of the public cloud, the enterprise data center isn't going away. In fact, the growing adoption of architectures for latency‑sensitive workloads, such as edge compute and Internet of Things, has placed renewed emphasis on premises-based infrastructure. Businesses are looking for a simple migration path to the hybrid environment of the future, in which on‑premises infrastructure can seamlessly integrate with public cloud.
Improving Your Data Center Doesn't Require Replacing Your Infrastructure Architecture
To IT leaders, modernizing the data center means introducing flexibility and functionality. As they move along their modernization journey, they see no need to do a "rip‑and‑replace" of data center hardware and software. Nor will they necessarily jump into the latest deployment models and architectures, such as private cloud or software-defined data center, although they want the flexibility to explore those options in future.
As they refresh and expand the data center, replacing "like for like" equipment (with similar functionality and capacity) is no longer adequate.
Instead, they expect next-generation infrastructure to be more flexible, scalable, and easier to integrate, maintain, and manage than previous generations.
Your Data Center Should Provide More Value With Less Effort
Upgrading infrastructure shouldn't add to the management burden. When it comes to replacing or refreshing their data center infrastructure, IT leaders want next‑generation solutions that introduce efficiency and functionality. But they're wary of solutions that come with a steep learning curve. Nor are they willing to devote specialized technical resources to handle custom integration and ongoing maintenance and management tasks.
The Private Data Center Should Deliver Public Cloud Flexibility
To support a dynamic business, IT leaders want all the benefits of the public cloud in their private data center. That means access to a flexible resource pool that can be configured and allocated easily and in real time. It means scalable, on-demand capacity, with automated functionality and management simplicity. It means interfaces that allow easy integration across vendors and deployment models.
The Data Center Should Facilitate A Pathway To The Future
Each business approaches its data center modernization journey at its own pace. Some companies actively pursue the latest features and architectures. Others take a more measured approach. But nearly all IT leaders prefer infrastructure solutions that are flexible enough to support each company's needs. For technology-forward firms, the data center infrastructure should offer next-generation features and functionality, without adding complexity. For companies that are earlier in their transformation, the infrastructure should offer immediate value, while defining a clear and simple path to modern configurations like private cloud and software-defined data center.
Consider a foundation on composable architecture
In composable infrastructure, compute, storage, and networking resources are abstracted from their physical appliance, and managed via a software platform. Composable infrastructure makes data center resources as readily available, scalable, and efficient as public cloud services, and is the foundation for private and hybrid cloud solutions.
Top benefits of HPE Synergy Composable Bladed Infrastructure
Finding the right composable solution that fits within the enterprise's current blade server architecture can be a puzzle. But with HPE Synergy, the first platform architected for composability, enterprises can run their composable infrastructure in the same environment and manage it through a common management solution (HPE OneView), delivering flexibility and efficiency to the data center.
Top benefits of the HPE Synergy composable platform cited by enterprise IT decision-makers include:
One platform can meet your current and future business needs, running any application, traditional and cloud-native.
As-needed resource allocation reduces overprovisioning of infrastructure, improving cost-efficiency and ROI.
Automation and software-defined control reduces time spent on provisioning and maintenance.
Because infrastructure is fully integrated with the sophisticated HPE OneView management platform, deployments are simple and rapid.
Simple, frictionless updates mean it's easier to keep the data center running optimally, without business disruption.
Intel Xeon processors deliver cloud computing, real-time analytics, and big data insights, while improving data center efficiency and reliability.
Begin You Digital Transformation With WEI
Digital transformation is hard, especially for established enterprises constrained by legacy infrastructure. But the longer it's put off, you risk falling further behind as the demands on human resources to maintain increasingly complex IT infrastructure grow. Contact WEI to begin putting together a custom solution for your business's digital transformation process today.