I'm sure you've heard the saying, "a company's greatest asset is their employees." However, they can only be your greatest asset when they have the tools they need to be successful. For this, and many other reasons, many enterprises are offering Apple® products to their employees.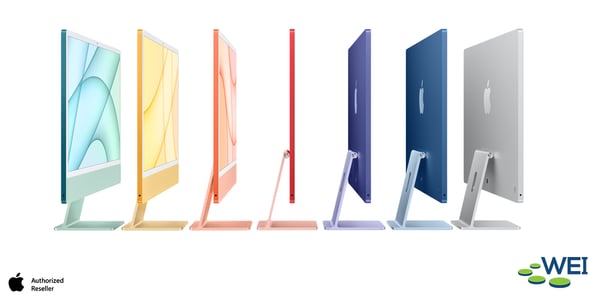 This is especially true as the need and desire for flexible working environments has grown. Apple offers simplified deployment and management, all while offering superior security, interconnectivity between devices, and productivity benefits for users.
As an added bonus, Apple devices are a popular choice as personal tech devices, meaning there's a good change your employees are already familiar with using Mac®, iPhone®, and iPad® at home. This familiarity is an added productivity bonus, on top of letting your employees utilize devices they already know and love for work.
The Availability of New Technologies and Ease of Updates
There's a reason why Apple is the gold standard for new and shiny pieces of tech. With frequent and significant upgrades to hardware and their signature operating systems, iOS®, macOS®, and now iPadOS®, Apple offers your employees the latest and greatest in digital technology.
Recently, Apple announced a slew of updates at WWDC21, their annual worldwide developers conference. The news included the reveal of iOS 15, iPadOS 15, and macOS Monterey. All three will be available to the general public sometime this fall. In the meantime, it's time for IT to see how these updates will impact the enterprise's IT environment and get prepared for the switch.
Thankfully, Apple makes this easy too. While there are third-party alternatives for managing software patches and updates, Apple offers a cloud-based service called Software Update, which enables IT teams to apply security patches and operating system updates.
The service also publishes patches and updates for frequently used applications such as Safari® and iTunes® for added efficiency. Mac is pointed to the service by default, which automatically notifies end users of any patches and updates they need to apply, and then prompts them to execute the downloads. For enterprises, putting self-service in the hands of your users keeps them focused and productive and reduces IT support tickets.
Apple Offers Unbeatable ROI
Beyond all the previously mentioned benefits of Apple devices in the enterprise, your business will see additional savings when it comes to IT.
A study from Forrester found that when organizations decided to implement an employee choice program and offer Mac, they "reduced IT support costs, improved employee productivity and engagement, and improved overall security."
By reducing the amount of time spent managing devices and responding to the help desk, Apple helps reduce overall costs and lets IT focus on more important and complex tasks.
>> BONUS: Read our 2-part blog series that shares the ROI highlights from Forrester's TEI study about Mac. <<
Apple Helps Enterprises Keep Data Safe
Security is on everyone's mind right now. New threats are popping up every day and the financial ramifications of a successful cyberattack just keep growing.
To help reduce the risk that cyberthreats pose, Apple has gone to great lengths to ensure the use of Apple devices in the enterprise does not pose a security risk.
Here are a few of the strategies and technologies utilized by Apple to ensure security:
Secure startup processes
Extensive system safeguards
Strong passcode policies
The Apple T2 Security Chip
Runtime protection, sandboxing, and other tools used to ensure downloaded apps are only accessing data in pre-authorized ways
Over the last few years, Apple has emerged as an industry leader when it comes to user data privacy and security and has taken a firm stance on data protection as a corporation. Find out more about Apple's security strategies from Apple CEO Tim Cook's 12-minute opening keynote presented at the most recent Computers, Privacy & Data Protection (CPDP) Conference.
Apple Authorized Resellers Can Help Enterprises Get Started
Enterprises looking to implement Apple devices can work with Apple Authorized Resellers to get started, as well as utilizing them for ongoing maintenance and support. As an Apple Authorize Reseller, WEI can help you quickly and efficiently integrate Apple into your enterprise with full lifecycle support, so you can deliver the user experience your employees have come to expect.
Are You Ready to Empower Your Employees with Apple In The Enterprise?
Implementing Apple for those employees who consistently request them drives productivity, collaboration, and creativity throughout the enterprise. Many of our customers have already made the transition to a blended Windows and Apple environment that enables employees to enjoy how they use technology in their jobs. Find out how WEI can help you create efficiencies with Apple device management and how our specialized services can help you roll out a user experience that will empower your employees to do their best work. Contact WEI today to find out how we are helping our employees deploy and manage Apple in the enterprise with full lifecycle support.
NEXT STEPS: Get our official guide to everything you need to know to prepare for offering Apple in the Enterprise in our exclusive eBook below.
Apple, the Apple logo, Mac, iPad, iPhone, macOS, iOS, and iPadOS, iTunes and Safari are trademarks of Apple Inc., registered in the U.S. and other countries.