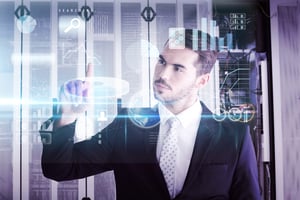 It's great to have a new car, but regardless of if it's a Range Rover, Mercedes, or Maserati, there will be problems if the oil is never changed. A software defined data center (SDDC) operates on similar principles. There may be great use cases and data pushing for SDDC, but if proper management and maintenance isn't utilized, those far reaching benefits will never be had.
The big three in the software defined space are servers (compute), storage, and networking. With SDDC, more dependencies are being put into the software stack, including governance processes, controls, and more. SDDC changes our perception of being able to casually operate an environment. Things become more critical if they are delivering services to a business. VMware has many additional tools that are created for these reasons and they call it the vRealize Suite.
vRealize's Role in the SDDC
When operationalizing IT practices, the vRealize Suite of components brings true automation, understanding of costs and controls, capacity planning, and troubleshooting capabilities. The vRealize Suite is a comprehensive suite that features nine different products that work together to not only get the software up and running, but to also have the capabilities to extend it with Lifecycle Manager. Lifecycle Manager is designed to help maintain the versions of all products within the vRealize Suite. NSX can make it even easier to troubleshoot and review logs, as it works really well with vRealize Log Insight. As far as analytics goes, vRealize Operations Manager is the only tool that can get deep analytics into the VMware vSAN software-defined storage part.
vCenter is a centralized control panel that helps make various components interact and work together. Servers may work seemingly fine if vCenter is down for whatever reason, but that centralized control is needed to optimize and update anything and everything.
vCloud Foundation, also known as VMware Cloud Foundation, is VMware's bundled offering of compute, storage, and networking, which defines the SDDC stack. Lifecycle Manager is the tool that can be added to manage changes when dealing with software maintenance and upgrading patching. That tool itself will deal with a lot of the deployments and things that are part of the strategy.
vRealize is no longer a tool simply for VMware admins. It is a tool for your entire IT team, including the storage team, server team, and networking team. End users are most likely consuming from a catalog provided by vRealize Automation. A day-to-day administrator may be using vRealize Operations on a daily basis to gain insight into what the environment is doing, troubleshooting a VM, troubleshooting a vSAN, or identifying driver issues. A day-to-day admin may even get reporting for NSX pieces of Operations, but the deep logs will only be available in Log Insight.
vRealize and Hybrid Cloud
vRealize can also be used as a hybrid cloud management solution. vRealize Operations, Log Insight, Orchestrator, and Automation are critical components of day-to-day operations, but the true hybrid cloud capability is generally reached using NSX, vSAN, and vSphere. VMware cloud has a partnership with AWS that allows organizaitons to have a hybrid cloud solution fully virtualized SDDC on premises. The ability to shift SDDC workloads back and forth offsite is the true SDDC vision come to life.
The amount of vendors and companies offering to rent out cloud space to companies makes it easier and easier for organizations to simply have vSphere on premises separate from any cloud strategy. Unfortunately, what we see a lot is that IT teams are entirely unaware of external cloud operations because they aren't included in the conversation or process. It isn't always for cost reasons either. Often enough, organizations decide they do not have the resources or that they only need the added workloads for a short period of time (think retail stores during Black Friday).
The hybrid cloud should be managed by an IT team where things and workloads should run. That should be a combination of security teams, risk teams, cost teams. It's not about the cloud being cheap, because anybody who's taken the same workload and moved it into a cloud realizes it's going to be more expensive to run an identical workload. When people refactor their applications though, that is where they start to realize some benefit out in what we consider the public clouds. Ideally, organizations will have SDDC and hybrid cloud initiatives at the same time because they complement each other really well and have a lot of shared resources.
Conclusion
The software defined data center is promising, but it is a few year journey. An organization can't just retrofit 10-year-old servers with some hard drives and have a vSAN and call it a Software-Defined Data Center. The IT silos of working day after day work, but they don't encourage a Software-Defined Data Center model where the teams are working very close together. The vRealize Suite of products does just that. Talking to a trusted IT solutions provider can help to assess and assist with any technology changes, whether major or minor.
Next Steps: IT is no longer reactive and labeled as a cost center. Learn where the value in digital transformation lays by downloading our white paper, "Benefits of the Software Defined Data Center."