Adoption of hybrid cloud is on the rise. In looking at the results of the 2016 State of the Cloud Survey, there is strong growth in hybrid cloud adoption as public cloud users added private cloud resource pools. 77 percent of respondents are now adopting private cloud up from 63 percent last year. As a result, use of hybrid cloud environments has grown to 71 percent (Cloud Computing Trends: 2016 State of the Cloud Survey). Sure, the research speaks for itself, but given our experience building private clouds and hybrid cloud environments for our customers, we can certainly vouch for the validity of those stats. However, seeing the benefits of hybrid cloud come to fruition relies on the tool your company will use to manage it.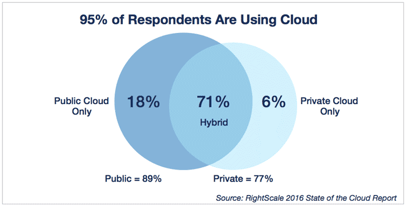 The vRealize Suite is a cloud management tool that the software defined data center demands; it also provides the level of automated provisioning that users have grown accustomed to for many years outside of the office.
Why is the vRealize Suite Important?
There are a variety of software based management tools that are available for those companies that are modernizing the data center, and for the same reasons IT departments no longer have the time to configure individual proprietary devices, they likely also don't have time to use different software applications to manage each facet of their network. What IT needs is a single application suite that can manage the micro levels of your enterprise from a single macro based enactment – this is where vRealize provides relief.
vRealize Simplifies Complexity
Not so long ago, defining the typical enterprise was a relatively simple task as most organizations defined their enterprise around a solitary data center located at a single physical site. Because of technological advances and cloud-based computing, defining today's IT landscape is anything but simple. This is due to:
Multi-Site Networks: Today's virtual server clusters are no longer limited to a single subnet or site. VMware's stretched cluster can encompass sites with different subnets that are less than 100 KM apart. [click to tweet]
Multiple Hypervisors: VMware brought virtualization to the forefront and made it a mainstay for today's enterprise, but due to the improvements of competitive hypervisors, many organizations use multiple virtualization solutions.
Multi-Tier Applications: The applications that IT managers depend on today are separated into multiple operational layers such as the 3-tier application model that includes the presentation, application and database layers, all of which are physically separated.
Multiple Clouds: The hybrid network is the new normal in which network resources are distributed between on premise and the cloud as they strive to achieve elasticity with on demand resource provisioning. Furthermore, organizations may employ more than one cloud service provider.
Multi-tenancy: Service providers and other types of business today must provide multiple instances of one or more applications that physically reside within shared environments but must remain logically isolated.
What Makes Up the vRealize Suite?
VMware's vRealize suite is made up of four primary components:
1. vRealize Automation: Designed to streamline the delivery of customized infrastructure, applications and custom IT services. vRealize Automation greatly simplifies the deployment process of network services, no matter where those services reside, be it a private or public cloud.
2. vRealize Operations: A streamlined deployment process depends on a stable and proficient network infrastructure that retains a constant state of performance maximization and efficiency. According to VMware, vRealize Operations allows IT teams to proactively address health, performance and capacity management of services across heterogeneous and hybrid cloud environments in order to improve service performance and availability.
3. vRealize Log Insight: Imagine having the ability to access a single consolidation of logs from your entire virtual service infrastructure. vRealize Log Insight does precisely that by providing a virtual appliance that administrators can access to monitor, troubleshoot, perform security auditing and conduct compliance testing for both on premise and cloud resources. In addition, it gives users the ability to view log data in custom graphs that provide instant insight into the network's performance. vRealize Log Insight gives administrators the ability to monitor and troubleshoot network issues at a whole new level. [click to tweet]
4. vRealize Business for Cloud: The variable cost structure of cloud resources makes it difficult to forecast budgetary allocations. vRealize Business for Cloud gives management the ability to take control of both sides of the hybrid network and provide them automated cost structuring and business intelligence in real time. Any change made in the network environment will be automatically reflected by their associated cost, giving managers real time cost data to substantiate new network deployments.
vRealize: 3 Editions
VMware's vRealize comes in three editions; the primary difference between them is the degree of automation offered.
1. Standard Edition: Provides the features of Operations Management, Log Insight and Business for Cloud. This edition is suited for those companies that are only looking to improve application performance and availability through the aid of intelligent predictive analytics and alerts.
2. Advanced Edition: Provides IaaS infrastructure automation, which reduces response times to resource requests. This is accomplished by providing self-service access to selected resources by IT and business users.
3. Enterprise Edition: Offers resources for organizations looking to implement DevOps initiatives and automate the delivery and management of full application stacks. According to VMware, Enterprise Edition can aid development teams in delivering a complete application stack. It supports developer choice in the form of both API and GUI access to resources and can provision resources across a hybrid cloud.
At WEI, we are proud to be assisting customers with incorporating vRealize into their technology approach. vRealize offers something for everyone: empowerment and self-service deployment for users, policy-driven control and automation for administrators, and cost efficiency and analysis for management. All of these together help to transform businesses today into the elastic, agile and proactively competitive organizations that can make the real difference in increasingly competitive markets. Read our white paper titled "A 360 Degree Panorama of vRealize"