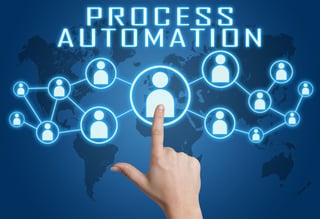 Have you heard about our technology partner VMware's vRealize Suite for cloud and data center management? It's the solution that enables hybrid cloud management and can help enterprises keep up with the growing IT demands of today's digital business. One of the most valuable tools within the vRealize Suite is Automation, which is so powerful that VMware allows you to purchase it as its own standalone application. [click to tweet] However you choose to use it, it offers the enterprise five fantastic benefits.
Automation in the vRealize Suite: 5 Benefits
1. Agility
In the case of vRealize Automation, agility is more than just a hot tech topic; it is a benefit that can add immediate value upon its implementation. IT teams can now rapidly respond to changing business needs and user requests. This can transform your organization into a user-driven environment rather than a top-down approach in which one desktop (or device) fits all.
2. Simplicity and Empowerment
By publishing your organization's deployable services, each team member can enjoy the ease of a consistent user experience when using portal-based deployment. It also serves as a source of empowerment for users of all types, recognizing that their input and requests help steer the direction of the organization. Its self-serviceability means that users don't have to wait for the availability of IT personnel to solve issues, but instead can provision services according to their own schedule. vRealize is a win-win-win for the IT department, management and all users.
3. Control
Although deployments are generated by users, they are still fully controlled by policies set forth by IT leadership. vRealize Automation provides synergy between both empowerment and control, satisfying the needs of organizational users and ensuring compliance. This is especially important within organizations that must follow strict industry or government standards, such as those who fall under HIPAA compliancy in the healthcare industry.
4. Choice
If your organization currently employs a hybrid cloud model, there is a reason. Some business IT services work better on premise, while others perform better in the public cloud. Your enterprise may even have services that operate better with one cloud service provider than another. vRealize Automation gives IT leaders the choice to select which environment is better suited to host each application deployment.
5. Efficiency
In the same way SDN abstracts the intelligence from the physical layer into the control plane, vRealize Automation abstracts the service into a model that can be delivered in the same manner every time, regardless of where it gets deployed. This 'one and done' approach creates great efficiencies within the organization.
While 91% of ITDMs are confident in their enterprise mobility security strategy, half are still concerned about breaches1
Setting Up for a vRealize Deployment
The vRealize Suite applications are installed as separate units as they focus on different types of infrastructure. For instance, vRealize Operations Manager is installed on the virtual cluster as it manages the virtualization infrastructure. It then monitors and remediates services in order to attain a pristine environment for the virtual machines. Since it is deployed as an open virtualization format (OVF) it supports multiple hypervisors. An instance of the OVF is deployed for each cluster node.
The installation process consists of deploying the vRealize Operations Manager OVF once for each cluster node, accessing the product to set up cluster nodes according to their role, and logging in to configure the installation. When deployed, each node will be configured like this:
Master Node: The initial required node in vRealize Operations Manager. All other nodes are managed by the master node. In a single-node installation, the master node manages itself, has adapters installed on it, and performs all data collection and analysis.
Data Node: Used in larger virtualization deployments, additional data nodes have adapters installed, and perform collection and analysis. Larger deployments usually include adapters only on the data nodes so master and replica node resources can be dedicated to cluster management.
Replica Node: A required node in order to use vRealize Operations Manager high availability (HA) in order to ensure redundancy. You can convert a data node into a replica of the master node.
Once the desired node is selected, you can then proceed to configure the rest of the installation. The most involved installation is required by vRealize Automation. There are two types of installation options:
1. Simple, Minimal Deployment: Typically used in a test or proof of concept environment, it installs on a single virtual appliance which hosts the web console interface and support for single sign-on capabilities. Infrastructure as a Service (IaaS) components are then installed on a Windows Server machine. The IaaS uses a SQL database that can be installed on the same machine as IaaS or on its own server. A graphic showing the installation components of the minimal deployment option is illustrated below.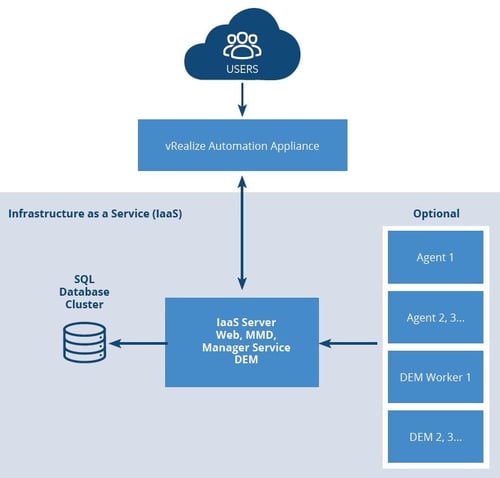 2. Advanced, Enterprise Deployment: This is the option for a production environment that requires installing multiple instances in order to attain redundancy, high availability and disaster recovery. The wizard-driven installation will automatically create and place certifications, create the database and advise the user concerning load balance issues. In addition to core components, you must install the management agent on the IaaS server(s). Then the vRealize Automation Guest Agent must be installed on all machines you want to deploy software components to. A graphic showing the installation components of the enterprise deployment option is illustrated below.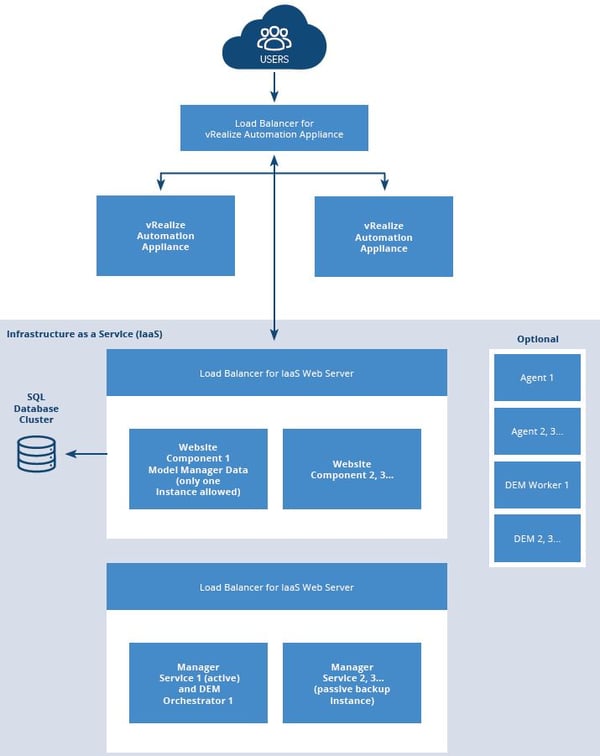 VMware's vRealize Suite provides a high level of automated provisioning and offers something for everyone. From empowerment and self-service deployment for users to policy-driven control [click to tweet] and automation for administrators, and cost efficiency and analysis for management, all of these work together help to transform businesses into the flexible and premier organizations they strive to become. Many of our clients are adopting the hybrid cloud model and as a strategic technology partner we are there to help plan, prepare for and implement the vRealize Suite. Contact us today to get your vRealize questions answered by WEI, a custom IT solutions provider, and check out our white paper, "A 360 Degree Panorama of vRealize."
Sources:
1. IDG Research commissioned by WEI. May 24th, 2016.