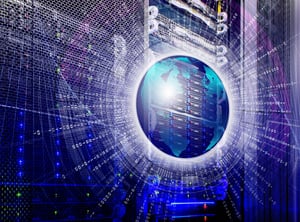 By now you've heard about VMware vSAN—a software defined storage (SDS) solution that combines direct storage devices across a vSphere cluster to create a shared data area distributed across an enterprise network. With vSAN, the user is able to decide on the storage requirements, performance and availability and makes sure the policies put in place are upheld. These are not the only benefits of using VMware vSAN. Keep reading to discover four ways your enterprise can benefit from it.

1. Agility: When discussing IT infrastructure, agility is one of the primary justifications for moving an enterprise to the cloud or to hybrid IT model. It is also a big reason why organizations are introducing hyperconverged infrastructure (HCI) solutions into their data center. In order to compete in the digital environment, they are implementing software-based solutions in place of their legacy hardware infrastructure. With vSAN, you can leverage your current flash or SSD technology structure, upgrading it when business demands, or new technology justifies it. Using vSAN, you only buy what you need today, and tomorrow, next year and the foreseeable future – putting you in control.

2. Simplicity: Not only is vSAN agile, it is also simple to use and to enable on your enterprise's existing vSphere That's because it is already integrated with it. VMware gives you the flexibility to source your hardware and software independently, which can reduce your deployment costs. This has been illustrated in a variety of cost case comparisons to other solutions. VMware's vSAN allows you to maximize your current vSphere environment so that installation and configuration are completed with just a few mouse clicks. VMware has set out to make the user experience of its HCI platform so simple that it can be managed by IT generalists, instead of dedicated experts.

3. Security: One of the most significant downsides to living in a digital age is the rise of hackers and cybercriminals who are constantly working to find new ways to exploit personal and confidential data. For this reason, security must be fully integrated into any IT component or device in order to protect the data that drives ideas for your enterprise. VMware vSAN offers the industry's first native HCI encryption that protects and builds data-at-rest encryption into the kernel. It then enables it at the cluster level, and encrypts all objects in the vSAN data without the need for expensive self-encrypting drives. Whether you utilize hybrid or all flash configurations, your data is protected and complies with both U.S. Federal Security and GDPR requirements. Built-in security is one of the reasons VMware vSAN is identified as an HCI industry leader.

4. Total Cost of Ownership: Total cost of ownership (TCO) encompasses all aspects of ownership from equipment and installation to maintenance and running costs. Designed with the ability to deploy vSAN without having to purchase new hardware and the simplicity to allow general IT personnel to manage service delivery, makes vSAN's TCO lower than other storage area networks that require new hardware and experts on the solution. Beyond the cost to deploy and run vSAN, security is another factor of total cost of ownership. Security breaches can cost enterprises hundreds of thousands of dollars in damages, repairs and labor. With the ability to encrypt data at the kernel level without having to invest in costly drives, lowers the total cost of ownership – saving your enterprise now and in the future.


Final Thoughts

VMware vSAN is the smart choice for enterprises with a VMware environment. Its agility allows modification as your enterprise needs it, it's simple to deploy, and is easy to use by almost anyone on your IT team. It also safeguards your enterprise's confidential data through kernel level encryption. All of these factors lead to a lower total cost of ownership through its lifetime, and makes it the obvious choice to fill your enterprise's need for a virtual storage solution.

Want more information on vSAN?