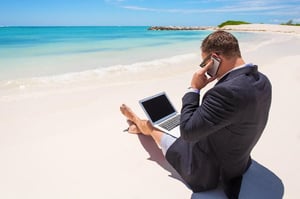 The landscape of today's modern offices look nothing like they used to. Gone are the days of employees working from a single location on a single computer, accessing a single operating system – now they frequently switch between devices, mobility is king, and applications are just as likely to be Windows-based as not.
Providing this anytime, anywhere, any device access can cause serious security and management challenges for IT teams. That's where VDI as part of a comprehensive digital workspace strategy comes in.
What does a digital workspace look like?
Today's employees regularly log in and out of legacy, desktop, mobile, SaaS, and web applications from a variety of devices, and expect to be able to do it without complications.
A modern model is needed that defines the following:
How users leverage applications, information, and resources across devices
How IT organizations deliver, manage, and secure these applications and services
How businesses can capitalize on these new capabilities and styles of work to drive better business results
Just as the desktop computer was the dominant, defining model of end-user computing during the client-server era, so too will the digital workspace define the model for end-user computing moving forward from today.
A digital workspace has the following requirements:
End users want access to the applications they need, when they need them, and on the devices they choose to use.
Lines of business are interested in delivering apps on whatever devices employees use in order to enhance productivity and improve customer engagement and collaboration.
IT teams need to centralize policy management, maintain control, and service the organization across device types.
How does a digital workspace change IT priorities?
The digital workspace shifts the focus of IT away from managing things like phones, laptops and tablets, and towards delivering application and content experiences to employees. This outcomes-based approach to IT services decouples data and applications from the device and supporting platforms, so that any application can be accessed from any device. Untethering applications from devices delivers the ultimate experience in portability and gives users flexibility in how they access the applications and services they need.
By focusing on outcomes, the digital workspace also promotes efficient IT operations in three ways.
1. Simplifying access management
Today's leading IT organizations are user-centric. IT must equip end users with quick and easy access to business-critical published apps, SaaS apps, and mobile apps, and create a flexible and efficient workflow by allowing simple access with barrier-free authentication across devices. This user-centric approach empowers users to choose the ways they work best, and facilitates delivery of a highly specific set of end-user services.
2. Delivering true application portability
Today's users expect to access Windows applications alongside non-Windows-based applications, and demand the freedom to work anywhere, and on the devices and apps they choose.
To get the maximum benefit of a digital workspace, applications should be built for all popular operating systems, or otherwise abstracted from the endpoint to make them truly portable. For most organizations, this means virtualizing many of the applications in their inventory.
3. Enabling unified endpoint management (UEM)
Migrating from device-based asset management to the digital workspace presents the perfect opportunity to rethink end-user-computing processes. Manual provisioning processes can be transferred to virtualized desktops and apps, with tremendous improvements in efficiency and compliance. With UEM, IT teams can also deploy and manage desktops, laptops, and devices— including OS deployment, configuration, user preferences, and software—from a central location.
The role of VDI in the digital workspace
Virtualization is a key component to providing a fast, flexible, user-friendly digital workspace environment while properly managing risk. When desktops or apps are virtualized, they run in secure data centers on-premises or in the cloud. In both scenarios, only the rendering of the user interface is transmitted beyond the firewall.
There are two primary methods for abstracting apps from their endpoints:
Virtualizing the app itself with Microsoft Server Remote Desktop Session Host (RDSH)
Virtualizing an entire desktop environment with VDI
To rise to the challenge of today's sophisticated workforce, IT teams are now embracing desktop, application, and network virtualization as part of an integrated approach to security. Virtualizing network functions – such as switching, routing, firewall rules, load balancing, and VPN – provides security for east-west traffic inside the data center and enables IT to quickly respond to data breaches, minimizing their risk and impact.
Hyperconverged infrastructure (HCI) solutions offer a modular approach to building a VDI environment, which simplifies the planning, design, and rollout of virtual desktops and applications. These solutions should include compute, storage, network, hypervisor, and management resources all in a single appliance which is tuned and pre-tested for specific workloads.
VMware delivers on the promise of a digital workspace
VMware Workspace ONE is a digital workspace platform that simply and securely delivers and manages any app on any device by integrating access control, application management, and multi-platform endpoint management. It is available either as a cloud service or for on-premises deployment.
Workspace ONE automates traditional onboarding and laptop and mobile device configuration, and provides real-time application lifecycle management that bridges the gap between legacy enterprise client-server apps and the mobile cloud era.
With Workspace ONE, organizations can:
Benefit from seamless integration across all end-user applications and services
Provision a new corporate laptop out of the box, anywhere in the world, from the cloud within minutes
Set and enforce access and data policies across all apps, devices, and locations in one place
Talk with WEI about building your digital workspace with VMware
In the age of mobile and cloud, the need to access any app from any device at any time is shaping how businesses drive digital transformation. VMware supports employee engagement by delivering a digital workspace solution that is both simple to use and secure. Contact WEI today to talk about beginning your transformation today.