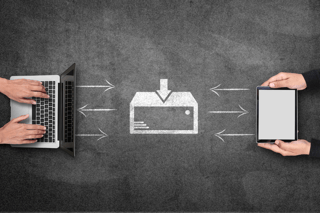 Keeping your data, applications, and services up to date is a challenge made even more complex by cloud migration strategies that spread capacity across multiple on- and off-premise environments. This can make it difficult to ensure you always have enough storage for everything. However, imagine having the ability to manage your data storage effortlessly and securely across all locations with a single, unified console. This tool would not only provision and configure your arrays, but also provide you with the flexibility of choosing pricing models that best suit your company size and budget. This is where HPE Alletra comes in. Let's explore.
Simplifying Data Storage & Infrastructure
HPE Alletra offers a comprehensive data infrastructure solution that enables customers to move from managing and maintaining data storage in-house to accessing it as an on-demand service. With hybrid cloud data protection, users can access their datasets anywhere with maximum agility while maintaining security across multiple environments from edge-to-cloud. This makes the process of storing large amounts of data easier than ever before.



Businesses can transform their data infrastructure with HPE Alletra and free themselves from the hassle of owning, upgrading, and fine-tuning on-premise storage. With this service, you can access data anywhere while without compromising on efficiency – leading to 99% operational time savings.
HPE Alletra storage solutions offer a wide range of options for customers, depending on their specific application and workload requirements. Three array families are available – the 5000 series, 6000 series, and 9000 series – each featuring various drive configurations to ensure maximum performance in any environment. HPE Alletra 5000 is the latest addition to their portfolio, and revolutionizes data storage with hybrid cloud data protection, giving customers the ultimate capacity and consumption options at competitive prices. With this leading-edge solution, businesses can now store their data more securely while significantly reducing costs. The luxury of accessing and utilizing as you go is becoming more and more commonplace in the consumption model era.
Improving Financial Agility
The HPE Alletra portfolio improves data storage and hybrid cloud data protection with the assistance of HPE GreenLake. Enterprises can access a flexible as-a-service consumption model that supports overcoming CapEx budget constraints and complex procurement cycles with HPE GreenLake. With guidance from partners like WEI, HPE Alletra makes it even easier for organizations to get the storage resources they need with optimized tiers delivered in just days – providing scalability on-demand as well as buffer capacity for surprise workloads or sudden usage spikes. Businesses get the best of both worlds with these data storage solutions: pay-per-use flexibility or a managed turnkey solution that helps companies free up cash flow while increasing financial agility.
Furthermore, companies can say goodbye to hefty upfront costs and hello to a convenient, monthly subscription with HPE Alletra 5000. Cloud consumption allows you to speed up project deployment times while freeing up both capital and IT resources. By aligning spending with business needs, this system provides financial flexibility as well as improved operational agility.
HPE Strengthens Hybrid Cloud Data Protection
As data becomes more valuable and critical to businesses, the difficulties of backing up, recovering, and managing it are growing. Data growth is accelerating exponentially, which increases pressure on costs while intensifying risk. As IT infrastructures move toward a hybrid cloud model with applications spread over various environments (data centers, private clouds, and public clouds), protecting them has become an increasingly complex task.
HPE Backup and Recovery Service is a comprehensive solution designed to protect VMware virtual machines (VMs) across hybrid cloud environments with the convenience of software as a service (SaaS). HPE Alletra customers can benefit from this service as well as local snapshots for fast data restores, on-premise backups for rapid recovery, plus cost‑effective long-term storage in the cloud.
With HPE Alletra and HPE Backup and Recovery Services, organizations can enjoy peace of mind knowing their valuable information won't be compromised. HPE's advanced security solutions protect VMs from potential ransomware or malware attacks while offering a cost-effective approach across hybrid clouds.
Learn More About HPE's Data Storage Offerings
HPE has transformed the way businesses operate, offering cutting-edge cloud solutions that maximize productivity and minimize costs. For more than 20 years, WEI has proudly partnered with HPE to access their latest storage offerings – allowing us to help enterprises gain maximum value from their data infrastructure investments. Get in touch today for more information on how you can manage your data with these powerful data infrastructure solutions.
Next Steps: In a recent WEI study, 52% of IT decision makers indicated plans to invest in upgrades and maintenance of storage solutions in the next two years. Our experts have identified four smart storage strategies to compete in today's digital world. Download our free tech brief below!