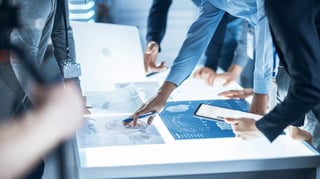 For most businesses, strategizing for 2023 began well before the ball dropped for the New Year. This period of assessment always includes a thorough review of company budget, and identifying sensible investments for the year ahead. Whether you lead a medium-sized business or proudly serve a Fortune 500 enterprise, the number one goal is maximizing profit while minimizing costs.
IT is usually a hot topic during such strategy periods as technological costs yield a substantial expense for enterprises. It is no surprise that many executives often choose to make revisions to their IT environments as a result. Thankfully, the HPE GreenLake consumption model can help in that regard. At a high level, GreenLake offers customers financial flexibility and assists enterprises in identifying the resources and support they need with unforced growth.
In this blog post, we discuss the benefits of this increased flexibility and if 2023 is the right time for your company to switch over to GreenLake's budget-friendly consumption model.

Improve Cybersecurity With Consistent Rollout Management
In our experience, one of the most common issues for medium and large businesses alike is keeping their system upgrades and patches up to date. Often, these rollouts require manual work by IT support teams and never quite make their way to the priority list. Not performing these software updates hurts performance as bugs are not corrected and security vulnerabilities remain hidden.
So, why do so many enterprises delay rollouts and leave themselves open to these kinds of attacks? In many cases, the biggest obstacle is the budget.
Because enterprises must prioritize other business expenses, many enterprises will wait for the next capital influx before they implement the necessary upgrades. Unfortunately, in many cases, that influx never happens. As a result, the IT environments of these businesses are left wide open to malicious events like malware. This is especially true when many of your employees access applications and data remotely.
That is where HPE GreenLake comes in. The platform delivers its entire business portfolio using an as-a-service model. With this model and help from WEI, businesses can subscribe to consistent services for a monthly rate rather than needing to wait to accrue an overwhelming lump sum.
This means that enterprises can continuously keep their systems updated without worrying about sudden spikes in their expenses. With this continuous support from both HPE and WEI, businesses can rest assured that their data is secure and critical patching tasks are automated.
GreenLake Prevents Over-Consumption
One of the primary challenges the as-a-service model addresses is over-provisioning and paying more than what's required for your IT environment. As your business grows, your needs will most likely change. With HPE GreenLake, enterprises can modulate their IT environment to match their growing needs. And if your enterprise does not grow, the team at WEI will closely monitor your operations and have a plan in place for when growth does occur. And if you find that you are not using the resources you were given, you can decrease your subscription, something that is easier to address with HPE's actual metered usage.
Strengthen And Maintain Your IT Workforce
The IT industry has not been immune to the changes brought about by the Great Resignation. As many enterprises can attest, it has been difficult to employ a higher skill level within the IT industry. Many businesses have to divert financial resources to training new employees who can keep the back-ends of their organizations functioning. From the look of things, this trend is projected to continue in 2023.
HPE GreenLake offers continual support that you can count on to alleviate the challenges of employee turnover. That way, if new team members join your enterprise in 2023, you can focus their attention on the areas that better align with business objectives.
Conclusion
Research indicates that spending in the IT industry is expected to grow by 5.1 percent to a total of $4.6 trillion in 2023. Set your business up for success in 2023 by finding a solution that works best for you. Whether you are a small business or an established enterprise, HPE GreenLake has a solution for you.
If you would like some help identifying what systems are right for you, WEI can get you started. Contact us today to figure out what tools are the right fit for you!
Next Steps: IT leaders everywhere are quickly realizing the powerful potential of HPE GreenLake as a premiere edge to cloud platform. The consumption model offers valuable predictability and manageability that allows IT leaders to get the most out of current resources and prevent costly over-provisioning. Discover how it makes sense for enterprises both financially and operationally by downloading our free tech brief below.

Tech Brief Download: Data- First Modernization...Let The Cloud Come To You