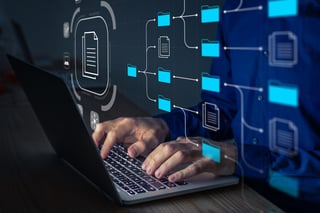 One of the most exciting aspects of working in information technology is the stream of new advancements taking place every single day. The drawback of those technological developments is that both hardware and software quickly grow outdated. For that reason, many technology professionals advise enterprises to develop a comprehensive IT lifecycle management strategy. Later in this blog article, we will use server migration as an example as we explore IT lifecycle management, obstacles to efficiency, and solutions for IT modernization.
Consistent IT Lifecycle Management Benefits
In IT, it is increasingly important to stay abreast of the latest developments. Below are a few basic ways a reliable lifecycle management strategy can improve your enterprise:
Power Savings – As hardware and software solutions become increasingly efficient, integrating the best technology can keep your enterprise away from excessive electricity costs for cooling and computing. In a time where offices are looking to trim costs for on-prem equipment, this is a great place to start.
Space Reduction – The cloud is a great for solution for so many reasons, but sometimes certain workloads and applications are best available on-prem. Regardless of how big your organization might be, space is limited for these on-prem assets. Newer servers and technologies account for a reduced amount of space, resulting in a reduction in overhead for your business.
Creative Innovation Opportunities – When your enterprise regularly reexamines the lifecycles of its products and services, your business will see the complications your current system creates for staff and customers. This will improve your organization's awareness of new technological developments.
IT Staff Productivity – This is an easy one. When members of your staff don't have to navigate inefficient

IT infrastructure,

their productivity is certain to improve.
Obstacles To Regular IT Refreshes
With so many advantages to steady lifecycle management, updating your IT infrastructure seems like the obvious choice. But for many organizations, the greatest obstacles to a modernized architecture are the technologies integrated into their current systems and the ability to capture the CapEx/OpEx funding required to do so. For example, studies indicate that enterprises maintain server storage and infrastructure for an average of 5.15 years.
Some of the main culprits for this delay are organizational restructuring, or digital transformations such as cloud migrations or server migrations.
Server Refresh Benefits
And what about a refresh cycle pertaining directly to servers? Our team has you covered on the immediate benefits:
Application performance improves, which eventually means for fewer required servers, higher memory densities, and increased core counts.

A lowered carbon footprint for your enterprise as there will be a notable reduction in heat generation and associated cooling costs from fewer servers.
Lowered cooling, electrical, and UPS capacity demands by your servers means for a reduced data center space.
HPE OneView Offers A Solution To Server Migration, IT Lifecycle Management
Speaking of server migration, this solution for data-first modernization can be supported by HPE OneView 7.0, which was first introduced in May 2022. OneView now holds the ability to migrate all associated profiles for the servers listed below.
HPE ProLiant DL and ML servers; and HPE Apollo systems Gen8, Gen9, Gen10, and Gen10 Plus

HPE Superdome Flex and HPE Superdome Flex 280 servers
With OneView's server migration feature, you can seamlessly migrate the supported servers from an HPE OneView 6.6 appliance to HPE OneView 7.0 or later releases. In this way, you can manage the migrated servers with the latest features while you can keep managing LTS legacy platforms on HPE OneView 6.6, which is an LTS release.
You can also use the server migration feature to rebalance the number of monitored/managed servers across multiple HPE OneView appliances or simplify the server management by appliance consolidation. The server migration feature helps you manage your on-prem IT infrastructure more efficiently and effectively.
When it comes to simplifying lifecycle management, OneView's user interface allows users across compute, storage, and networking in the same location. The keyword when it comes to OneView is consistency. Whether you are looking at a third-party integration or native feature, it will look the same on OneView. Here are some primary features OneView offers to make lifecycle management even easier:
Activity Logs – One of the hardest tasks that IT professionals face is tracking where problems originate. Whether it is malware or a malfunction, activity logs document all changes made in all environments across a system, including third-party software. If an integration is causing problems for your business, OneView makes it easier to follow the issue back to its source.
Templates – Whether you use these templates to create profiles or another environmental parameter, these features ensure operational consistency across your IT infrastructure. This also opens opportunities for the automation of these processes.
Map View – To help elucidate data in a more visual way, OneView allows users to see different components of the broader system as a series of interconnected fields. This helps IT professionals see which networks and services will be affected by an update or integration.
OneView allows enterprises to easily update aspects of their IT infrastructure without jeopardizing efficiency.
Conclusion
Scheduling and implementing regular IT refreshes is like your routine annual check-up. By consistently evaluating what aspects of your enterprise's systems can be improved, you help your business stay healthy, relevant, and efficient. To stay informed about the latest information technology developments and better understand if OneView is right for you, contact WEI today.
Next Steps: Download WEI's executive brief titled, "Between OpEx and CapEx: Creative, New Ways to Fund IT" to find the middle ground between CapEx and OpEx.