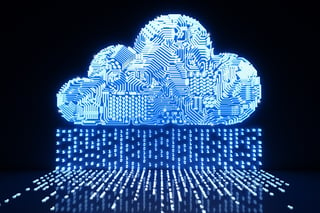 It's no secret that HPE has been on the forefront of storage innovation for some time. Even with that knowledge, HPE's recent announcement is still an exciting moment for IT leaders everywhere.
In this article, we'll break down the most important points of HPE's recent announcements and new offerings, as well as how they can help you leverage your data to make decisions that will drive your business forward.
What Are The Specific Problems HPE Is Trying To Solve?
To really understand HPE's goals with their new storage offerings, it's important to have a clear idea of the specific data storage problems they set out to solve when designing them.
First and foremost is the amount of data that organizations are faced with. New digital efforts have resulted in more data than ever before, and with increased cyber threats, as well as rising expectations to utilize data, enterprises are left with a very complex situation that requires manual management for many IT organizations. As shared by HPE, this complexity "creates risk and comes at a cost to innovation and time-to-market."
For those organizations that have transformed their data storage to reduce the burden on IT through artificial intelligence (AI), self-service, policy-based automation or other strategies, the problem of complexity still remains.
This complexity is exactly the challenge HPE has tackled with their latest cloud-native storage offerings, which aim to streamline operations and provide simplicity for data management.
The latest in As-A-Service: HPE's New Cloud Console
The new Data Services Cloud Console is a SaaS-based console that delivers unified data operations as a service, drastically reducing the need for manual data and infrastructure management.
When designing the console, HPE built upon, "a unique, cloud-native architecture—shared with the Aruba Edge Services Platform—and is designed to abstract and control infrastructure and data workflows across the data lifecycle and infrastructure lifecycle from edge-to-cloud."
By utilizing Aruba Central as its technological foundation, the console ensures enterprises experience the secure management experience of on-premises environments, but with the agility of the cloud.
The Data Services Cloud Console is also helping organizations focus less on managing their data and more on utilizing it to their advantage by speeding app development and deployment, eliminating data silos, and offering the cloud experience regardless of the location of the data.
Maintain Data Infrastructure With HPE Cloud Data Services
Through this suite of software subscription services, data administrators can simplify and automate data infrastructure management, regardless of the location or scale of the data.
Among its other benefits, these subscription services will:
Enable self-service
Offer on-demand provisioning
Eliminate guesswork
Allow enterprises to optimize service level objectives
Master Edge-To-Cloud With HPE Alletra
With all of their new storage offerings, HPE is simplifying and reducing the need for manual management of data, and HPE Alletra is no exception.
HPE Alletra is a portfolio of cloud-native data infrastructure solutions that can support data no matter where it lives, from edge-to-cloud. Powered by the aforementioned Data Services Console, HPE Alletra is also delivered as-a-service, helping enterprises stay financially flexible.
Best of all, the portfolio has been built with today's diverse application and infrastructure needs in mind, delivering the architectural flexibility enterprises need, without the added complexity of legacy data infrastructure.
HPE Is Changing The Storage Game
With these innovations, it's clear that HPE is committed to helping customers leverage their data to make decisions that propel businesses forward.
Other advancements in their storage solutions over the past few years, including HPE Infosight, and now these new storage-as-a-service offerings, give enterprises a way to finally conquer the data management problem and get out from underneath the mountains of data that today's digital world creates.
Questions about HPE's New Storage Offerings?
As a global, edge-to-cloud company, HPE is helping enterprises implement solutions that improve productivity and reduce costs through cloud solutions. Here at WEI we get access to new HPE offerings thanks to our Platinum Partner status so we can fully understand how these solutions will benefit our customers. Contact WEI today to start a discussion about HPE's game-changing storage announcements.
NEXT STEPS: Spend less time managing infrastructure and more time focused on the projects that matter most. Find out how HPE's Intelligent Data Platform powered by HPE InfoSight can keep you in the know about infrastructure performance and how it can proactively heal and patch problems before you even know they exist! Read our tech brief below for more information.