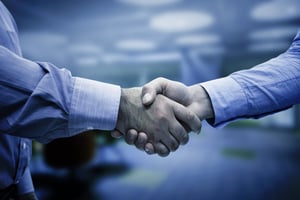 Some things are meant to be together. Think of your favorite foods like peanut butter and jelly, macaroni and cheese, bacon and eggs. When it comes to IT, one can argue that the partnership between HPE and Arista is meant to be as well. In today's datacenter in which the traditional worlds of computer, storage, and cloud fuse together, this collaboration between these two innovative giants is melding the world's leading servers and storage with high-performance networking solutions into a single deliverable platform. Together they are collaborating to create new architectural best practices designed to take enterprises to the cloud. The result is the ability to scale large cluster growth, lower costs, and drive high compute efficiencies. Their shared vision of delivering secure Hybrid IT solutions built on industry-leading software defined infrastructure is indeed one that can help in a world in which change is the only constant.
The traditional IT datacenter offered conventional predictive performance in a conventional predictable world. Unfortunately, in the dynamic disruptive world that we live in, conventional and predictable are diminishing concepts in the same way that we are witnessing the desertion of the traditional hardware centric datacenter. In a dynamic world, an idea can go viral in a matter of days bringing forth unbridled opportunity, while a malware attack can bring down resources in a matter of minutes. A dynamic world calls for dynamic reactionary networks built around agility and driven by automation and intelligence. There is no time for timely migrations, upgrades, testing, and labor-intensive tasks. Today's enterprise demands a new type of architecture. HPE and Arista are meeting the challenge in a collective effort.
The Benefit of Converged Architecture
Arista is known for its highly efficient and top-performing high bandwidth, low latency 10/40/100 GB Ethernet switches that are fully programmable and offer native support for virtual environments. HPE brings its highly popular and heralded blade servers along with 3Par storage solutions that serve as the underlying infrastructure for today's virtualized datacenters. Call it "cloud in a box" or "cloud in a rack." Whatever you call it, this converged solution provides an integrated system that can help customers implement networks designed to meet the needs of a dynamic world.
Imagine a single architecture that incorporates best-in-class compute, network, and storage components providing world-leading performance and functionality. All this while enabling you to keep the component brand standards you have chosen all along. Converged architectures are about obtaining pre-tested architectures that are fully validated and certified. This helps instill predictability within your datacenter. It also allows you to preconfigure systems configured around your specific workload demands. Because demands change, a converged architecture allows simplified scalable expansions that do not require forklift migrations.
Now combine all of this with the extensive system monitoring abilities made possible with HP OneView, a converged solution that differentiates itself from all others on the market. The result is a converged solution that is flexible, scalable, tested and easily managed. All of this equates to a lower cost of ownership and an increased ROI. It is also highly secure, with the ability to inspect all east-west traffic for profiled attack patterns with redirect analysis and deploy firewall security rules for all at-risk traffic at any scale.
Environment Solution Packages
The culmination of HPE and Arista technologies creates a powerful combination that is designed to address today's cloud first network. Supporting cloud technologies means supporting data center virtualization environments. HPE and Arista offer a portfolio of solutions that incorporate HPE ProLiant ML/DL300, DL500 servers, Apollo 2000 servers, and VMware® vSphere, plus Arista 7050X and 7250QX 10/40GbE wire speed switches that are purpose built to address the growth of web, cloud, and dense virtualized multi-tenancy environments. In addition, these platforms support VMware, Microsoft, and OpenStack environments.
Virtual storage environments depend upon IP storage. The growing complexity of deploying and maintaining traditional storage networks that can accommodate ever-increasing volumes of unstructured data is challenging at best. That is the reason why software defined storage architecture is so critical. To meet these challenges, HPE and Arista collaborative solutions include HPE StoreVirtual and HPE 3PAR StoreServ flash storage offerings, as well as HPE ProLiant, Blade, and Apollo servers—with Arista 7280E 100GbE deep-buffer switches optimized for spline/leaf storage networks.
The need to analyze and quantify qualitative data for big data environments requires high performance computing (HPC). As companies rely more and more on these systems, the utilization of compute and network resources becomes critical. The HPE HPC product portfolio for these high performance environments includes Apollo servers and SGI HPC systems, along with Arista 7500E in the core and 7150 and 7050X Series switches at the edge to support 10/40/100GbE networks.
Summary
HPE and Arista converged solutions bring consistency, flexibility, and less complexity to the next-generation cloud first networks. Through the joint development between HPE and Arista, companies can now leverage validated reference architectures that can service volatile dynamic workloads in predictable like fashion. It is not just converged architecture. It is a best-of-breed architecture.
Next Steps: We live in a world today where everything computes and everything is connected. Learn the best ways to leverage these opportunities by reading the tech brief, Network Infrastructure and the Architecture Approach of a Cloud First Network.