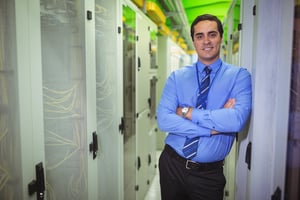 We want our data and we want it now! That is the mantra of Enterprise Storage today. Businesses today are data driven and as part of the digital transformation process, companies are finding innovative uses to utilize their data. Those companies that can best employ their data to spur greater innovation will achieve a competitive edge over their competitors.
The way in which we approach data is very different from even a decade ago. Data is no longer purely transactional. It is unstructured as well and is fed, not just from the internal enterprise, but from a complex network of edge devices, web interaction, and cloud computing. This growing dependence on data along with the insatiable appetite to accrue more of it brings forth challenges for IT today.
Data Storage Environment Challenges
The amount of accrued data continues to exponentially expand and it is stored for greater elongated periods of time
Big data creates large aggregated data sets that are used in perpetual analytics that drive quick decision making, driving the need for access speed
Data systems must be agile and flexible in order to accommodate the growing number of ways that we collect and utilize data
The cost of deploying and maintaining purpose-built storage networks is burgeoning IT budgets
In the Olympics, the difference between first and second place often comes down to hundredths of a second. In today's globally competitive environment, a matter of milliseconds can define the measure of profitability for a transaction. Data storage networks have to perform optimally, predictively, and reliably. Today's data systems must be able to handle perpetual bursts of storage traffic, combat congestion, continually scale out, and reduce operational expenditures.
HPE, Arista, and IP Storage
Data storage solutions have traditionally been fragmented, costly, and complex. While the inherent simplicity of IP Storage has been an enticing alternative, concerns over its capability to handle large unpredictable amounts of data traffic kept it from being widely embraced in the past. In addition, IP Storage was thought to be incapable of handling the mammoth amount of data traffic typical of today's environments. The intrinsic qualities of TCP/IP such as retransmissions, storage devices timing out and Ethernet speeds mismatches presented challenges as well. These apprehensions however, are diminishing, with the implementation of 10/25/100 GbE access speeds that most companies have integrated into their enterprise infrastructures.
In turn, companies such as HPE and Arista are showing that costly and complex do not have to be synonymous with storage architecture today. Together, these two innovative leaders are creating innovative driven solutions to ensure that IP Storage continues to serve as the leading storage architecture of today and tomorrow by providing the following benefits.
One scalable network for compute LAN and IP storage SAN
TCP/IP best effort guaranteed delivery that features high-speed lossless Ethernet
Lower CAPEX and OPEX
Simpler deployment, management, and operations
HPE and Arista are showing that an IP driven solution can deliver reliable high-performance that gracefully handles bursting storage traffic. Their spine/leaf scalable designs come in a variety of form factors and are easy to deploy, manage, and feature a low-latency and deep-buffer switch architecture that significantly reduces latency across the data path as packets traverse fewer hops. They integrate with a wide range of third-party software orchestration and SDN products through open interfaces and programmability.
Designed for high performance and scalability, the Arista suite of solutions components include the Arista 7500R modular spine switch series, Arista leaf/spine 7280R (10/40, 25/100GbE), and Arista leaf 7020R (1/10GbE) top-of-rack switches. In addition, the full Arista line of spine (7500R series) and leaf (7020R and 7280R series) switches provide deep buffers and low latencies.
The high performance scalable network infrastructure of Arista components creates the artery network to accommodate the rest of the HPE Data Storage portfolio that includes HPE Apollo, BladeSystem, and ProLiant servers. It also includes HPE StoreVirtual 3200 storage, HPE 3PAR, StoreServ, and Nimble all-flash storage, as well as Scality RING for Big Data and object storage and hyper-converged solutions.
The collaboration between HPE and Arista creates a compelling partnership that combines the world's best-selling compute vendor with one of the fastest data center networking vendors. Arista is positioned as a leader in the Gartner Data Center Networking Magic Quadrant and is the #1 leader in 40/100 GbE data center networking. IP Storage is the architecture that enterprises are turning to in order to ensure that their data continues to deliver value, and value equates to profitability. With purpose-built storage HPE and Arista solutions, you can have your data, and have it whenever you need predictably, quickly, and without interruption.
Next Steps: Learn more about the benefits Arista solutions can bring to your enterprise by reading the tech brief, "Network Infrastructure and the Architecture Approach of a Cloud First Network."