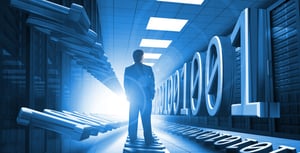 Chances are since you were a kid you were fascinated by speed, whether it be athletes, cars, or planes. Speed is impressive—especially in the modern cloud-first data center architectures of today. It is expected. The legacy single gigabit network infrastructure of yesteryear is over. Increased adoption of 10 Gigabit Ethernet servers coupled with applications using higher bandwidth is accelerating the need for dense 10, 40, and 100 Gigabit Ethernet switching. In fact, it is no longer unusual to see hosts generating 10Gbs of traffic or find 25/40 gigabit Ethernet switches at the edge of today's enterprises. In fact, according to a study in 2017, the combined market for 25Gbe and 100GbE will account for over half of all data center Ethernet switch shipments by 2021. Shipments of 100Gbe switches reached 1.3 million ports and $661 million in revenues in the fourth quarter of 2017 for the U.S. alone. In Hollywood, sixty may be the new fifty, but in today's datacenter, twenty-five is the new ten.
Speed is just part of the equation though for the modern data center. It is also about agility and scalability. In order to achieve these objectives, enterprises are turning to Hybrid IT architectures that incorporate both virtualization and software defined networking into a single ecosphere. Speed is more than just about bandwidth. It is about the whole embodiment of the datacenter itself, designed around high performance workloads and efficient service delivery. Because companies do not want to juggle multiple proprietary vendors, they aspire to one solution provider.
HPE and Arista Portfolio
HPE is determined to provide best of breed solutions to its customers in order to ensure they have the technology to transform their datacenters into the high-speed digital service delivery gateways needed for the workloads that support ideas and transformational change. To achieve this, HPE named Arista as their preferred partner for software defined networking. Gartner has identified Arista as a leader in their Magic Quadrant for Data Center Networking for three years running. They also accounted for the largest share of 100Gbe data switch shipments last year. In today's virtualized datacenter environments, the coalition of Arista switch and HPE server technologies is a powerful combination that can meet the unprecedented demands that enterprises today must deal with.
HPE features two Arista flagships, the Arista 7050X and 7250QX.
The Arista 7050X Series are made up of 10/40GbE data center switches in both 1RU and 2RU models that offer low latency, rich layer 2 and layer 3 features as well as advanced software defined networking features and capabilities. Theses switches offer 2.56 Terabits/sec of throughput and support (96) 10G interfaces or (32) 40G interfaces.
The Arista 7250QX is a wired layer 2/3/4 switch that boasts the highest density 2RU 10/40GbE switch in the world. (Up to 64 QSFP+). It boasts a throughout of 5.12 Terabits/sec of throughput and offers advanced Software Defined Networking features that give offer automation, comprehensive visibility and security all in one package.
Arista provides the framework to handle today's datacenter loads, but you also must have the robust server infrastructure to host the virtualized private clouds that provide the resources for the applications and process and deliver your data. The HPE comprehensive portfolio of servers include:
HPE ProLiant ML/DL300 – Also known as the world's best-selling server, this server model has been the workhorse of datacenters the world over due to its performance, expandability, reliability, and serviceability. The ML/DL300 supports Intel® Xeon® E5-2600 v3 and E5-2600 v4 processors with up to 22 cores, 12G SAS and 3.05 TB of HPE DDR4 SmartMemory
HPE ProLiant DL500 - Designed for highly virtualized or cloud based deployments, the DL500 features the system resiliency, security, and data protection, intelligence, and automated management features that make it an ideal choice for mission critical enterprises. It currently supports 6 TB of memory, 25 Gigabit Ethernet (25GbE) Network Adapters and 12 Gb/s of SAS speeds.
Apollo 2000 – Designed as an enterprise level, density-optimized, 2U shared infrastructure chassis for up to four HPE ProLiant Gen10 hot-plug servers, the Apollo 2000 lets you harness the power of high-performance computing within a small footprint. Server nodes can be serviced without impacting operation of other nodes within the same chassis. You can easily add additional chassis units in order to tailor the system the system to the precise needs of your workload with the right combination of compute and storage options. Servers can be mixed and matched within a single chassis to support different applications.
Of course, HPE can optimize and deploy these servers with VMware® vSphere, the undisputed leader in virtualized computing. All of these solutions are part of the logical progression that HPE has taken in order to be the transformational leader in enterprise network architecture. With HPE, Arista, and VMware, your company will have the arsenal of solutions it needs to meet whatever challenges the technological work presents.
Next Steps: Learn more about Arista by reading the tech brief, "Network Infrastructure and the Architecture Approach of a Cloud First Network."