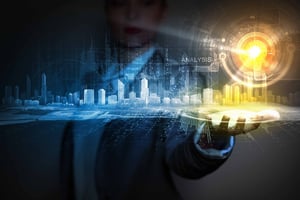 Over the years, the public cloud has been promoted as the panacea of innovation and reduced costs where companies could host their network infrastructure and service their workloads. In doing so, many companies have found out that not everything is ideally suited for the cloud. Latency prone applications, data sovereignty, and security compliance are just some of the challenges that have reduced the luster of the public cloud recently. As a result, two-thirds of enterprises are scaling back or discontinuing their use of public cloud services and shifting workloads to on premises private and/or hybrid cloud environments.
The fact is that all workloads are not the same, which is why 85% of enterprises are pursuing a multi-cloud strategy. The result is composite of traditional, private, public, and hybrid cloud resources, allowing companies to optimally match workloads with the most suited environment. In addition to the evolution of the network ecosphere, companies are elevating the performance and agility of their datacenters by software defining the datacenter and utilizing converged and hyperconverged solutions. The evolution to Hybrid IT is a logical step-wise process in the digital transformation taking place across the world.
This was recently substantiated by a research study conducted by Enterprise Management Associates in 2018. It found that Hybrid IT initiatives that include multi-cloud networks and tools such as network virtualization, SDN, SDS, and network automation software comprise 32% of datacenter network transformation projects. The study also touched upon some of the challenges that companies face when managing Hybrid Environments:
Greater complexity in provisioning interconnections between public and private clouds
Greater complexity in multi-site network orchestration
No end-to-end, multi-site network visibility and troubleshooting
No logical Layer 2 connectivity or shared IP ranges between internal and external clouds
Incompatible security domains between cloud environments
How Do Arista and HPE Drive Hybrid IT Initiatives?
HPE has been a forerunner in Hybrid IT innovation for years. In their endeavor to remain an innovational leader in this technology sector, they teamed up with Arista in order to form a best of breed partnership to bolster their suite of solutions within the HPE Data Center Infrastructure Group. Arista has been a pioneer of leaf-spine cloud networks for intra-LAN datacenters and has recently extended this concept to WAN and inter-datacenter connectivity. Their platform suite products are governed by the Arista Extensible Operating System or EOS that supports multiple hypervisor and cloud deployment platforms. In addition, their platform speeds of 10/40/100 GB make them ideal for hosting latency sensitive applications in Hybrid IT environments.
Late last year, Arista announced their Any Cloud software platform, a solution designed to build and operate multi-cloud and hybrid cloud networks. At the same time, Arista Any Cloud helps Hybrid driven enterprises to reduce operational costs and complexity for enterprises by simplifying integration and management of hybrid clouds across private cloud datacenters and public cloud providers. According to Arista's President and CEO, Jayshree Ullal:
"Arista's Any Cloud platform transcends public and private clouds, radically changing the on-premises enterprise datacenter. We are helping customers realize their hybrid-cloud transformation by extending Arista EOS and CloudVision across network boundaries,"
Arista Any Cloud is made up of two components. The first is a virtual router based on EOS that supports the public cloud environment. Arista Any Cloud currently supports the following cloud environments:
Public cloud: Microsoft Azure, Amazon Web Services, Google Cloud Platform and Oracle Cloud Infrastructure
Private cloud: Microsoft Azure Stack, VMware private cloud and KVM
Cloud exchange: Equinix, which provides direct connection to over 70 clouds
The other component is called CloudVision, which allows companies the ability to attain total visibility across all of their cloud environments. It does this by functioning as a central point of integration, management, and automation for Arista-based networks. Whether it be physical switches deployed in an enterprise data center, or virtual EOS routers in the public cloud, Arista AnyCloud gives you the ability to create and manage complex network topologies of your Hybrid initiative. In essence, your cloud environments can become a natural cohesive extension of your datacenter network.
By collaborating with Arista, HPE can now better deliver on its commitment to give its customers the technology solutions they need to create software defined hybrid infrastructure that will help them achieve fast, agile, and efficient service delivery using simple methodologies. Together, HPE and Arista can help you attain the modern data center cloud first network your enterprise needs to differentiate yourself from your competitors by unifying the technologies of compute, storage and networking into a single architecture called Hybrid IT.
Next Steps: Learn more about Arista and its solutions by reading the tech brief, "Network Infrastructure and the Architecture Approach of a Cloud First Network."