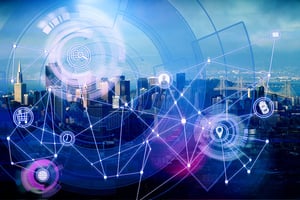 Today, there are few industries where enterprises have yet to undergo some form of digital transformation. Over the last few decades, businesses have undergone digitization at unparalleled speeds. Networking solutions are at the heart of these changes and can be the key that allows enterprises to adjust and meet the changing needs of their business.
While there are many networking solutions to consider as part of your digital transformation strategy, they don't all offer the uncompromised security, flexibility and power of Cisco Meraki. With a host of solutions under its banner, Cisco Meraki provides IT teams with the tools they need to ensure business continuity and flawless end-user experiences.
Simple comprehensive networking security with Meraki
As a wireless and cloud solution provider, Cisco Meraki offers centralized cloud management, through Security Appliances, which can be remotely deployed with zero-touch cloud provisioning. These appliances offer simple, synchronized management for security, networking and application control.
Administrators can integrate security settings across thousands of sites using templates. An easy to use web-based dashboard allows IT to securely connect branches in just three clicks.
A single Security Appliance offers several features, including:
Next-gen firewall
Intrusion prevention
Cloud-brokered VPN
Content filtering
Malware Protection
High Availability
Additionally, every appliance has built in SD-WAN capabilities to reduce operational costs and improve resource utilization for enterprises which require multi-site deployments. With this, IT can use bandwidth more effectively and ensure performance for the most important applications without compromising security.
Meraki's wireless solutions for LAN and WAN
Many enterprises undergoing digital transformation have transitioned to cloud managed wireless for their networking. Cisco Meraki offers uncompromising performance, all managed via the cloud for a simplified experienced for network administrators.
By using high grade access points, which are optimized for seamless user experiences, Cisco Meraki offers enterprises faster deployment, simplified administration, and richer visibility. Their Wi-Fi 6 (802.11ax) access points include high power radios and enhanced receive sensitivity, and offer multigigabit Ethernet up to 5 Gbps with a single cable.
For enterprises with a need for cloud managed cellular networking solution, Cisco Meraki offers MG Cellular Gateways to transpose wireless cellular signals to wired Ethernet for primary or failover connectivity.
Perfect to compensate for areas of weak network strength, the MG Cellular Gateway is designed to optimize cellular signal strength. It includes mounting brackets, suitable for installation on walls, ceilings, poles and more, and can be used outdoors and in the harshest environments.
Regardless of your existing networking infrastructure, the MG Cellular Gateway is easy to introduce and implement.
Additionally, Cisco Meraki offers Meraki Insight to assist IT administrators in creating an optimized end user experience, reducing network problems and allowing issues to be quickly identified and isolated.
Supporting remote workforces
Cisco Meraki has always supported organizations looking to modernize their networks, and offering support for enterprises in need of remote working solutions is no different.
Enterprises who are urgently transitioning can benefit from the out of the box functionality that Cisco Meraki devices offer. Additionally, through Cisco Meraki's simple cloud management systems, IT can maintain visibility of employee networks and monitor for potential security or productivity threats uninterrupted.
The Cisco Meraki dashboard was also recently updated to offer additional functionality for IT administrators who need to quickly find VPN clients within their enterprise.
As additional support to IT teams, Meraki support is available 24 hours a day, seven days a week to assist enterprises with remote workforces and ensure uninterrupted access for end users regardless of the time of day.
Does your digital transformation strategy include Cisco Meraki?
Cisco Meraki has always stood for helping passionate people deliver on their mission. With its IT solutions, Cisco Meraki strives to assist organizations by offering an array of wireless and cloud-based solutions perfect for any enterprises undergoing digital transformation. From security to network management, Cisco Meraki solutions offer unmatched quality and functionality while still prioritizing simplicity and ease of use. For enterprises with remote workforces, Cisco Meraki can ensure business continuity and productivity. If you'd like to learn more about how Cisco Meraki can help achieve your digital transformation initiatives contact WEI to start a discussion.
NEXT STEPS: Since we're on the topic of digital transformation, you might also be interested in our white paper about how hybrid cloud can play a pivotal role in your digital transformation journey. Learn more by downloading the white paper below.