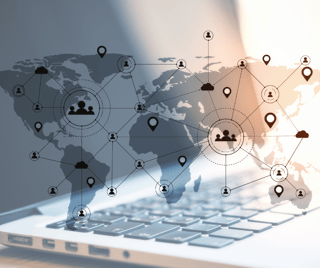 The era of digital transformation has completely changed the way we work, with remote work and cloud-based applications becoming the new normal. No longer are users and applications confined to physical data centers in office spaces. This traditional setup has given way to a new landscape of hybrid workforces, home offices, and geographically-dispersed headquarters. While these changes have improved digital flexibility, they have also brought new and obvious challenges to network security.


To address this challenge, a modern solution called Secure Access Service Edge (SASE) integrates networking and security in the cloud to provide comprehensive and flexible protection for both users and data. In this article, we explore the benefits of SASE and how it can set IT leaders up for future-ready business operations.


A Modern Approach To Secure Cloud-Based Networking
In today's landscape, data and applications are spread out across data centers and the cloud, making it crucial to ensure user security. SASE is a perfect solution that has the potential to transform how organizations protect their network infrastructure. It provides seamless, secure access to applications and data from anywhere without compromising on security or performance.
SASE ensures businesses securely connects users – regardless of their location – to critical applications and data. This cloud-based networking approach provides granular visibility of user access patterns and detects anomalies before malicious actors gain access. Moreover, SASE architecture offers scalability, relieving IT teams from managing multiple legacy systems and navigating outdated hardware concerns.


Why Your Organization Needs SASE
Fundamentally, SASE converges SD-WAN, cloud-based security, analytics, and insights into a single, cloud-based solution, delivered as a service, to provide optimal, secure connectivity from every user and device to every cloud. Traditional solutions are typically limited to individual devices or networks. With SASE, businesses unify devices, locations, users, and endpoints within one single platform. This reduces complexity, strengthens scalability, and cuts down on costs associated with maintaining multiple solutions.
Here are some of the benefits SASE can offer your enterprise:
Enhanced visibility into user behavior patterns: Implementing SASE enhances visibility by monitoring and analyzing user behavior within your systems, applications, and data. These details inform decisions to optimize processes and tailor services to each user.
Robust protection against cyber threats: SASE's advanced machine learning (ML) algorithms quickly monitor network traffic, data transmissions, and user activities in real time. It also detects potential incidents like malware infections, data breaches, or unauthorized access attempts and automatically takes corrective actions, such as isolating compromised devices or blocking suspicious activities. This approach ensures the security and integrity of your business operations.
Improved scalability and organizational efficiency: SASE consolidates authentication, authorization, and encryption functions into a unified platform, thereby simplifying deployment and management and increasing productivity. Additionally, SASE's cloud-native architecture enables organizations to seamlessly scale, adapt to changing workloads, accommodate growing user traffic, and expand operations without sacrificing performance or security.
Protection from unauthenticated users: SASE enhances the overall data security posture of your business by combining multiple authentication methods (such as multi-factor authentication and biometrics) to verify user identities, thereby preventing unauthorized access, data breaches, and insider threats.
Mitigated external threats during a malicious event: With its ML capabilities, SASE enhances the overall protection of your business operations by employing secure access controls, network segmentation, micro-segmentation, and traffic inspection techniques. These features enable organizations to:

Detect and block suspicious activities.
Isolate all compromised devices.
Prevent lateral movement within the network.
Safeguard your business from external threats.
Cisco's Approach to Secure Hybrid Workforce
Cisco's SASE solution, Cisco+ Secure Connect, effectively addresses hybrid workforce challenges by enabling secure connections among employees. Secure Connect integrates networking, security, and trusted connectivity within a cloud-managed platform to enhance operations and visibility without the upfront investment. This enables organizations to swiftly deploy the service and reap the benefits of SASE.


Final Thoughts
Workforces are leaning more and more hybrid. Organizations must prioritize the security of their users and data as the modern workforce becomes increasingly dispersed. Embracing SASE allows everyone to future-proof their networks and create an ideal, agile hybrid workforce.
To learn more about how SASE and Cisco+ Secure Connect can benefit your organization, reach out to one of our SASE specialists today.

Next Steps: Discover more about how your business can implement a meaningful SASE strategy by downloading our tech brief, The First 5 Things You Should Know About SASE.