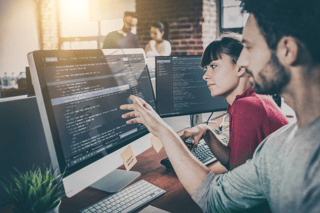 As businesses move to digital transformation, Secure Access Service Edge (SASE) has emerged as a prevailing approach to securing vast networks and diverse endpoints. However, the right implementation of SASE will depend on an organization's level of maturity and how they decide to construct their own unique architecture. To reduce complexity while enhancing speed and agility across multiple cloud systems, organizations must consider implementing a powerful SASE solution.
The Importance Of SASE
SASE is a network architecture combined with a cloud-native solution that provides secure and seamless access to applications from any location, network, or device. It extends the concept of zero trust security by pushing policies closer to users and data sources, eliminating backhauling processes for maximum efficiency in user experience.
As an alternative to traditional security approaches, SASE offers end-to-end security across multiple locations, including remote offices, roaming users, and more, making it ideal for businesses relying on hybrid cloud solutions or increased numbers of remote workers.
SASE also helps IT teams meet the challenges of hybrid work security. As the world moves from a traditional data center-based application model to an internet-enabled cloud environment, IT teams face huge challenges in providing secure access for users and applications. To meet these demands, organizations have turned toward SASE — combining SD-WAN with advanced security solutions such as Security Service Edge (SSE) and Zero Trust Network Access (ZTNA). This offers greater protection against exposure or malicious attacks while presenting a seamless user experience across all platforms.
Key Factors To A SASE Solution
A SASE solution is an ever-evolving journey tailored to each organization's unique IT and business needs. To ensure users are connected securely across all devices, some key factors must be part of the overall experience.
Integration
Today's businesses rely on multiple network ecosystems and security solutions to function successfully. SASE allows for the integration of these systems, providing visibility, control over policy decisions, and protection across all networks.
No matter the configuration — whether it is a custom-built, multi-vendor bundle or a fully managed service from a single source — SASE solutions provide an improved connection between these integral components:
SD-WAN and cloud security

— Combining SD-WAN and cloud security creates a powerful SASE solution that ensures secure connections between users, applications, and points of presence (PoPs). Through predictive analytics, IT teams automate traffic routing to maintain optimal performance in the event of any disruptions. This integration helps organizations remain protected regardless of where their data is located.

NetOps and SecOps teams

— Integrating NetOps and SecOps teams via a SASE solution ensures unified visibility into policy, events, VPNs, and security group tags. This integration allows for seamless data exchange between SD-WAN and cloud security platforms to provide comprehensive protection of users and applications regardless of their location.

End users and applications

— IT teams gain deeper insight into user experience and security, enabling them to anticipate potential issues before they arise. With full visibility of SASE components like SD-WAN and cloud security PoPs, predictive analytics allow organizations to take proactive measures for an optimal outcome ensuring fast remediation if a problem occurs.
Cisco's 2022 Global Networking Trends Report states, "By 2025, at least 60% of enterprises will have explicit strategies and timelines for SASE adoption encompassing user, branch, and edge access, up from 10% in 2020." By adopting an incremental strategy toward the completion of a full-fledged SASE architecture, organizations ensure that all elements are implemented in harmony while creating long-term benefits for businesses.
SASE Consumption Models
SASE solutions and services offer three distinct consumption models, each of which can break down traditional networking and security silos to improve operational alignment.
As-A-Service
The as-a-service SASE solution offers fast deployment, minimal disruption to your staff and operations, plus reduced risk with SLAs, all managed through one easy dashboard. This helps businesses get the full protection they need without any hassle.
Hybrid Or Co-Managed
Organizations that want the security benefits of cloud technology, but desire more customization and visibility than what as-a-service models normally provide, have the option to take a hybrid approach. This allows IT teams to maintain control while taking advantage of managed service providers who will share responsibility over network and security management. This reduces their workload in terms of lifecycle demands.
Highly Customized Or DIY
Organizations seeking complete control over their network and security can build, integrate, and manage SASE capabilities on their own. This is an ideal choice for organizations that have highly specialized needs or existing networks and staff capable of meeting the technical requirements posed by SASE solutions.
Cisco SASE Solutions
Cisco, with its wide range of partners, offers the most comprehensive and reliable SASE solution available. With Cisco, you can customize your solution from a variety of deployment models that range from powerful networking solutions to advanced security capabilities and internet observability features.
Additionally, Gartner has recognized Cisco as a leader in the 2022 Magic Quadrant for SD-WAN and the 2022 Gartner Peer Insight Customers' Choice for WAN Edge Infrastructure. Cisco's solutions are designed to meet diverse use cases across all sizes of organizations, so IT leaders can trust that their decision today will have positive long-term effects on user experience, hybrid work security, and agility.
Cisco is pushing the boundaries of SASE technology with relentless innovation, delivering flexible and user-friendly services that are always up to date. With continuous integrations and feature enhancements, customers will expect a seamless experience tailored to their needs. If you would like to learn more about Cisco's SASE solutions, contact WEI today.

Next Steps: Discover more about how your business can implement a meaningful SASE strategy by downloading our tech brief, The First 5 Things You Should Know About SASE.