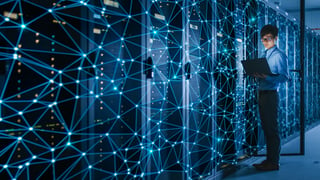 In our increasingly technology-reliant world, most modern enterprises cannot achieve sustainable growth without an adaptive IT environment. That's why having a stable, adaptable network makes the difference between a business that is succeeding and one that is struggling to keep its operations above water. Employees and customers alike depend on an enterprise's network to do their jobs and conduct business. In other words, when the network fails, the business and its operations fail, too.
Leaders in the IT industry have turned their attention to creating a network solution that evens out the bumps in the road. If you are looking for a smooth connection process, Cisco DNA Center is for you.
What Is Cisco DNA Center?
This controller-based architecture has been made available by Cisco for the last several years. Essentially, it unites all network devices into a single collective fabric that operates with purpose. Cisco DNA Center simplifies the complex "DNA" of your network by offering IT teams the ability to view and manage everything through one shared interface while also combining the functions of multiple management tools into a single package.
As an intent-based controller, Cisco DNA Center provisions your network with greater efficiency through automated deployments, change management, compliance verification, and the collection and analyzation of real-time activity logs.
1. Security, Security…And Security
Enterprises are managing the widest networks the modern workforce has ever produced, and that's not changing anytime soon. Point blank, network leaders must implement reliable security everywhere across their enterprise. While your Cisco DNA Center may reside in your datacenter, it goes far beyond the protection of traditional perimeter-based security architectures.
Imagine all network devices serving as security sensors, reporting threats and anomalies while AI-driven analytics correlate the information into Cisco DNA Center. The network itself becomes a sensor and enforcer within your security framework. This allows threats to be identified more quickly so they can be contained using technologies such as implemented segmentation.
2. Assurance…And Lots Of It
It's not an easy task digitally transforming your network, and our team is always ready to talk. When an enterprise does achieve this, however, it's important to know that your business is dependent on the resiliency and performance level of that transformed network. That's where network assurance enters the picture.
Cisco's DNA Assurance utilizes advanced analytics and machine learning that inspects, scrutinizes, and suggests remediation steps for your network 24/7/365. A complete network health summary is available in a contextual dashboard so all network devices are monitored. Moreover, network administrators can view breakdowns according to a variety of filter views to proactively monitor and ensure optimal performance throughout their network infrastructures.
Cisco DNA assurance ensures that the individual unique devices across your network operate in conjunction with the expressed intent of network policies. Cease the flood of false positives and insignificant data so that your staff acts only on prioritized events.
3. Intent-Based Networking Centralizes Policies
Whether you are a small or large enterprise, one of the most difficult processes to undertake is universalizing policies. Even when those processes are defined, there is still the opportunity for human error.
With Cisco's intent-based networking solution, that concern is a thing of the past. Here are a few of the ways IBN centralizes policies:
IBN can easily undertake defining, configuring, and updating policies across your campus, WAN, data center, and multi-cloud networks.

IBN automates the connection process for trusted users and trusted applications.

IBN can transform data collected in a policy into network- and device-specific configurations.
With Cisco's intent-based network at the helm, network administrators can rest assured their policies will be uniformly implemented across their network.
Conclusion
It's time to take charge and tackle overdue network challenges. Cisco DNA Center not only automates processes, but it unites policy and assures critical compliance with integrated security. Contact our experts today to get started.
Next Steps: You can learn more about how Cisco can transform your network into an intention-based unified fabric that not only furthers the scalability, agility, and performance of your network, but your business objectives as well. Take a closer look at this stunning tool in our white paper, 5 Reasons Why Enterprise Networks Need Cisco DNA Center.