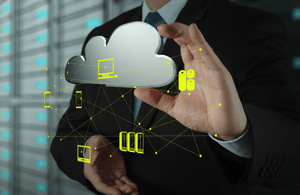 In an industry that requires constant innovation to keep up with the demands of the customer, digital transformation- modernization of the datacenter - is crucial to digital enterprise. In fact, a Forbes Insight survey from 2018 found that 35 percent of executives reported a high degree of competitive disruption within their sector due to the growing number of technology-driven startups and technological innovations.
This digital transformation to a software-defined infrastructure isn't about showing off your technological prowess, but to reduce your reliance on bare metal hardware and transition to something that works so smoothly you can hardly tell it's there.
The digital transformation to A software-defined, invisible infrastructure
No matter what your industry is, there are six distinct benefits that a software-defined infrastructure brings. At WEI we like to call them the "6 A's."
Accuracy– In transitioning to a software driven enterprise, the network framework will become programmable and automated, thus eliminating the human middleware component. This reduces human error when it comes to configuration deployments.

Adaptability– Enterprises can no longer afford to be vendor locked into network or data storage hardware. In the new era of digital disruptors, the ability to adapt to new business environments is imperative to the long-term survival of organizations today.
Agility – According to an article in Infoworld.com, "Business agility is the new currency for valuing technology in the enterprise and increased agility is what virtualization delivered and compute cloud

'

s promise." Having the ability to instantly deploy and then decommission resources is imperative in order to enhance the customer and employee digital experience.
Alignment – IT will no longer be looked at as a necessary expense that supports the organization but will serve as a driver of innovation and profitability. Infrastructure decisions will now be driven by business policies and priorities.
Assurance – SDI provides a higher certainty of confidence that deployments and the network fabric itself will meet all policy and compliance requirements as set by the organization.
Automation – Through automated orchestration, enterprises can react to real-time conditions, provisioning and decommissioning resources according to traffic demands. On-demand services can be deployed to users and application owners without IT intervention.
Build your invisible Infrastructure with Nutanix
Nutanix takes those 6 A's and adds on a few benefits of their own, by the power of invisible infrastructure, with their Xtreme Computing Platform (XCP.)
Unparalleled Agility – Run a datacenter so nimble that one click is all it takes to complete complex tasks in a fraction of the time.
Time to Innovate – Up-level your IT staff from day-to-day infrastructure management to becoming a cloud center of excellence.
Significant Savings – Increase your ROI, reduce expenses by as much as 60 percent, and take advantage of a fractional consumption model.
Reduced Footprint – Wipe out the cumbersome technology costing you money unnecessarily and decrease associated costs like power and cooling.
Freedom of Choice – You pick the hardware, hypervisor, and clouds that make sense for your business needs – no more lock-in.
Focus on What Matters – Since invisible infrastructure practically runs itself, you can spend your time on what matters most.
Nutanix XCP is a turnkey software-defined infrastructure solution that marries web-scale engineering with consumer-grade design. Its goal is to bring the same simplicity, agility, and predictable scale to the enterprise datacenter as public cloud services provide.
Nutanix XCP combines Nutanix Acropolis, a converged scale-out data fabric that combines feature-rich software-defined storage with built-in virtualization, and Nutanix Prism, an integrated management platform that delivers one-click simplicity to infrastructure operations.
Talk to WEI about your digital transformation to invisible infrastructure with Nutanix
The quest for greater agility is why Gartner expects 80 percent of enterprises to shut down their traditional data centers by 2025. Today's industry disruptors are innovative organizations who have embraced software-defined technology, undergone digital transformation and attained the agility needed to deliver refined and targeted experiences to their customers.
NEXT STEPS: By adopting software defined infrastructure you are essentially making your infrastructure invisible because it's powered and controlled by software. Learn more about why software defining your infrastructure is critical for your business by reading our white paper (link below!).