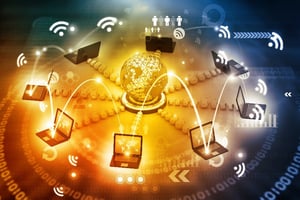 Keeping up with IT innovation is a never-ending race, with the finish line constantly being pushed further and further ahead. The majority of recent exciting technologies have centered on transforming the data center into a flexible environment to provide limitless agility to the enterprise. While many focus on a data center-centric approach to digital transformation, optimizing the wide area network (WAN) may be the better method.
Unless your enterprise's WAN is optimized, the users located across your field offices won't be able to take advantage of the transformation process—and it's these users who are on the front lines of demand fluctuations and disruptions in real time. This is why we're talking about the power and potential of the software defined WAN (SD-WAN). While software defining the data center is vital, the WAN is the final barrier holding enterprises back from fully utilizing their digital transformation.
What Exactly Is SD-WAN?
Designing and provisioning networks in a cloud-based world would be easy if everyone in your organization worked from the same location. Unfortunately, reality is far more complicated. SDN integrates policy-based automation in order to steer and prioritize application traffic so that critical traffic always presides, and application performance is guaranteed for users.
SD-WAN is based on the same principle of SDN in that the control plane and data planes are abstracted from one another. This allows the WAN, including all branch edges, to be centrally managed without the need for an onsite network or security admin. Traffic flows are routed according to established policies that analyze route availability and congestion in real time. Internet and SaaS traffic are allowed to exit at their earliest convenience while HR and finance-based traffic traverse encrypted through VPN tunnels to corporate.
Technically, SD-WAN is not reinventing technology. It simply incorporates the modern value-driven technologies that your enterprise already implements within your data center and disperses them throughout your WAN. It may not recreate the wheel, but SD-WAN does ensure that all of your users, regardless of location, enjoy the same level of performance and security that your corporate users already benefit from.
The Benefits of SD-WAN
Just like server hardware, you're paying for bandwidth whether you use it all or not—and maximizing your bandwidth use means maximizing your investment costs.
By segregating your traffic patterns, traffic flows are more evenly dispersed through your WAN, bottlenecks are eliminated, and application delivery is improved. Through virtualization, SD-WAN solutions can aggregate WAN circuits of any type, from any provider, providing the flexibility to enforce load balancing and true redundancy. And with a single, central interface pane, one admin can control the entire SD-WAN at each location.
Industry Leaders in SD-WAN
Cisco
Cisco has been providing SD-WAN solutions since its early beginnings, devising its architecture and functionality to conquer the same challenges faced by the modern WAN. Cisco offers the following benefits:
Network optimized for public cloud and SaaS
SaaS response times four times faster
Seamless connectivity to public cloud for complex workflows
Predictable application SLA
No app outages due to networking
VMware
VMware applies its proven data center virtualization technologies to the WAN. Enterprises need WANs that are both reliable and scalable. VMware set out to simplify the process of adding bandwidth links, aggregating them into a seamless congruent pipe system, and routing appropriate application traffic through policy assigned avenues. Like other leading SD-WAN solutions, its NSX SD-WAN solution provides the following benefits:
Virtualizes the network
Enables a secure overlay
Simplifies services delivery
Provides interoperability
Leverages cost effective hardware
Supports automation with business policy framework
Monitors usage and performance
Supports interoperable and open networking
Aruba
Aruba's SD-Branch serves as a Branch Gateway that operates as a central policy enforcement point that consolidates broad functionality into a single branch appliance.
Aruba leveraged its knowledge and portfolio of security, analytical solutions, and wireless networking, and set out to design a new product from the ground up. SD-Branch is not a retrofit product, but a solution specifically designed to meet the needs of today's branch-based networks, and supports broadband, MPLS, and LTE WAN connections. SD-Branch allows for central policy enforcement at all points of the enterprise, allowing admins to manage application traffic and security for multiple locations.
Contact WEI About SD-WAN
Are you interested in exploring options for SD-WAN? Contact our networking experts to start a discussion.