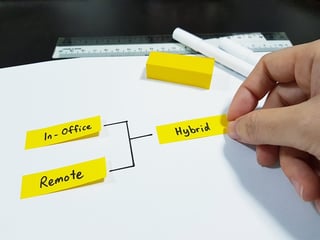 Hybrid work solutions. That's a term that can make network administrators a little queasy if their hybrid workforce is consistently submitting IT support tickets for one common issue or another. Granted, the term "hybrid work solutions" was never really tossed around IT departments until just a few years ago. Now, it is the new standard for both your established workforce and those applying to vacant positions.
In the post-pandemic modern world, enterprises have experienced a rise in hybrid workers as the number of individuals working exclusively at home have continued to decrease. At a high level, the hybrid model serves as a happy medium for in-office and at-home preferences. Employees want the agility to get work done from multiple locations, so creating a productive experience for them no matter where they are is your IT team's ongoing priority.
Flexibility is the name of the game. According to a 2021 McKinsey study, 52% of employees want their employers to adopt hybrid work solutions. Employees recognize that there are times when working on-prem makes total sense as it fosters teamwork and collaboration, but they still want to retain the ability to work remotely for those times when location is an irrelevant factor. Because flexibility is so highly valued by professionals today, companies can use hybrid work models to attract and retain talent. It is also a way to lower costs while sustaining organizational productivity at the same time.
This is all great in theory, but what happens when the rubber meets the road? Are you, as an IT leader, ensuring your team delivers on a hybrid solution that satisfies all enterprise end users?
Dell Has Your Re
quired Hybrid Work Solutions
Dell refers to today's agile workforce as the Do-Anything-From-Anywhere World. To pull that off, businesses must ensure that their hybrid workers have the right tools for the job. That's why Dell has placed such an incredible emphasis on ensuring they have the right portfolio of intelligent computing devices, accessories, software, and services that not only foster agility, but also facilitates greater productivity and security. That starts with offering persona-based PCs to satisfy the different needs of multiple employee roles.
Persona-Based Solutions
Workers need a complete endpoint solution to ensure they can work both autonomously and collaboratively. To do this, Dell is empowering their PCs with the power of AI. Dell Optimizer is an integrated AI software suite that provides intelligent privacy features to conceal sensitive information within unsecure environments. It features the world's first simultaneous multi-network connection that allows users to connect to two wired or wireless networks at once for faster data transfers and downloads. Dell Optimizer can even analyze a worker's immediate surroundings and utilize neural-noise cancellation technology to ensure that remote communicative sessions are audibly clear and pristine.
Flexibility at the Enterprise Level
Enterprise leaders must always remind themselves that flexibility isn't just a demand from clients. Forward-minded companies must also be agile enough to quickly adapt to the fast-changing dynamic business environments of today. That's a fancy way of saying you must support your workforce, too. Are you certain you have the right technology infrastructure in place for the coming years? Do you know how much storage capacity and processing power you will need in 2023 or 2024? Think about how useless the forecasts you made in 2019 for the coming year were because of the pandemic and supply chain challenges. The old way of capitalizing large infrastructure deployments is simply outdated.
Companies can no longer continue the expensive practice of overprovisioning and investing in long-term fixed assets – this is far too risky. Companies need adaptive technology solutions that provides flexibility in resource allotment and finance allocation. That's why Dell Apex Flex on Demand is the right solution at the right time.
What is APEX Flex on Demand?
Dell APEX Flex on Demand gives you the ability to not only acquire the right technology you need but to also scale the right amount, so you only pay for what you use. We aren't talking about a cloud-first solution, but you are financing in a similar fashion to the cloud. Remember, we're still talking about allocating storage, server, hyper converged infrastructure, and data protection services on-prem. Apex Flex on Demand threads the needle to meet the balance of cost and flexibility in a way that was unimaginable just a few years ago.
What you're paying for isn't hardware or software. You pay for actual capacity usage. Whether it's a server or a storage repository, utilization is comprised of two components: Committed capacity and buffer capacity. Our team will help you establish what your fixed committed capacity should be and how much buffered capacity will be required in the future. You aren't billed for that buffer by default, but if the need arises for it, you instantly have access to it. Because buffered capacity is billed at a higher rate, you can modify the capacity ratio to adjust to workloads that have increased beyond the initial committed capacity to reduce costs.
Deployment and Payment Made Simple
Dell delivers and deploys your desired technology on-prem according to best practice and configured with your predicted capacity ratio. Raw and usable capacity data is measured throughout each day to create a daily and monthly average using locally installed software. This usage data is then securely uploaded to the Dell Financial Services Database where it is validated, verified, and processed by a billing specialist. Reports are then made available to the customer for validation prior to payment. Some of the benefits that customers have realized include the following:
A 25% lower storage acquisition cost

Deploying new storage capacity proved 92% faster

Costs due to unplanned outages fell by 64%
If these positives are not enough, please consider this: While there are similar solutions abound, Dell is the only solution provider that caps monthly at 85% usage of total installed capacity.
Conclusion
You can refer to it by a variety of "as-a-Service" connotations. The best way to sum up Dell's Flex on Demand offering may be Innovation-as-a-Service. It's just another example of how Dell is providing the right hybrid work solutions that companies need for both now and in the future. It's time for you to ensure that your business objectives are satisfied in a totally dynamic world.
Next Steps: Download our tech brief that explains how Dell Technologies has elevated the hybrid work experience for both end users and IT administrators. We focus on the perspectives of privacy, connectivity, and collaboration.