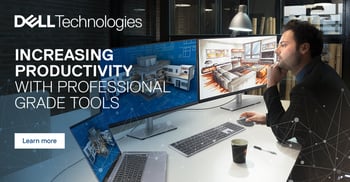 Someday, the daily struggle and uncertainty of the pandemic will only be a memory. However, the way we do business has been forever altered and remote workforces are likely here to stay.
In early 2020, companies were forced to rapidly transition to working from home. More than a year later, as vaccines roll out and the virus subsides, it appears as though the remote work trend won't be going away any time soon. In fact, one recent study found that 87% of professionals hope they can continue working from home.
Although the majority of CEOs want teams to return to the office, employers are increasingly coming to the realization that they might have a hard time attracting and retaining top talent if they don't allow their teams to work remotely. For this reason, the majority of employers are moving forward with plans to continue with a remote workforce or implement a hybrid model of work, where some folks work from the office and others work from home.
To support hybrid or remote workforces, companies need to invest in powerful laptops that enable employees to do their best work, regardless of their location. Utilizing Dell laptops is one way to be sure your users have the tools they need to be successful.
Here are five reasons the right technology will help your organization get to the next level and thrive in the new era of distributed work.
1. Boosting the employee experience
With the right tools in place, you're equipping your team with what they need to reach their full potential. Instead of struggling to access resources or stay connected to the team, employees that are given Dell laptops are empowered to work productively day in and day out, using up-to-date technology that makes work easier and more enjoyable.
Utilizing new technology can also help your enterprise make a great first impression with new hires, which increases productivity and engagement while strengthening company culture. This, in turn, boosts retention.
2. Facilitating meaningful connections
A recent study found that 45% of workers missed the social interactions they had with their coworkers after being forced to transition to remote work.
Although technology can't completely replace face-to-face interactions, it can help remote workforces stay connected to their teams. New cloud-based project management tools and real-time chat platforms are allowing users to work collaboratively from home. And when coworkers need to talk through something in more depth, they can hop on a video call in a few clicks and "see" each other for a little face time.
That said, these new communication tools and platforms need hardware they can run efficiently on. There are few things more frustrating for employees than having to fight against their technology during video calls or missing important messages due to computer malfunctions.
With the right tools, your remote workforce can collaborate together on an increasing number of projects and form meaningful connections with each other, which makes work more social once again — just in a different way.
3. Keeping operations humming along
When you invest in modern technology, you enable your remote workforce to work with purpose and accomplish more. On top of that, you won't have to worry as much about things such as incompatibility, slow-loading machines and a wonky internet connection that moves at a snail's pace.
Worried that your employees will invariably download viruses and malware, misconfigure their devices and otherwise misuse their machines? Don't be. You can also invest in modern PC lifecycle management platforms (MPCLM) that enable IT to manage machines remotely.
4. Future-proofing your tech infrastructure
By embracing the power of modern devices and tools that enable IT to easily manage them over the internet, organizations are able to future-proof their technology stance. When new solutions emerge, IT administrators can roll them out to the machines of all users automatically, empowering companies to always ensure they're providing their employees with the best tools for the job.
Thanks to MPCLM technology, IT can deliver bespoke digital solutions to employees rapidly, without having to endure lengthy procurement and provisioning processes on a continuous basis. At the same time, IT can also test laptops and desktops remotely to ensure they are operating at optimal capacity. They can also train employees to make sure they can use every tool productively.
5. Accelerating innovation
Each of these benefits adds up to the biggest one: innovation.
By ensuring that your employees have the tools they need to succeed — and that those tools evolve with the times — you empower your team to reach their full potential at work every day. Through real-time connectivity and collaboration, the hardware you rely on can enable your team to brainstorm, test and implement new ideas faster than ever before.
This, in turn, helps you bring new products to market faster, accelerating innovation and driving competitive advantage while working more diligently to delight your customers.
Utilize Dell Laptops For Your Hybrid Workforce
What it boils down to is this: Choosing which laptops and desktop devices will power your operations is one of the biggest decisions you can make.
With so much on the line, you really can't afford to pick the wrong models. And this is precisely why it makes sense to join forces with a partner organization that can help you build the perfect solution for your business instead of doing it on your own.
Dell laptops come at variety of price points and offer different options for storage, operating systems, and features. Dell laptops can also be tailored to suit the needs of each user to match the work they will be doing.
Dell also offers a number of 2-in-1 models that function as both a laptop and tablet, offering increased flexibility for your users for meetings, presentations, note taking, and more.
Are Your Looking For A Partner To Support Your Remote Workforce?
Dell is committed to helping enterprises transform the way they do business. To support this, innovation is at the forefront of all their solutions, enabling you to transform your infrastructure and accelerate the innovation you need to stay competitive. We have expertise across all Dell systems and can help architect a custom solution to achieve your desired business outcomes.
NEXT STEPS: Your business needs infrastructure that is flexible enough to support a hybrid workforce. Take a look at the TOP TEN reasons why enterprise IT leaders run their business on Dell VxRail in our paper below.