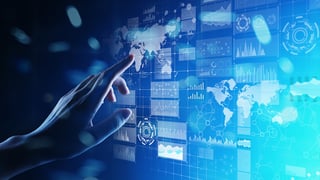 Today, there is an impetus among IT leaders to build stronger digital foundations, enabling their companies to head off future disruptions and secure long-term business success.
New, cloud-based operating models featuring greater speed, agility, and scalability can support the digital transformation enterprises across industries require. By leveraging cutting edge technologies to improve their use of data-driven insights, high-performing organizations can utilize these findings to drive business forward.
Redefining Digital Transformation
Although the benefits of digital transformation are well understood, its success takes on new meaning as we look to improve operations, customer experiences, and security in 2021. Technology leaders must identify the pressing challenges and opportunities of the day and work with business leaders to identify domains that are top priorities for change.
As Forbes describes, "the authentic, nimble, connected and collaborative companies will win in 2021 and beyond." Here we examine some of the key lessons learned from 2020, followed by five considerations you should take into account as you accelerate digital innovation in your own company.
Speeding Up Innovation
Change in markets, supply chains, and expectations of customers and employees alike in 2020 taught us that many of the systems and processes that have supported us for years will not provide the lasting agility we need. It was companies that had already established the right partnerships and cloud-based technologies who responded to the COVID-19 crisis with success.
As shared by Dell in their Digital Transformation Index 2020 report, prior to the disruptions of 2020, many companies found that their digital transformation efforts were lagging behind. As a result of the rapid change of the past year, enterprises are "bracing themselves for a challenging chapter ahead," and prioritizing digital innovation throughout the business. In fact, according to Dell, 41% of companies surveyed for their report accelerated all or most of their digital transformation programs in 2020.
This is especially true for companies forced into a remote-work model who now perceive it as an important practice they will continue in some capacity for years to come. Struggling with new cybersecurity challenges forced companies to reimagine their technologies and best practices. Of the companies that fast-tracked their digital transformation efforts, Dell reported that the number one program prioritized was strengthening cybersecurity defenses.
Now, technology leaders must not only revisit these changes to assess them for long-term viability, but they must also find opportunities to introduce the agility they witnessed in 2020 into their business models. Automating key processes, adopting advanced analytics, and improving channels for customer engagement and response are all viable options.
Five Considerations To Start Accelerating Innovation Today
Today, we face an urgency for creativity in digital transformation and for greater receptivity to those changes among business leaders. Technology leaders can take the best lessons learned from 2020 and use them to improve digital strategies moving forward.
1. Speed and agility are determining factors for success.
Whether reviewing and implementing a new strategy or reallocating resources in the event of a crisis, enterprises with greater speed and agility, enhanced through digital transformation, are simply more successful. Cloud technologies helped leading companies minimize friction in business processes and arrive at value more quickly when their customers needed it most.
Of the companies surveyed by Dell, 74% reported they were currently investing in multi-cloud technology and 35% reported they would be investing within the next three years.
2. Renew focus on customers, build more holistic relationships.
Both consumer and business priorities have changed. There is a new impetus to reexamine what customer centricity means for B2B and B2C customers and how companies can deliver on enduring needs and expectations through new digital capabilities and experiences.
According to Dell, 74% of digital leaders set up new digital channels to support customers during the pandemic.
3. Cybersecurity requirements are evolving as our companies and employees evolve.
New cybersecurity threats emerged in 2020, and existing vulnerabilities also worsened as we changed the way we work. Transitioning employees to remote-work environments exposed vulnerabilities, for example. Now, data privacy and security concerns are more likely to create barriers to the digital transformation companies require.
Cybersecurity solutions must become core investments over the next three years to make the transformation in other areas of the business possible. Companies will need the right technologies and teams in place as they embrace other innovations, such as 5G infrastructure or democratized analytics.
As previously mentioned, Dell found that IT leaders are prioritizing cybersecurity efforts above all else, with 82% percent reporting a current investment in cybersecurity and privacy technology.
4. Workforces also need to transform.
Tech leaders cannot expect new technology adoption alone to solve their problems. They need employees who understand transformation, who can use those technologies to realize their goals.
Tech leaders should identify existing and new talent gaps alongside their digital transformation efforts. They should also identify digital solutions that present realistic opportunities in terms of closing up talent gaps to realize the capabilities they need. They can then "triage" their approach to closing that gap with three strategies: hiring new talent, reskilling existing employees, and automating processes for which manual work is no longer needed.
5. We need to keep learning, even as we scale.
Among other things, the events of 2020 presented business leaders with learning opportunities. They forced most companies to pivot dramatically, with varying degrees of success. But our learning hasn't ended—in fact, companies must have an ingrained responsiveness as part of their operations so that they can succeed if either global or local crises strike again.
Helping You Prepare For What's Next
Dell is committed to helping enterprises transform the way they do business. To support this, innovation is at the forefront of all their solutions, enabling you to transform your infrastructure and accelerate the innovation you need to stay competitive. For more information about Dell's capabilities and how their solutions can future-proof your digital transformation, contact WEI. We have expertise across all Dell systems and can help architect a custom solution to achieve your desired business outcomes.
NEXT STEPS: You might also be interested in this video we created in partnership with Dell to help you prepare for the Edge. Find out if your enterprise is really ready to mange data at the Edge in this short video below.