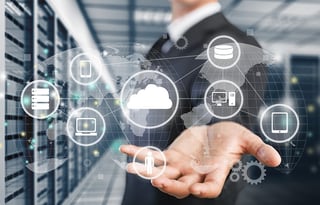 It seems like we never have enough time to get everything done that we need to do during our time off. Before you know it, the weekend's over and there's still items left on our 'to-do' list. That's certainly the way it is for enterprise backups. If you're a backup administrator, you know the routine too well. Full and incremental backups take an enormous amount of time. They also consume a lot of resources and bandwidth. Because of their negative impact on production environments, we schedule backup jobs during off-peak hours. The problem is that window just never seems to be quite long enough and with burgeoning data repositories and an expanding application portfolio, that window seems to only get smaller. Face it, scheduling backups in the hope they complete in time without interfering with one another is stressful. Administrators can only hope the last backup job completes before users begin to trickle in Monday morning. If not, users will be competing with those same backup jobs for network bandwidth and server utilization resources and the help desk phones begin to ring.
Complexity and Cost
And then there is the complexity of everything we have to protect. Applications are increasingly dispersed across multiple VMs along with an under layer of dependencies, creating complex application chains that must be completely restored to fully recover from an incident. To address the challenge of narrowing backup windows, traditional backup vendors have created their own distributed solutions, further adding to the complexity of it all. All of this adds to the nervous question of whether a speedy recovery on demand is truly possible, whether that's a complete restore or the granular recovery of a few files. That's why so much time is spent monitoring the backup processes, time that could be better spent creating value for the organization.
Zerto Eliminates the Backup Window
Zerto's cloud data management and protection software takes the stress out of backing up your data. There's no need to sweat about whether the backup job will finish in time. That's because their continuous data replication is constantly working, replicating every change that is generated within your environment in real time. No more mammoth backup streams being pushed through your network. Zerto backs up little bits at a time, creating what is referred to as recovery point objectives every few seconds. In other words, the slightest data change creates an RPO. No more intense backup processes that consume the resources of the servers you are trying to protect either.
Granular and Accurate Recovery
Let's face it, backup restoration using point-in-time copies used in traditional backup technology is like taking a spin at the roulette wheel. It's impossible to avoid recovery gaps as data changes since the last backup job are lost. Then there is the wasted time of restoring more data than you need to restore. Zerto eliminates these large recovery gaps and wasted labors because every data change is replicated in real time. This gives you the ability to restore your data down to the precise second. If a disruption occurred at 9:45 AM, you can restore your data back to 9:44 AM. At most, you lose windows of seconds, not hours, as is the case with traditional backups.
The ability to restore back with pinpoint accuracy is critically important for consistent recovery efforts of multi-VM applications that must be protected as one logical entity. Now you can spin up each application VM from the exact same recovery point, ensuring application consistency. Of course, not every instance calls for this type of split-second recovery. Point-in-time copies are still relevant for those organization needing to store data for long retention periods due to compliance requirements. For those longer retention periods, traditional backup copies are offloaded to secondary storage according to your schedule needs.
Simplified Backup Architecture
Zerto was created with simplicity in mind. It's designed to fit into nearly any environment regardless of infrastructure because its technology is agnostic. Its purpose-built software appliance installs on any host where virtual or Kubernetes applications are to be protected so it doesn't require dedicated hardware. It's small footprint and low overhead components make it easy to scale out to potentially protecting petabytes of data and thousands of VMS. Despite its vast coverage potential, it doesn't require weeks of intensive training to master it. Zerto is a single software experience that can accommodate a full slate of needs across the entire data management and protection spectrum. All of this translates into a future-proof solution and a reduced TCO.
The Power of Zerto and HPE Together
It's easy to see how Zerto is changing the backup technology landscape. That's why HPE recently completed its acquisition of Zerto. Says Tom Black, Senior Vice President and General Manager of HPE Storage:
"Our customers continue to face complexity in managing and protecting their data. Zerto's best-in-class talent and technology expands HPE's data management and disaster recovery capabilities, giving customers the ability to protect their data and recover in minutes from ransomware attacks. We are thrilled to welcome Zerto to the HPE family."
Zerto's cloud data management and protection software will remain available as a standalone service, but is also available now as a service through the HPE GreenLake platform and the Data Services Cloud Console. If you'd like to learn how Zerto can help you de-stress about your backups and disaster recovery efforts, then contact us at WEI where our storage SMEs can educate you about this exciting backup methodology and architecture that is reshaping the industry.
Next Steps: Learn more about how to effectively plan for backup recovery strategies in our white paper below.