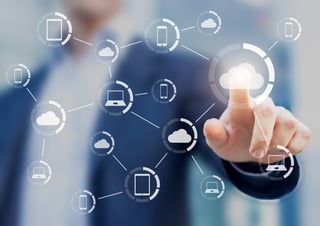 On September 28, 2021, HPE announced a new comprehensive series of cloud services for HPE GreenLake edge-to-cloud platform. This platform provides customers with unmatched capabilities to power digital transformation for their applications and data.
These modernizations will further accelerate HPE's transition to a cloud services company, and give customers greater choice and freedom for their business and IT strategy in the hybrid work environment.
This announcement represents HPE's entry into three large, high-growth software markets – unified analytics, data protection, and Adoption Framework.
What The New Cloud Services Are
The three new offerings, which add to the growing platform of HPE GreenLake cloud services, allow customers to innovate with agility at lower costs.
The new innovations are as follows:
HPE GreenLake for Analytics: Open and unified analytics cloud services to modernize all data and applications everywhere – on-premises, at the edge, and in the cloud. HPE GreenLake for analytics will be available in the beginning of 2022.

HPE GreenLake for Data Protection

: Disaster recovery and backup cloud services to help customers address ransomware head-on and secure data from edge-to-cloud. HPE GreenLake for data protection will be available in the beginning of 2022.
HPE Edge-to-Cloud Adoption Framework: A comprehensive, proven set of methodologies, expertise, and automation tools to accelerate and de-risk the path to a cloud experience everywhere. The HPE Edge-to-Cloud Adoption Framework is available now.
How HPE GreenLake Analytics Are Optimized For Hybrid Environments
This announcement is HPE GreenLake's first cloud-native unified analytics and data cloud services optimized for hybrid environments. The analytics enable customers to accelerate modernization initiatives. They are built to be cloud-native which avoids complex data migrations to the public cloud. Now analytics and data science teams can leverage the industry's first cloud-native solution on premises, scale up Apache Spark lakehouses, and speed up AI and ML workflows.
Included in the new HPE GreenLake cloud services are:
HPE Ezmeral Unified Analytics:

Modernized analytics and data lakehouse platform optimized for on-premises deployment.
HPE Ezmeral Data Fabric Object Store: Kubernetes-native object store optimized for analytics performance, providing access to all data sets within edge to cloud.

Expanding HPE Ezmeral Partner Ecosystem: Delivers a rapidly growing set of successful solutions from ISV partners that enable customers to build their analytics engines.
How HPE GreenLake Data Protection Innovation Protects Customers' Data
Within the September 28 announcement, HPE entered the rapidly growing data protection As-a-Service market with HPE GreenLake for data protection. The new cloud services are designed to modernize data protection, overcome ransomware attacks, and deliver faster data recovery.
The new HPE GreenLake data protection services include:
HPE Backup and Recovery Service: Backup as a service offering that provides policy-based automation to backup and protect customers' virtual machines across hybrid cloud environments, eliminating the complexities of managing backup hardware

HPE GreenLake for Disaster Recovery: HPE plans to deliver Zerto's industry-leading disaster recovery as a service through HPE GreenLake to help customers recover in minutes from ransomware attacks.
How HPE Adoption Framework Accelerates Cloud Experience
HPE has also announced a proven set of methodologies and automation tools to enable enterprises to take a data-driven approach to achieve the optimal operation model across all hybrid work environments – the HPE Edge-to-Cloud Adoption Framework.
The HPE Edge-to-Cloud Adoption Framework leverages HPE's expertise in delivering solutions on-premises to meet a broad range of business needs for customers across the globe. HPE has identified multiple critical areas that enterprises should consider and measure to accomplish an effective cloud operating system.
Are You Interested In HPE's New Cloud Services?
HPE ​​is a global edge-to-cloud company helping organizations accelerate outcomes by unlocking value from all of their data. Built on decades of reimagining and innovating, HPE delivers unique, open and intelligent technology solutions. HPE's new cloud services for the HPE GreenLake edge-to-cloud platform allows customers to accelerate innovation, deliver compelling experiences, and achieve high-level business outcomes. If you're ready to make the change now, contact WEI to begin building a custom solution for your business.
NEXT STEPS: Download this executive brief to learn the power of the OpEX model for IT investments and find the middle ground for future It investments.