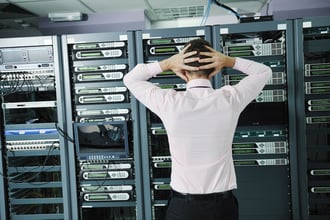 For IT managers of today, the technology world is a constantly changing place, with many new changes popping up on an almost daily basis. Some of these disruptive new technologies include the expansion of advanced virtualization, new cybersecurity monitoring tools and the emergence of new cloud service delivery models, from a wide range of providers. Because of these disruptions in the IT world, the need for a robust backup and recovery strategy is greater than ever before.
Join us as we go back to the basics of backup and recovery in light of new choices and emerging technologies. These include the use of interesting cloud options for backup, recovery and replication, as well as a key rule when keeping backup copies of your organization's most sensitive data in the cloud.
Backup Basics: Then and Now
Backup and recovery is a quickly changing IT segment. With increasingly exponential amounts of data to protect and shorter backup windows than ever before, how can IT managers succeed at their task to back up and recover crucial business systems in case of disaster? The challenge is to save data without the process taking too much time, costing too much money or absorbing too much digital storage. It turns out the cloud may hold part of the answer.
While you may have had to keep all of your data on personal servers and infrastructure housed on your property in the past, there's a plethora of new options and choices for backup and recovery these days, thanks to the cloud. However, many options can be costly and may still prove ineffective unless they are addressed from the vantage point of a solid backup foundation and strategy. This includes the use of fundamental truths about backup and recovery that remain unchanged, regardless of the technological landscape now available.
Below are some of backup's conventional wisdoms that still hold true today. In many cases, these are able to be reinterpreted based on new options to increase an organization's backup success or reduce both the time and the cost involved in backup and restores.
Use external cloud providers to hold backup copies of your information in case of an on premise emergency
Use efficient backup software to ensure the highest performance possible
Testing is important; just like you hold a fire drill, try and see how well your backup and recovery plan holds up when there's an outage, either real or imagined
A nugget of wisdom that still holds true today: follow backup and recovery's most important rule (the 3-2-1 Rule) to ensure your data is recovered. Implementing the 3-2-1 Rule can be much easier and less costly than it was in the past, thanks to some new technologies and approaches. Basically, this rule recommends that you always:
3—Keep three copies of important files (a primary version and two backup copies)
2—Store them on two different types of storage media
1—Keep one copy offsite
As enterprise disk-based storage began to mature, many organizations tended to apply the 3-2-1 Rule for data protection with a mix of both disk and tape. Many would then vault tape backups off-site periodically. For cost reasons, organizations with large volumes of data to protect or archive may still use tape. Those interested in fast recovery, however, often find tape-based backup much too slow and cumbersome as a primary line of defense to recover their applications.
As we've explained before, the world of backup and recovery remains something that has not been properly invested in at organizations. Some companies don't see the need, while many find themselves unable to contain their own rising backup costs, especially those associated with on premise infrastructure. Even more important, some organizations report mixed success and failure when attempting to restore key systems and data, especially when they need it most: in the wake of a real-time crisis, outage or service disruption.
To keep your organization's data safe, WEI is here to help. Contact us today and we'll help you fine-tune or create your backup and recovery plan.