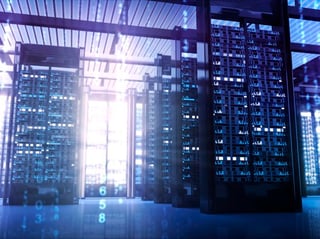 Those who are pursuing the latest architype known as hybrid IT in order to revolutionize their enterprise and complete the digital transformation of their organizations know the dream. The dream is to free ourselves from the isolated silos of the traditional data center and obtain the flexibility of a free flowing ecosphere in which workloads are matched with the right platform that both optimizes the user experience and maximizes ROI at the same time. Hybrid IT is about obtaining an unparalleled degree of elasticity in order to migrate applications at will amongst hosting structures (cloud and on-premises). This agility not only delivers infrastructure plasticity, but peace of mind as well by delivering on the ability to achieve near absolute levels of business continuity and disaster recovery.
The cloud has definitely expanded the borders of the enterprise to nearly limitless proportions. However, few organizations rely on a single cloud provider. In order to obtain the agility that companies have insistently sought, it has become common practice for today's enterprises to incorporate multiple public, private, and hybrid clouds into their enterprise. While this provides the initial choice to match workloads with cloud platforms, IT teams can find themselves restricted once again as each cloud service acts as a silo. What if you want to replicate data amongst intra-cloud regions or even different cloud providers? What if you moved virtual machines to the public cloud and now want to migrate that data back on-premises from a public cloud? Once situated in the cloud, many companies found that in actuality; the multi-cloud architecture is not quite as adaptable and affordable as first imagined.
For those who want to get the most out of their hybrid IT environments and multi-cloud architectures, there is Zerto. Zerto Virtual Replication 6.0 is a single platform solution that allows your IT team to operate between multiple clouds. The new release of Zerto Virtual Replication offers bi-directional support between Azure, IBM Cloud, and AWS. The Any2Any Cloud Mobility feature truly does provide multiple cloud capabilities, supporting over 350 Cloud Service Providers. As their CEO, Ziv Kedem says, "Zerto Virtual Replication 6.0 provides customers with the control, agility and protection they need to embrace a multi-cloud strategy."
Zerto has centered its solution around virtualized infrastructure since the beginning. Today it continues to serve as a hypervisor-based replication solution for tier-one applications. Originally designed for VMware environments, Zerto products today allow for choice between hypervisors, storage providers, and public/private clouds so that customers are able to decide which data center or cloud service best suits their business requirements. The ability for it to integrate and operate amongst so many alternative platforms gives customers the ability to perform a multitude of things, including:
Host your assets in your own private cloud and utilize a public cloud such as Azure, IBM Cloud, or AWS as a secondary site
Replicate workloads within different Azure regions
Replication from Azure to AWS, vCloud Director, or IBM Cloud and bi-directional mobility between AWS and Azure
Bi-directional recovery with Azure, VMware vCloud Director, or IBM Cloud
Orchestrated failback and recovery from AWS
Move applications and data freely in and out of the cloud
What's more, Zerto does all of this without the use of agents. Its simple platform provides freedom of choice and resilience to any planned or unplanned disruptions. When you can move VMs back and forth between cloud providers, it becomes your cloud. This degree of continuous data replication & recovery empowers internal IT so that business critical applications run optimally and dependably.
Besides the feature of Any2Any Cloud Mobility, Zerto Virtual Replication 6.0 offers some other key features that make multi-cloud administration a snap.
Multi-site multi-cloud visibility so that you can see everything in one place using your mobile device or desktop
Single Sign-On functionality so that you can maneuver with ease amongst different clouds with a single password
A 30-Day Network History in order to view network analysis
Journal File Level Recovery (JFLR) provides the ability to restore single or multiple files and folders in case of deletion for both Linux and Windows file systems
With Zerto, virtual replication is no longer simply about disaster recovery. For Zerto customers it has become a critical component of their IT business strategy. Zerto is a simplistic solution that ensures cloud continuity and flexibility for your company's applications and services. Zerto may not be a name you are familiar with as of yet, but the solution it offers is one that you will embrace to be as essential as the cloud itself.
Next Steps: Read this tech brief from a trusted IT solutions provider, WEI, called, "Cloud Security Tips for Protecting Shared Technology".