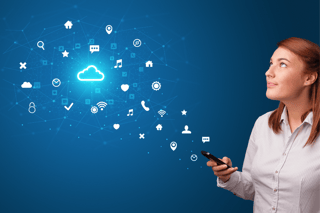 Almost every enterprise across many different industries is using cloud infrastructure to help meet business goals more efficiently. Developing strategies that include multiple clouds can help with reduced IT costs and flexibility. The majority of businesses plan to implement hybrid and multi-cloud solutions to maximize efficiency. In fact, 92 percent of businesses are already moving to a hybrid or multi-cloud strategy. In this article, we discuss hybrid and multi-cloud efficiency and what's required to implement the transition to this strategy. After all, the days of single cloud use are just about obsolete for mid-size enterprises and up.
Hybrid And Multi-Cloud Efficiency
The term hybrid with multi-cloud means an organization uses a mix of on-premises along with either, or both, private and public clouds from multiple providers within their IT infrastructure. Cloud adoption is quickly becoming a necessary step in keeping up with digital transformation and evolving technologies. This means businesses will be focused on creating the best mix of public and private clouds for higher efficiency and minimized costs.
This approach is practical for many enterprises since it helps maintain and benefit from the systems and data that have been built over time. Hybrid and multi-cloud infrastructure can provide greater control on data distribution options and storage for companies of all sizes. It is also a perfect solution for those looking to choose what makes sense for each component of your business. You can maintain existing platforms and integrate them with new capabilities.
Some IT decision makers may find that running cloud services with multiple providers is a challenging strategy, but it doesn't have to be a difficult process. IT teams can use a centralized management system throughout all cloud environments no matter where the applications are operating. Both public and private cloud infrastructure run separately, so using the right technology that allows an easy transfer of applications and data between clouds is crucial.
Implementing A Hybrid And Multi-Cloud Solution
Adopting hybrid and multi-cloud solutions can seem like an intimidating undertaking. However, by planning and using the right solutions, it is actually very attainable. Here are four important considerations when building your strategy:
Understand your core business and technology requirements. Think about the values of your business regarding moving to the cloud. This will help you look for the mix of clouds that will make up your hybrid and multi-cloud solution.

Select the private and public clouds that fit your needs. Take the time to learn about cloud vendor products and services along with their cybersecurity policies.

Develop a management approach for security, governance, cost monitoring, and resource and performance management. It is essential to build and acquire management solutions that can be used to help manage the activities and projects throughout your hybrid and multi-cloud environment with minimal disruptions.

Select the management technology that works best with what has been defined above.
Adopting a hybrid and multi-cloud approach means integrating the old and the new to keep up with digital transformation and continue to build up business value. Making plans to overcome any challenges of system change can (and will) make all the difference.
Conclusion
Evolving technology has made enterprises increase their search for multiple cloud offerings that can help capitalize on flexibility and reduced costs. Businesses are also progressively heading toward digital transformation, making the adoption of hybrid and multi-cloud services increase rapidly. A recent Nutanix study found that "around 56% of respondents said they've already adopted multi-cloud, and 80% plan to do so in the next three years."
By using private and public cloud facilities together, companies can gain much more profit and agility whenever they perform any operation. The hybrid and multi-cloud environment can give companies choices by allowing them to determine which aspects of their business they want in each environment. If you'd like to learn more about how your company can manage your IT infrastructure and data storage, contact the infrastructure experts at WEI today.
Next Steps: Reducing complexity is a necessary step when implementing hybrid and multi-cloud systems. You can simplify your approach with hyperconverged infrastructure (HCI) software that can put you in charge of what goes where. Learn more about maintaining your hybrid and multi-cloud system with HCI in our tech brief, "How Next-Gen HCI Can Support Your Hybrid/Multi-Cloud Enterprise."