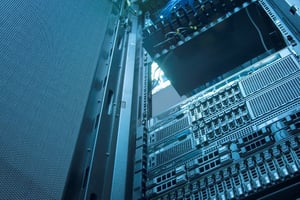 As enterprises continue evolving to meet the new challenges and opportunities of the digital era, IT leaders are faced with a daunting task: implement a flexible data center infrastructure that can support this new and ever-changing generation of technology solutions.
For some workloads, the public cloud is the ideal solution. It's scalable, available as-needed, and follows a consumption-based pricing structure. But a lot of enterprise applications, including sensitive and complex mission-critical workloads, can't be deployed on the public cloud. Factors like security, compliance, app performance, migration challenges, and even cost may mean that these workloads need to be kept in the
on-premises data center
.
Unfortunately, that necessary separation leads to a two-tier structure in which new, "cloud native," applications are built and provisioned in the public cloud to leverage the latest technologies and flexible deployment options. Meanwhile, existing applications remain on-premises in traditional architectures and configurations where they are burdened by costly and inflexible infrastructure with high labor costs.
Don't settle for two-tiered data center infrastructure
This two-tiered structure is quickly becoming untenable. All workloads and applications are important to the enterprise, and to be forced to choose a preference of one set over another based simply on their location, is a risky and costly approach that clashes with the goals of agility and cost-containment. Additionally, this two-tiered approach is insufficient for handling the delivery of IT resources, including hybrid workloads and edge computing.
The solution? Successful IT leaders are rejecting this data center infrastructure model in favor of a more flexible approach. This new method allows all workloads to run at optimal performance and efficiency, regardless of location or model.
Replace two-tiered data center infrastructure with consumption-based services
IT leaders on the cutting edge of IT technology are replicating the cloud experience within their enterprise's data center infrastructure by implementing a consumption-based IT model. By working with a partner who takes responsibility for deploying and managing enterprise data center infrastructure, organizations can achieve an efficient, cost-effective model for IT resource utilization – one in which infrastructure is available and deployed as needed (consumption based). This model increases efficiency and reduces costs without compromising scalability, availability, or security.
In a consumption-based IT model the data center services provider will manage your enterprise's infrastructure to deliver the outcomes you require with maximum efficiency and cost-effectiveness. To deliver this model the provider will offer a range of services including, but not limited to, the following:
1. Infrastructure needs assessment
The provider works with you to understand how your existing data center infrastructure aligns with likely needs, and optimizes capacity utilization.
2. Scaling and capacity management
The right provider ensures you always have sufficient capacity to scale as needed without paying for idle resources. In the consumption-based model, the spare capacity is neither deployed nor charged until it is required, so you only pay for what you use. Automation tools help ensure that applications always perform optimally and consistently.
3. Remote monitoring and maintenance of infrastructure
By offloading routine monitoring and maintenance tasks to the partner, IT organizations can redeploy staff to focus innovative solutions to enterprise problems. The right provider will support all brands and models of data center infrastructure, no matter the age, optimizing the use of equipment you already own. They should also support the service broker model, enabling your IT team to select and deploy the right infrastructure for each application.
4. Workload-based infrastructure recommendations
An expert partner will understand your organization and recommend the right combination of resources to meet the needs of your workload and business priorities. By managing the data center infrastructure, they can deliver the necessary levels of application performance, availability, cost, and security for each workload. The partner should also help configure resources to support use cases for DevOps, backup and recovery, analytics, storage and database management, and more.
5. Budget flexibility
The data center services partner will offer flexible cost models that align with your enterprise's budgeting and accounting priorities. Payments may be structured in a pay-per-use format, or variable depending on the resources used during a set period of time. For most companies, the services model offers the opportunity to shift data center infrastructure costs from the capital budget to the operating budget.
In addition to providing tactical support, the right partner will be able to augment your own staff with services to help you transform IT and your business. Advisory and management services may address the key challenges enterprises face during the transformation to a hybrid environment including:
IT as a Service
Workload Assessment and Migration
Application Optimization
Hybrid IT Integration
HPE GreenLake: Pay-as-you-go consumption-based IT solutions
Regardless of where your IT is running currently – either on or off premises – HPE can help you consume just what your enterprise needs, get rid of what you don't, and run IT with best practices across your cloud estate. Their experts can help you design, deploy, and operate your Hybrid Cloud, including Amazon Web Services, Microsoft Azure, and Azure Stack.
If you would like more information about how WEI can help with your data center infrastructure, or any of our other solutions and services, please contact us anytime. We welcome your questions and comments, and will give them our prompt attention.