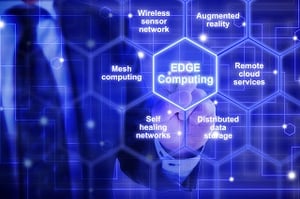 The interconnected worlds of today see increased access to more things at faster speeds. Wireless networking made these processes even faster, with IT administrators able to add more storage space, computing power, and other capabilities at the push of a button.
Think about autonomous vehicles for a moment. There is a lot that needs to be reacted to while driving, which is why distracted drivers and drivers under the influence are so dangerous to those inside and outside of the vehicle. The very concept of a car operating without a driver was once an unimaginable concept to the world. While it still may be a tough concept to imagine today, think about what is required to make this innovation work. The car would need to be able to have a built in GPS that not only tells the vehicle when to turn, but also makes it turn. It needs to be able to see and sense everything around it, from speed limits, to weather conditions, to other vehicles, pedestrians, and objects like telephone poles and potholes. For the autonomous vehicle to be successful, it needs instantaneous capabilities to detect, analyze, and make a potentially life-altering decision without any delays.
Edge computing is focused on optimizing data driven capabilities by bringing data collection, processing, and reporting as close to the end user as possible. It has uses in the enterprise data center, a house, in healthcare, in smart cities, and even in the middle of the ocean.
Top 5 Benefits of Edge Computing
1. Speed and Latency
The longer it takes to process data, the less relevant it is. In the case of the autonomous vehicle, time is of the essence and most of the data it collects and requires is useless after a couple of seconds. Milliseconds matter, especially on a busy roadway. Milliseconds also matter in the digital factory where intelligence based systems perpetually monitor all aspects of the manufacturing process to ensure data consistency. In many cases, there isn't time to round trip data back and forth between the cloud. Situations such as equipment failures and hazardous incidents call for the instantaneous analysis of data. Confining data analysis to the edge where it is created eliminates latency, which translates into faster response times. This makes your data more relevant, useful and actionable. Edge computing also reduces the overall traffic loads of your enterprise at large, which improves performance for all of your enterprise applications and services.
2. Security
When all of your data must eventually feed to its cloud analyzer through a single pipe, the critical business and operating processes that rely on actionable data are highly vulnerable. As a result, a single DDoS attack can disrupt entire operations for a multinational company. When you distribute your data analysis tools across the enterprises, you distribute the risk as well. While it can be argued that edge computing expands the potential attack surface for would-be hackers, it also diminishes the impact on the organization as a whole. Another inherent truth is that when you transfer less data, there is less data that can be intercepted. The proliferation of mobile computing has made enterprises much more vulnerable because company devices are now transported outside of the protected firewall perimeter of the enterprise. When data is analyzed locally, it remains protected by the security blanket of the on premise enterprise. Edge computing also helps companies overcome the issues of local compliance and privacy regulations as well as the issue of data sovereignty.
3. Cost Savings
Since all data is not the same and does not contain the same value, how does one justify spending the same amount of money on all of it when it comes to transporting, managing, and securing it? While some data is critical to your operations, some is nearly expendable. Edge computing allows you to categorize your data from a management perspective. By retaining as much data within your edge locations, you reduce the need for costly bandwidth to connect all of your locations, and bandwidth translates directly into dollars. Edge computing isn't about eliminating the need for the cloud, it is about optimizing the flow of your data in order to maximize your operating costs. Edge computing also helps to reduce some level of data redundancy. Data that is created at the edge must be stored there at least temporarily. When sent to the cloud, it must be stored again, creating levels of redundancy. When you reduce redundant storage, you reduce redundant cost.
4. Greater Reliability
The world of IoT includes some pretty remote territories comprised of rural and less than optimal environments concerning internet connectivity. When edge devices can locally store and process ensuing data, it improves reliability. Prefabricated micro data centers are built today to operate within just about any environment. This means that temporary disruptions in intermittent connectivity will not impact smart device operations just because they lost connection to the cloud. In addition, every site has some built-in limitation to the amount of data that can be transmitted at one time. Although your bandwidth demands may not be tested as of yet, the exponential growth in generated data will push bandwidth infrastructure to the limit in the future for many enterprises.
5. Scalability
Although the idea that edge computing offers an advantage of scalability may seem contrary to promoted theory, it actually makes sense. Even for cloud computing architectures, data must first be forwarded to a centrally located datacenter in most cases. Expanding or even just modifying dedicated datacenters is an expensive proposition. What's more, IoT devices can be deployed along with their processing and data management tools at the edge in a single implantation, rather than waiting on the coordination of efforts from personnel located at multiple sites.
Next Steps
Edge computing is a powerful resource and strategy in the modern data center. Talking to an IT solutions provider like WEI can help you determine if edge computing would be a good fit for your enterprise. Wireless networking presents many new opportunities, both operationally and financially. Wi-Fi now goes beyond the basics to support even the most strategic applications and business objectives. Learn more by downloading our free tech brief, "Top 5 Roles of Wi-Fi for the Enterprise."