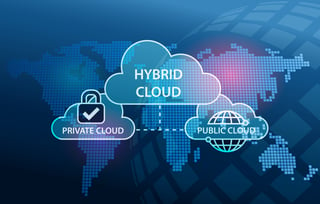 Within the "CIO's As-a-Service playbook," it explains how the previous consumption-oriented model of the public cloud system changed everything. However, the previous consumption-oriented model required IT to buy service and resource capacities themselves, which introduced new risks for CIOs. These limitations were identified when contrasted with the scalability and cost efficiencies of the cloud. IT wants to deliver the public cloud experience their users crave, yet some workloads cannot make that transition and must remain on-premises for many reasons.
As-a-Service not only removes complexity, but it also speeds business outcomes and creates cost savings typically only seen with public cloud. The As-a-Service model enables rapid development of hardware, software, and services anywhere and anytime.
Basics Of The As-a-Service Model And How It Works
The As-a-Service model is an on-demand service available in a pay-per use format. There is no upfront capital investment; instead, CIOs utilize resources and pay for what is actually being used. Usage is determined based on metering technology, with units of measure aligned to the hardware and/or software being consumed.
The As-a-Service model mimics the public cloud experience, but in your own environment or co-location facility. In traditional environments, it's difficult to predict how much infrastructure will be needed but with the new model it is now easier to scale up or down on-demand. Most organizations over-provision for storage capacity, according to Futurum Research. With the improved forecasting and use of IT resources, the As-a-Service model makes a significant difference.
With this model, companies can get the same cloud experience everywhere - in their on-premises data centers, at the edge, and in multi-cloud environments. CIOs can operate, manage, and control multiple business units and environments from one location. Companies are quickly shifting to hybrid cloud environments, where the workload placement can be determined on a best-suited basis. As a result of these changes, integrating, managing, and gaining visibility across newly complex IT infrastructures has become a challenge, making the As-a-Service model attractive to many enterprises.
Why Invest In The As-a-Service Model?
There are three value propositions for the As-a-Service model. First, in the "CIO's As-A-Service Playbook" Jason James, a CIO Net Health professional states, "In the next 12 to 18 months, many CIOs are going to focus as heavily on cost optimization as they are on digital transformation." By paying only for the capacity that is actually used, CIOs can get a better handle on budgeting and forecasting and avoid the risk of over-provisioning resources.
Second, a study by Forrester found undoubtedly faster time to market among users of As-a-Service models. The ability to quickly scale on demand brought efficiencies in meeting deadlines. Additionally, it enabled business units to develop products, applications, and launch new projects even faster than before.
Finally, by optimizing costs and speeding project delivery, IT organizations can focus on more strategic tasks. In the "CIO's As-A-Service Playbook" Paige Francis, a CIO at the University of Tulsa states, "It seems by eliminating the need to manage the hardware piece and the budget piece, more time can be spent on focusing on our users, carving out exactly what they need – without having to spend time worrying about the transition period of one piece of hardware to the next piece of hardware." Francis also explained that the beauty of the As-a-Service model is when companies can quickly deploy infrastructure and optimize their data centers for fast delivery.
How HPE GreenLake Works With As-a-Service
Many enterprise's applications and data aren't appropriate for the public cloud. They are still on-premises for a variety of reasons – security, compliance, governance, or legacy entanglement issues. However, this doesn't mean these workloads can't achieve the same cloud experience. Enterprises are switching to more hybrid cloud experiences like HPE GreenLake.
On June 18, 2021 HPE announced plans to offer HPE GreenLake, As-a-Service by 2022. HPE GreenLake offers a wide range of cloud services delivered to your data center, co-location facility, or edge location. It provides the agility and economics of public cloud with the security and performance of on-premises IT. With HPE GreenLake, companies can centralized operations and insights across their entire hybrid IT estate using the As-a-Service platform.
HPE GreenLake works by allowing you to choose your cloud services. They offer a wide range of pre-configured services like VMs, storage, compute, data protection, or SAP HANA. Additionally, you only pay for what you consume. This allows CIOs to free up capital and gain financial flexibility for their business units to take on new ventures and operations. HPE GreenLake allows you to scale with ease with an installed buffer of capacity.
Are You Looking To Transition Into An As-a-Service Model?
HPE is a global technology leader focused on developing intelligent solutions that allow customers to capture, analyze, and act upon data from edge to cloud. HPE enables CIOs to provide a seamless cloud experience everywhere with its As-a-Service model. If you're ready to make the change now, contact WEI to begin building a custom solution for your business.
NEXT STEPS: Read our blog on other new announcements at HPE.