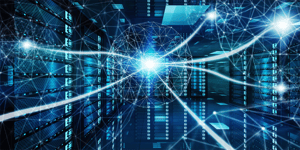 First, VMware reinvented the data center with their ESXi hypervisor. Then they transformed server management and deployment with vSphere. Now VMware's NSX is revolutionizing networking through advanced software-defined networking (SDN) technology. VMware NSX is a comprehensive networking solution that solves the challenges faced by the modern data center. Designed to maximize speed, agility, and security, NSX can help your enterprise realize its full potential.
Creating a Fully Virtualized Data Center
Modern data centers have already adopted a software-first approach, utilizing VMs and software-defined storage whenever possible. However, many data centers still rely on legacy networking solutions. VMware NSX is the final piece of the software-defined data center (SDDC) puzzle. With NSX, you can now virtualize every aspect of your data center.
NSX brings hypervisor technology to the network. Just like a traditional hypervisor, it works by abstracting the software layer from the underlying hardware. A virtualized network extends the benefits of virtualization to your applications. Deployment of new application hosting environments is no longer limited by the physical infrastructure. The comprehensive management platform allows you to easily create, relocate, snapshot, and restore application environments. Each workload can run in the environment that best meets its individual needs.
Virtualizing your Services
NSX unites all of your networking and security services under a single management platform. From VMs to the cloud, NSX manages traffic and security in every part of the network.
Switching - All VMs can communicate through a virtual extensible LAN (VXLAN) with NSX's full switch functionality.

Routing - NSX provides dynamic routing between logical switches and virtual networks.

Distributed Firewalling - NSX's scalable firewall automatically provides security and visibility for all virtualized networks and workloads.

Load Balancing - NSX provides L4-L7 load distribution to maximize application scalability and availability.

Edge Gateway - VXLAN to VLAN bridging capability ensures efficient connectivity for physical workloads.

Virtual Private Network (VPN) - NSX offers both remote access and site-to-site VPNs.

Endpoint Protection - NSX's vShield Endpoint provides effective anti-virus protection.

Better Security with Microsegmentation
Legacy security solutions focus primarily on perimeter defense. When a threat breaches the outer defenses, there are few provisions in place for lateral protection. Once a threat penetrates the network, it is free to move throughout the system. This type of single-point security is no longer adequate. NSX's microsegmentation approach provides comprehensive security for every part of the network.
Microsegmentation addresses individual security needs, allowing you to assign unique security policies to every single task, workload, and service. Assigned policies follow workloads as they move throughout the system. When creating and assigning security policies, you are not limited to fixed aspects, such as IP addresses. Policies can be defined based on changing criteria, like operating systems and users. NSX also allows for efficient, automated security. Newly created workloads are automatically assigned to the appropriate security policies. Microsegmentation with NSX provides flexible, customizable, and effective security for the entire network.
Which Version of NSX is Right for Your Enterprise?
VMware offers two different versions of their NSX data center. NSX-V is designed for enterprises that already use vSphere and are looking to extend virtualization to their network. While NSX-T is better suited for companies with more diverse data center architectures. NSX-T works well with public cloud hosting environments, container-based applications, and even other hypervisors.
A Cost-Benefit Analysis of NSX
In addition to all the benefits already mentioned, NSX is also designed to provide a substantial ROI. A Total Economic Impact study revealed that, in three years of use, NSX might save enterprises:
$1 million in hardware and operating expenses

$1.2 million through automation and reduced administration time

$7.4 million in decreased hardware needs

$1.6 million from increased user efficiency

An indeterminable amount through security breach prevention and containment
VMware NSX extends the full benefits of virtualization to your network, giving you a true SDDC. All networking and security services are easily managed through a single, comprehensive platform. Application environments are simple to deploy and manage, allowing for better workload optimization. NSX's microsegmentation approach ensures constant and consistent security that can be customized to meet each workload's individual needs. VMware has also designed NSX to provide a significant ROI. The increased security, agility, and speed that NSX offers can help you reduce expenses and optimize your data center.
NEXT STEPS: Achieve more speed, more security and more agility with less time and money with the VMware NSX platform by reading our white paper titled A 360-Degree View of the VMware NSX Platform.