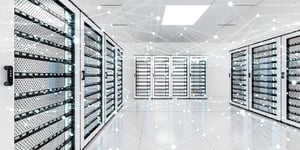 The tech world moves so fast these days that for an enterprise to truly be seen as an industry leader, they need to be making a splash and disrupting the scene. From retail to finance to manufacturing, nimble and fast-moving companies are innovating by changing their business models – leaving companies with traditional enterprise data center infrastructure and slow-changing business models behind.
A 2017 survey of 4,000 global CIOs by KPMG found that more than 60 percent of respondents are feeling the effects of business and economic uncertainty. These executives made it clear that they're setting a course for the future dependent on consistent and reliable systems platforms that can support new applications and a flexible IT infrastructure. More than 50 percent want to leverage IT to become more innovative, and nearly half want to find ways to achieve these goals within their current budgetary limits.
Ideal data center infrastructure must become more flexible to deploy, more scalable to need new demands, and more efficient to serve ever-growing groups of users and customers.
According to a paper from Dell, customers need a unified, manageable IT infrastructure that allows them to:
1. Break down silos to speed up the pace of change
The IT silos found in many data centers must be replaced by a more flexible infrastructure that has the capacity to supply compute and storage resources as needed. Combining them within a single system chassis brings IT resources closer to the applications you need to run your business and provides a unified infrastructure inclusive of compute, storage, and networking.
2. Pool resources for compute, storage, and networking that can be provisioned, as needed, to fulfill business demands
Older approaches to capacity planning and 1:1 replacements of siloed systems take more time to plan and accomplish. Customers who want to transform their business can achieve more efficient, pressing IT objectives by tapping flexible systems on demand. They want faster compute, storage, and networking resources for their systems, resulting in greater efficiency and scalability for growing workloads.
3. Make management of the infrastructure simpler and easier
Many customers use dozens of software tools to monitor and manage data center infrastructure. They should be able to view all systems through a single window and leverage automation to control systems resources. This would allow administrators to manage compute, storage, and networking more easily than they do today, and to make changes quickly.
Meet kinetic infrastructure from Dell EMC
Dell EMC is introducing a flexible and scalable solution called kinetic infrastructure. The building blocks of their approach – cores, DRAM, storage class memory, accelerators, storage, and networking – can be disaggregated and re-aggregated as workload demands change, making better use of trapped computer and storage capacity. This approach to scaling infrastructure meets growing business needs by supplying resources on demand and avoiding downtime caused by aging hardware.
Here's how Dell EMC breaks down the three key parts of kinetic infrastructure:
1. Flexible architecture:
Computer systems need to scale out as they grow, adding resources when the peaks of the business cycle hit the enterprise data center. The ability to add resources as needed when business demands grow avoids the need to continually reconfigure or replace them. The scalable fabric adds compute, storage, or networking resources as needed. The ability to add storage in this way means the data center is right-sized, rather than overbuilt.
2. Agile management:
Increases team effectiveness by accelerating data center operations. It does this by providing unified control, simplified administration, and intelligent automation. This approach to managing large numbers of systems, storage devices, and networking switches improves productivity and eases training requirements for IT personnel.
3. Responsive design:
This approach to system design lengthens the useful product lifecycle following installation of a new server. By adding resources the system becomes, over time, multi-generational – spanning the useful lifetimes of two or more servers that would otherwise have been required to meet the same business needs. This design results in greater ROI for the organization that relies on its systems to power the enterprise.
Grow your business with Dell EMC PowerEdge MX
Dell EMC PowerEdge MX is the first implementation of Dell EMC kinetic infrastructure. The new systems are the realization of kinetic infrastructure, providing a platform for flexible IT. It is housed in a 7U chassis that provides headroom for the addition of faster processors and dense storage capacity to meet your IT demands as they grow. It has compute sleds and storage sleds that slide into the system's integrated chassis, making upgrades quick and efficient while avoiding the time and costs associated with the frequent replacement of older systems.
The design of PowerEdge MX allows organizations to extend the useful lifespan of their server systems, updating their systems via the sleds that slide into the system's integrated chassis. Likewise, customers can add flash storage as demand for more capacity is required. Applications will be able to consume more resources inside the chassis without facing a complete replacement of systems each time there is a significant jump in processing capability – allowing PowerEdge MX to be expanded over multiple years.
Let WEI help you deploy infrastructure that meets business demands
Your enterprise needs to have systems that are as dynamic and innovative as its business and that can grow with you. By adopting a flexible infrastructure, your organization can also reduce operating expenses by increasing system availability and improving the productivity of the IT team.
Contact us today to learn more about kinetic infrastructure from Dell EMC and how it enables a more unified alignment of IT and business while also protecting your infrastructure investments through a multi-generational, expandable system platform.