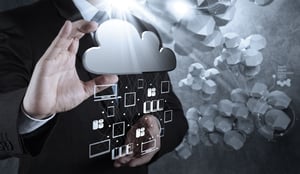 Alongside Platform as a Service (PaaS) and Software as a Service (SaaS), Infrastructure as a Service (IaaS) is one of the main models of cloud computing available to IT professionals. Depending on the number of resources consumed, implementing the IaaS model as part of your strategy can save your company money since users only pay for the time and data used. To make the most of this service model, here are four tips to keep in mind.
4 Considerations for Implementing Infrastructure as a Service (IaaS)
Determine Your Storage Needs
Since Infrastructure as a Service incorporates all server, network and storage needs, it's important to know what your specific company usage requirements are prior to implementation. There are countless cloud computing service providers who offer all levels of products and capabilities, so make sure to find the right fit for your company's business activities.
Negotiate All Agreements Before Implementation
Before incorporating Infrastructure as a Service in your company, make sure to diligently and thoroughly negotiate all service agreements with your providers. Without proper negotiation, you may be blindsided by fine print or open to potential security risks. Before you begin to price and choose providers, create a list of requirements so you receive the level of service you expect.
Know Your IT Team's Strengths and Weaknesses
Before implementing an IaaS model, assess your team's capability to work within this structure. You'll be responsible for all software patches, upgrades, hardware maintenance and technical solves moving forward, which can be a larger workload than your staff may be prepared for.
Keep Leaving in Mind
Although hopefully you find a provider you want to stick with for a while, it's important to consider what happens when you cease using their services. Find out where your data goes, how to access applications in the future and ownership of material before signing a contract.
Infrastructure as a Service can be a valuable model to use in your company, but it's helpful to first determine your specific needs. In addition to negotiating all contracts before signing, your IT team may need some assistance with the workload in the form of other cloud computing software. For help with implementing IaaS at your workplace, contact WEI today.


Another best practice is to ask your service provider what happens to your data should you cease their services; does your information come with you, or do they own the rights to it?

Determining your use of the cloud, adapting for a different pricing model and considering security risks are all things to think about when making the switch to cloud computing. If you're considering moving to the cloud, we would love to help! We are available to assist you now; contact us today.