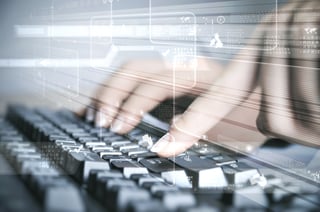 In today's hyper competitive global economy, companies are constantly racing to convert ideas into value faster than their competition. As a result, IT is being asked to transform the data center infrastructure into a more fluid, flexible fabric that can perpetually evolve and adapt to new demands and opportunities. IT is expected to create and deliver new applications and services for mobile, social, and cloud technologies—and do so with shorter development cycles. On top of that, IT must still manage the traditional applications, data silos, and hardware while lowering the costs to do so. To say that today's IT department has a full plate of responsibility is an understatement. The bar has indeed been set high today.
Today's idea economy brings with it a whole new set of rules, which demand a whole new IT infrastructure because the traditional data center cannot keep pace with a dynamic environment in which change is constant and new infrastructure must be deployed instantly at times. In order to ensure the success, if not the survival of their parent organizations, IT teams must move to a new architecture that offers fluid pools of compute, storage and networking fabric that can be dynamically configured. As HPE describes it, think of a set of flexible infrastructure building blocks that can be automatically assembled and re-assembled to meet changing application needs, making it possible to provision on-premises resources easily and quickly in a way similar to the public cloud.
That solution is Composable Infrastructure, and here are 5 reasons why your business needs it today.
Cloud Like Speed
If the idea economy is a giant race, then speed is essential for success. In this case, it is not data transfer speed that we are talking about, but the speed at which a company can get its services to market and start obtaining value from them. In order to achieve this, IT must be able to compose and transform logical infrastructures rapidly in real time. Mobile apps that now reside in the hands of consumers with accelerating levels of expectations are demanding more value, compressing development cycles to the extent that developers and operations must cohesively work together in order to spin-up new services in minutes if needed.
A Single Platform
Traditionally, a single platform meant a data center that was dominated by rigid hardware. Although it may have been a single platform, it consisted of multiple silos and rigid hardware technologies that were optimized for workloads rather than applications and service delivery. To overcome these limitations, enterprises have evolved into hybrid environments that utilize both on premise and public cloud resources. The challenge of then having to manage two separate environments can be highly demanding, but composable infrastructure provides the means to bridge the gap of these two environments. Whether it be bare metal machines, virtual machines or application containerization, composable infrastructure allows you to manage them all as a single platform.

Software Defined


Companies can no longer afford to have their IT teams consumed with trivial tasks such as system maintenance, patching and updating. Instead, companies are looking for innovative leadership in order to obtain more value out of processes that add to the success of the organization.

Composable infrastructure abstracts away operational minutiae, replacing it with automated operations that are governed by a separate intelligent control layer. By software defining your data center operations, data center infrastructure can be reconfigured at the speed of software through template driven provisioning and automatic integration of computer and storage pools as well as fabric resources. Besides attaining greater speed and agility, this software defined approach significantly reduces manual interaction and human error.
Cloud Giant Operational Efficiency


Large corporations with gargantuan sized data centers had distinct advantages over smaller competitors entering the marketplace. Through the means of greater purchasing power and large experienced IT staffs, big organizations could achieve economies of scale that allowed them to obtain efficiencies that were impossible for new competitive entrants to achieve. Today however, size and legacy no longer matter because composable infrastructure is the great game changer.

By automating the provisioning process, operational practices become much more efficient. Through the unified API, infrastructure applications can be provisioned in minutes instead of days, giving enterprise IT a real shot at cloud-giant efficiency.
Continuous development


Companies are now focused on getting apps into the hands of consumers to allow direct interaction with their customers. Because app proliferation is so vital to cultivate new and existing customers, IT is under considerable pressure to deliver more apps faster through DevOps. Using

composable infrastructure, developers can request the exact amount of compute, storage, and networking fabric they need at the time. Developers can now code without needing a detailed understanding of the underlying physical elements. Technicians can in turn deliver changes to applications and infrastructure on demand quickly, confidently, and non-disruptively. This synergy between developers and operations increase delivery times of new code by achieving greater infrastructure consistency between test and production environments.
Check the WEI Tech Exchange blog on Thursday when we cover part 2 of this blog by sharing 5 other major reasons to consider the move to composable infrastructure.
Until then, learn more about composable infrastructure in the white paper, Orchestrating Composable Infrastructure: Six Ways to Ensure Operational and Financial Harmony.