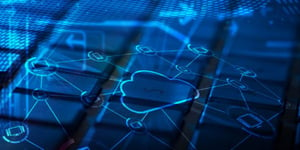 We could probably list 80 things to know about Cisco DNA Center, but for the sake of brevity, we will keep it to single digits. We say this because there is so much to this all-inclusive network management platform. This solution is the next step in network evolution. Its singular yet expansive platform includes a variety of tools that integrate with so many network functions and technologies. Some of these include network management, automation, virtualization, analytics, assurance, security, compliance and IoT connectivity. Cisco DNA Center is at the epicenter of Cisco Digital Network Architecture, which is Cisco's architectural blueprint for today's expansive enterprise networks. Regardless of the complexity of your hybrid architectures that incorporate multiple campuses, remotes branch and cloud architectures, Cisco DNA Center can help simplify it.
1. Cisco DNA Center is all about Automation
One of the primary objectives of Cisco DNA Center is to us to automate workflows and deployments across disparate systems in order to streamline operations across domains. Automation has a number of advantages. It frees your staff from the routine drudgery of mundane tasks, allowing them to focus their time and efforts on value added projects that benefit the organization. Automation removes the element of human error out of the equation, which ensures uniform configurations. This eliminates security gaps and overlooked vulnerabilities. Automation can ensure that the necessary resources are deployed to accommodate in accordance with real-time demand.
2. Cisco DNA Center is based on something called Intent-Based
Networking
The idea of an intent-based network has been around for more than a couple of years now. It is a new approach to networking in that the network admin can now define and input what the needs of the network are into the IBN software controller. This ensures that the network works in conjunction with the needs of the business. The IBN controller than translates these named intentions and construes them into policies, which are then deployed automatically and then validated throughout in order to assure optimized performance levels. Intelligent analytics continually verify the stated performance objectives in order to assure these desired states, all without any human intervention. Automated and guided remediation is then induced to correct problems before they can be disruptive.
3. Made by Cisco, but still open and inclusive
Cisco DNA Center servers as the epicenter of the Cisco's digital network architecture. Current Cisco components such as switches, routers and wireless infrastructure devices are inherently aware of Cisco DNA Center. However, you do not have to have an exclusive Cisco network to benefit it. DNA-Center is a totally open and extensible platform that contains multi-vendor software development kits that allow interaction with network equipment from other vendors. It can also integrate with other management tools through its API structure.
4. The Cisco DNA Center dashboard provides 360-degree visibility
Cisco DNA Center serves as the one-source epicenter of the network. This means total visibility across the wide divide across the complex hybrid architectures of today. Its inclusive dashboard provides an intuitive and simple overview of the network health and status of your network. Drill down menus provide the control points to setup complete automation, orchestration, assurance and analytical functions available within the Cisco DNA solution set. The geolocation of your network devices is now completely irrelevant and multiple cloud environments no longer require multiple management interfaces.
5. You can vastly reduce deployment and provisioning times with Cisco DNA Center
Imagine having the ability to deploy and provision network infrastructure devices without any human intervention. That can be your new reality in a Cisco DNA enterprise. Provisioning is now driven by automated policies. With integrated SD-WAN tools, you can greatly accelerate remote branch deployments without the need for someone being on site. Automated provisioning not only deploys a needed device, it deploys it when needed and verifies the success of the deployment.
6. Cisco DNA Center takes the guesswork out of network performance capabilities
You cannot make assurances about your network unless you can accurately predict the performance of your network for required workload fluctuations and conditions. Cisco DNA Center utilizes machine learning to predict future network performance. These predictions are based not just on active performance data, but actual contextual business and operational insights. These insight captures allow you to truly understand the behavior of your users and their interaction with the applications that drive the business process.
7. Security is job #1 for Cisco DNA
You cannot talk about network management solutions today without discussing cyber security. An intent-based network is a secure network. In addition to 360-degree network visibility and automated configuration and deployment verifications, the intelligent analytical nature of Cisco DNA Center detects and mitigates threats in real time. This is possible by conscripting all of your network devices as security sensors, providing constant streams of information concerning suspicious traffic patterns and behavioral anomalies. Threat alerts are then followed by micro segmentation actions and guided remediation.
8. Lower Costs
Your network should help propel your business to new levels, not hold it back. Cisco DNA Center ensures that your network works for your business, ensuring that workloads and applications operate with optimal performance. Optimal performance equates to optimal cost structure. There are many induced cost reductions such as streamlined network operations, reduced complexity and diminished threats. Cisco DNA Center leverages the power of automation to its fullest capacity concerning so many of the manual tasks that consume labor costs in traditional networks. This is one solution that pays for itself each, and every day through greater efficiencies and productivity measures.
[Featured Video]
5 Things to Know about IBN with Cisco DNA Center
NEXT STEPS: Learn more about Cisco DNA Center in our White Paper titled "Make Your Network Work For You With Cisco DNA Center"