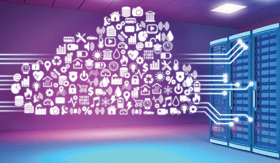 Writer's note: Every Thursday in November and December, this blog will highlight the SDN solution, Cisco ACI. As market acceptance and adoption increases for SDN, IT professionals can count on WEI to fairly evaluate the market leading SDN solutions available today.
Networks are continuously undergoing some level of transformation and conversion to new technologies and bandwidth capabilities. It is the nature of the beast and one that data center managers are all too familiar with. However, IT leaders are facing increasing levels of required network alterations and conversions today due to several emerging trends:
Continued virtualization of server resources resulting in 10 GB server connectivity requirements
Network traffic congestion that now warrants continuous 10 GB infrastructure
Highly virtualized computer environments that demand continuous network availability
Birth of SDN technologies that allow for automated provisioning and policy enforcement
A shift to network architectures that can simplify operations and accommodate efficient and fluid programmable infrastructure for DevOps
The shifting direction of data center traffic from a traditional north-south stream to the east-west current that is typical of multi-tiered web application environments
Achieving these objectives will require a new type of underlying network infrastructure consisting of devices that are designed for these demands, as well as a more efficient type of network topology to organize them.
The majority of data center networks are built around a three-layer hierarchical design which has served us well up to now. This design consists of an access layer, aggregation layer and core. This topology was designed around the traditional client-server traffic patterns we have grown accustomed to. A typical device that has served as the work horse of this design is the Cisco Catalyst 6500. Although it can be found within all three layers, it is more commonly utilized in the access layer where it can accommodate servers with 1 GB connections.
Traditional devices such as the Cisco Catalyst 6500 were originally designed to make forwarding decisions in the supervisor engine. Although this was well suited for the traffic levels of yesteryear, the 10 GB traffic of today requires that forwarding decisions be distributed to the line cards to increase performance and to reduce the amount of traffic required to flow through the supervisor engine.
A New Networking Model
In order to meet the new challenges of today, data centers must transition to a new switch topology called the Leaf-Spine. The leaf-spine is a two-layer network topology composed of leaf switches and spine switches. Servers and storage connect to leaf switches which in turn connect to high port capacity spine switches. Think of leaf switches as the access layer and spine switches as the core. One of the key concepts of the leaf-spine topology is the fact that a server has to cross the same number of devices every time it connects to another server which ensures greater efficiency and is ideally suited for today's east-west traffic flows.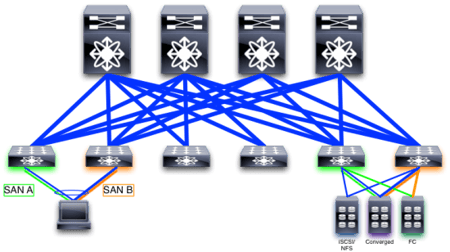 A new topology requires a new type of switch and the Cisco Nexus 9000 series is specifically designed to take the data center to the next level in both high performance and scalability. The 9000 comes in both modular and fixed configuration and can serve in both traditional and leaf spine architectures. It is ideally suited for virtualized and non-virtualized server environments and can provide the underlying network structure for virtualized, bare-metal and cloud computing environments.
The Cisco Nexus 9000 Series Switches support two modes of operation: NX-OS standalone mode and Cisco Application Centric Infrastructure (Cisco ACI) fabric mode. In standalone mode, the switch performs as a traditional switch but with greater port density, reduced latency and 40 GB connectivity. It can accommodate an astounding 1,024 10 GB connections. In ACI fabric mode it supports the new SDS paradigm which combines hardware forwarding, software and automation into a single package by separating the controller from the data plane.

Innovation is at the very core of the 9000 series which is designed to achieve greater power and cooling efficiencies. The Cisco Nexus 9000 Series power supplies are more than 90 percent efficient at 20, 50, and 100 percent of load (platinum rated), providing industry's lowest watts per port. As power and cooling expenditures are very real costs for any data center, cost savings are incurred regardless of the ecosystem that the 9000 supports.
In summary, the Cisco Nexus 9000 switch series provides the innovation, bandwidth and feature capabilities to hasten the transition of your data center to meet the challenges of today.
Ask us about Cisco ACI and how this SDN solution can help accelerate your organization's digital transformation.