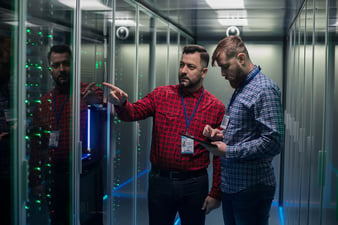 For today's enterprises, IT's role has shifted beyond just keeping the lights on. With the strategic adoption of certain key solutions, enterprises can refocus IT to improve many aspects of doing business and turn IT into a revenue generator, instead of just a source of costs.
For the above reasons, enterprises are increasingly choosing to make use of multiple cloud solutions and deployment models to modernize and improve the agility of the business. Hyperconverged infrastructure (HCI) has also grown in popularity as a way to support the integrations between public cloud applications platforms, while also offering a common management platform for the entire hybrid cloud environment.
In this article, we'll be discussing one such HCI solution, Nutanix Enterprise Cloud. This is the second article of a two-part series, where we share the proven benefits of this solution, as reported by IDC and based on real customer feedback.
In the first article, we discussed the business and operational benefits of Nutanix Enterprise Cloud. Below, we'll examine the IT staff and cost benefits.
1. Improved staff efficiency
Due to a variety of features provided by Nutanix Enterprise Cloud, including the single point of management through integration with Nutanix Prism and efficiencies related to having consolidated and common pools of compute and storage resources, enterprises reap significant staff efficiency benefits when implementing the solution.
In IDC's study, participants noted that the ease of management offered an opportunity for their teams to spend more time innovating, as well as increasing staff satisfaction for those IT personnel utilizing Nutanix Enterprise Cloud.
IDC's study noted the following areas where participants saw efficiency gains:
On average, participants noted deployment required 57% less time with Nutanix compared to other infrastructures.
On average, participants saw a 61% increase in efficiency for help desk support.
On average, participants saw a 28% increase in efficiency for security management.
Other areas where participants noted efficiency gains included data protection activities and infrastructure management.
2. Nutanix Enterprise Cloud offers more cost-effective IT infrastructure
As reported in IDC's study, participants found that Nutanix Enterprise Cloud serves as a "more cost-effective IT infrastructure than study participants' legacy infrastructure."
By avoiding the need for SANs, being able to consolidate hardware through running multiple workloads on each Nutanix node, and additional hardware operational efficiencies, enterprises are able to reduce costs associated with maintaining infrastructure.
IDC calculates that those interviewed in the study will spend 38% less over five years for hardware, maintenance fees, and power and facilities costs when running Nutanix environments compared to other options.
3. Lower operational costs for IT infrastructure
The previously noted features of Nutanix Enterprise Cloud, which offer more cost-effective IT infrastructure, also lower overall operational costs. Between hardware, maintenance costs, IT staff time costs, and other areas where Nutanix offers improvements, overall IT costs are heavily reduced, allowing those funds to be reallocated elsewhere or invested back into IT improvements.
In their report, IDC found that study participants were able to run equivalent applications and workloads at a significantly lower cost than with legacy solutions. The average cost reduction among participants was 62%.
IDC's analysis on the return on investment of Nutanix Enterprise Cloud concludes that the organizations interviewed as part of the study will achieve a "five-year ROI of 477% and break even on their investment in nine months."
Overall, Nutanix Enterprise Cloud offers strong value for enterprise customers, regardless of the scale or industry the business falls into. Nutanix customers confirm these findings, with many describing increases to IT agility and performance, support for business objectives, and reduced operational risk, while also benefiting from the increased cost savings and efficiency of the solution.
Are you interested in Nutanix Enterprise Cloud?
As a global leader in cloud software and a pioneer in HCI solutions, Nutanix is helping enterprises around the world get the most out of their IT environment. If you're interested in getting started with Nutanix Enterprise Cloud, contact WEI to start a discussion.
This blog post is part of a 2-part series about the actual cost savings from real Nutanix Enterprise Cloud customers. click here to read part one.
NEXT STEPS: Learn more about the benefits of software defined infrastructure and how to get started with hyperconverged infrastructure in our eBook. Click below to start reading.