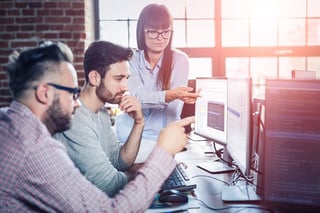 Wi-Fi 6E offers a lot of exciting features that can transform your wireless network environment. In fact, it is the only protocol that supports 6 GHz, so new clients don't have to compete with legacy devices and experience interference from items such like security cameras, microwaves, etc. With four times the capacity of the traditional 2.4 GHz and 5 GHz, Wi-Fi 6E accommodates high-volume workloads and easily handles bandwidth-consuming streaming technologies. The new standard is governed by WPA3, which offers far greater security than WPA2, as the latter continues having its share of known weaknesses and vulnerabilities.
Skip Ahead To The Latest Wireless Network Standard
If your enterprise is still reliant on Wi-Fi 5, otherwise known as 802.11ac, it is time to upgrade from a technology that was first introduced nine years ago in 2013. While Wi-Fi 6 is certainly an upgrade from Wi-Fi 5, it doesn't support 6 GHz and lacks the performance ability of Wi-Fi 6E. While few client machines support this newest standard, Juniper Networks has the infrastructure products required to make way for the stream of devices that that soon will. Juniper AP34 and Juniper AP45 are tri-band access points that support 2.4 GHZ, 5 GHz and the new 6 GHz frequencies. This gives them the ability to serve all clients, regardless of which frequency they need.
Simplifying Wireless Network Deployment
While there are substantial reasons to upgrade your current wireless network infrastructure, performing an extensive upgrade is never fun. Fortunately, outside of climbing onto a ladder and installing the access points to your office ceiling, Juniper has greatly simplified the deployment process. That includes the required maintenance, troubleshooting and optimization processes as well. Supporting Juniper's Wi-Fi 6E devices is just as innovative as the technology it delivers – just plug the Juniper access point into your network and it will automatically connect to the Juniper Mist cloud. Once connected, it downloads its assigned configuration and joins the appropriate network. After that, it is ready to service wireless clients. No wireless controllers, no remoting into access points – you have a functioning wireless network in as much time as it takes to mount and connect the access points.
The ease of hands-free operation doesn't stop after deployment. Firmware is automatically retrieved and installed to ensure that your access points are up to date with the latest bug fixes and security updates along with the newest features that bring added value to your infrastructure. The result is a wireless network that is stable, secure and predictable, allowing your internal IT team to focus on more important things than maintaining access points.
Juniper Mist Wi-Fi Assurance
While Wi-Fi 6E gives you exclusive access to the 6 GHz band, Juniper access points give you, well, access to something that no other wireless vendor can – Juniper Wi-Fi Assurance. At a high level, Juniper Wi-Fi Assurance is a cloud service designed to maximize the Wi-Fi experience while minimizing IT support costs as it incorporates machine learning driven by Juniper Mist AI. This provided level of assurance is made possible by the automation of traditional manual troubleshooting and maintenance tasks. Even more, Mist gives network administrators complete visibility into all aspects of their wireless network.
In addition to observability, it builds real network intelligence about your network as it scours your environment for anomalies. If an anomaly is detected, Mist identifies it and captures packets to analyze and generates event correlation to other events to identify problems and remediate them before they significantly impact your network. Additional features that Mist provides include:
Customizable Wi-Fi service levels allow for the ability to set, monitor, and enforce service-level expectations for key Wi-Fi performance metrics.
The Proactive Analytics and Correlation Engine gives you the ability to identify the root causes of plaguing problems with a few clicks of the mouse and to fix them permanently.
Analyze and extract network insights from up to 30 days of data across your wireless ecosphere.
A highly scalable guest access solution that provides external captive portal integration that supports multiple languages, customizable branding, and social login capability.
Meet Marvis
There's one more critical piece that Juniper Wi-Fi 6E devices and the Mist platform each provide: a virtual network assistant (VNA). Marvis, who we have mentioned before in our blog, utilizes both natural language processing (NLP) and natural language understanding (NLU) to serve as the conversational interface for your Juniper systems. Marvis doesn't just understand words and phrases, it can also understand user intent. Marvis can perform prescriptive actions upon command, but more importantly, it never stops learning about your environment to optimize the user experience of your wireless users. Marvis essentially becomes your help desk, solving problems without creating tickets for them.
Conclusion
There's no doubt that Wi-Fi 6E is going to take wireless enterprises to the next level, and our team is prepared to help you do so. Learn how Juniper Networks' Wi-Fi 6E product solutions can transform your wireless environment today.
Next Steps: Download our new white paper, Future-Proof Your Wireless Network With Wi-Fi 6E to discover what critical capabilities your wireless network infrastructure is currently missing. This is information that every network administrator should read!